Enrichment Requirement

CRUISE ITINERARY
REQUIREMENT

Enrichment Speaker



An ENRICHMENT SPEAKER is required who can provide 9 Powerpoint presentations during the cruise. This is NOT a Port Presenter role.
Preference will be given to a speaker who can present on topics such as Caribbean History, Pirates, Local History & Culture of the regions being visited, or Entertainment.
Bring a Guest free of charge.
This is a SpeaknSave cruise offer meaning that a booking administration fee of GBP £200 (about USD$250) will apply for the successful applicant.
Cabin provided will be an Inside Guest Entertainer cabin. An upgraded cabin may be offered by the Cruise Director at time of boarding depending upon availability.
Please read the PRINCESS GUEST PRESENTER MANUAL which provides details about the types of cabins that Princess offers for guest presenters.
The crew appreciation/gratuity fee of USD$14.50 per day is included for the speaker. Your guest if you bring one will be required to pay this gratuity fee.
A ROUND-TRIP FLIGHT IS OFFERED TO THE SPEAKER ONLY. The travel costs for your guest if you bring one are the responsibility of your guest. Princess do not arrange or coordinate flights for your guest if you bring one.
Please submit your proposed talks along with your application.
CRUISE ITINERARY DETAILS
CRUISE ITINERARY - 1336 (sector) Hawaii, Tahiti & South Pacific Crossing (partial)
Embarkation:
Vancouver Canada
Date: Monday, September 25, 2023
Disembarkation:
Papeete, Tahiti French Polynesia
Date: Wednesday, October 11, 2023
No of Nights:
16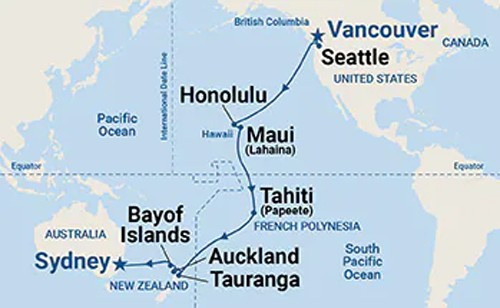 DISCLAIMER
This itinerary information has been compiled from various sources. Whilst every effort has been made to provide accurate information, the cruise lines can and do change their itineraries. Cruise Ship Speakers cannot be held liable for any inaccuracies that these programs may contain. Please refer to the up-to-date information provided by the cruise lines themselves. Please notify the Web Administrator if there are any inaccuracies.