Enrichment Requirement

Cruise Itinerary
CRUISE ITINERARY - INS200409 Safaris to Temples
Embarkation:
Cape Town South Africa
Date: Thursday, April 9, 2020
Disembarkation:
Singapore
Date: Saturday, May 9, 2020
No of Nights:
30
An experienced CRAFT OR ART INSTRUCTOR is required who can provide 13 workshops/classes (1 per each sea day.)
Total instruction hours: 26
This is a SpeaknSave cruise offer meaning that a small booking administration fee will apply for the successful applicant.
Bring a guest FREE OF CHARGE, twin share basis.
Cabin provided will be a STATEROOM on twin-share basis.
One round-trip economy-class airline ticket will be provided for you and your guest.
Please submit a short description of the project(s) along with your registration.
Please also include an approximate cost per kit based on 50 kits, plus any other costs you foresee.
| | | |
| --- | --- | --- |
| Day 1 | EMBARK Cape Town South Africa | |
| Day 2 | Mossel Bay South Africa | |
| Day 3 | At sea | |
| Day 4 | Durban South Africa | |
| Day 5 | Richards Bay South Africa | |
| Day 6 | Maputo Mozambique | |
| Day 7 | At sea | |
| Day 8 | At sea | |
| Day 9 | At sea | |
| Day 10 | Pointe des Galets Reunion Island | |
| Day 11 | Port Louis Mauritius | |
| Day 12 | At sea | |
| Day 13 | At sea | |
| Day 14 | At sea | |
| Day 15 | At sea | |
| Day 16 | Male Seychelles | |
| Day 17 | At sea | |
| Day 18 | Cochin India | |
| Day 19 | Colombo Sri Lanka | |
| Day 20 | At sea | |
| Day 21 | At sea | |
| Day 22 | At sea | |
| Day 23 | Yangon (from Thilawa) Burma | |
| Day 24 | Yangon (from Thilawa) Burma | |
| Day 25 | Yangon (from Thilawa) Burma | |
| Day 26 | At sea | |
| Day 27 | Phuket Thailand | |
| Day 28 | Penang Malaysia | |
| Day 29 | Kuala Lumpur (from Port Klang) Malaysia | |
| Day 30 | Singapore | |
| Day 31 | DISEMBARK Singapore | |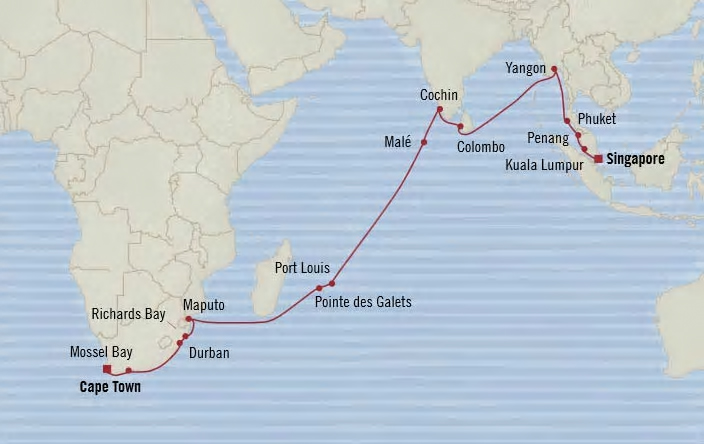 DISCLAIMER
This information has been compiled from various sources. Whilst every effort has been made to provide accurate information, the cruise lines can and do change their itineraries. Cruise Ship Speakers cannot be held liable for any inaccuracies that these programs may contain. Please refer to the up-to-date information provided by the cruise lines themselves. Please notify the Web Administrator if there are any inaccuracies.
Available Candidates
Click on the photo or name for full profile details.
The following people have indicated their availability for this cruise or sectors of this cruise.
The list is in ORDER by General Discipline (ie. Art Instructors, Bridge Directors, Craft Instructors, Destination Lecturers, Enrichment Speakers, etc).
Please contact the candidates directly if you would like to engage any of them. There are NO fees to do this.
Alternatively, we can arrange the bookings on your behalf. Please advise us of your choice(s) for this cruise.
Judith and Ivan Ford
Craft Instructors
12 + years crafting with Cruise Line Guests



Coming from:
Berwick-upon-Tweed, Northumberland UK

Judith and Ivan have been Craft Instructors for 10 years on cruise ships, working with Saga, P&O, Fred Olsen and CMV. They have been extremely privileged to have presented crafts to guests on 5 World Cruises, working on Van Gogh, 3 World Cruises with Saga, and 1 World Cruises with Fred Olsen. Judith and Ivan have also worked on many shorter cruises. They always find it a thrill when non crafters on a cruise comes along to their sessions and leave with a huge smile on their face because they have made something useful, or something creative that they can present as a gift at the end of a cruise.
Frosa Katsis
Medical Research, Emu Farming, Science, Craft Teacher




Coming from:
South Gisborne, VIC Australia

Frosa has a wealth of experience in Medical Research having worked for a world renowned institute based in Melbourne. Her experience has predominantly been in the field of protein & metabolism. The history of the Institute and how it all began is a great story in itself and Frosa will cover the history and development of this chemistry. It is not all about science and chemistry with Frosa being a successful business owner operating craft sessions which include macrame, jewellery, paper craft such as scrapbooking, paper roses, card making.
| | | |
| --- | --- | --- |
| | | Originally a Primary School teacher, Kerrie-Anne specialized in craft teaching and has been teaching children, adult education and respite care for forty years. Having lived in six countries she has experience in teaching students of wide backgrounds and abilities. Kerrie-Anne now specializes in teaching at conferences and on cruises combining her love of handcrafts and travel. Kerrie-Anne's cruise classes include quilting, quilling, beading, paper crafts, textile arts, cross-stitch, Shiva, fabric painting, Christmas crafts and Photo to Pictorial Appliqué lecture. |
Roger Lee
Photography




Coming from:
Randburg, Gauteng South Africa

Roger Lee is a widely travelled, experienced photographer. He is particularly fascinated by the new field of Smartphone Photography which is of interest to most cruise ship passengers. As a trained teacher and business presenter over many years, he brings a wonderful clarity to what can be seen as a complicated and daunting subject. His presentations have been developed by him to be as logical and easy to follow as possible. He has a relaxed, informal manner which adds to the enjoyment of the presentation. Based in South Africa he is happy to travel.
Dr Rie Natalenko
History and Literature Speaker & Craft Instructor
Craft Instructor



Coming from:
East Corrimal, NSW Australia

Rie Natalenko has a doctorate in writing, specialising in Screen and History. She has a Masters degree in Education and an Honours degree in Literature. Much of her university and college teaching was in the areas of screenwriting, film-making and film studies. Rie enjoys creating as well as writing. She is an also an accomplished Arts and Craft Instructor and an experienced felter, knitter, crocheter, spinner and weaver.