Enrichment Requirement

Cruise Itinerary
CRUISE ITINERARY - AX200928 Spain, France & Italian Riviera Cruise
Embarkation:
Barcelona Spain
Date: Monday, September 28, 2020
Disembarkation:
Barcelona Spain
Date: Saturday, October 10, 2020
No of Nights:
12
An experienced DESTINATION EXPERT is required who can cover the specific ports being visited during the cruise.
This is a SpeaknSave cruise offer meaning that a small booking administration fee will apply for the successful applicant.
Cabin provided will be a standard stateroom.
Bring a guest FREE OF CHARGE, twin share basis. Your guest will be required to pay the daily gratuity fee and their own travel expenses.
The successful applicant and their guest will be provided full passenger status including applicable bar discounts and free internet.
Roundtrip airfare for the speaker is provided within reason. Celebrity will not generally cover airfares between Australia and Europe for example.
Please submit your proposed talks along with your application.
| | | |
| --- | --- | --- |
| Day 1 | EMBARK Barcelona Spain | |
| Day 2 | Sete France | |
| Day 3 | Marseilles France | |
| Day 4 | Villefranche France | |
| Day 5 | Ajaccio, Corsica France | |
| Day 6 | At sea | |
| Day 7 | La Spezia Italy | |
| Day 8 | Civitavecchia (for Rome) Italy | |
| Day 9 | Naples Italy | |
| Day 10 | Valletta Malta | |
| Day 11 | At sea | |
| Day 12 | Palma, Majorca Spain | |
| Day 13 | DISEMBARK Barcelona Spain | |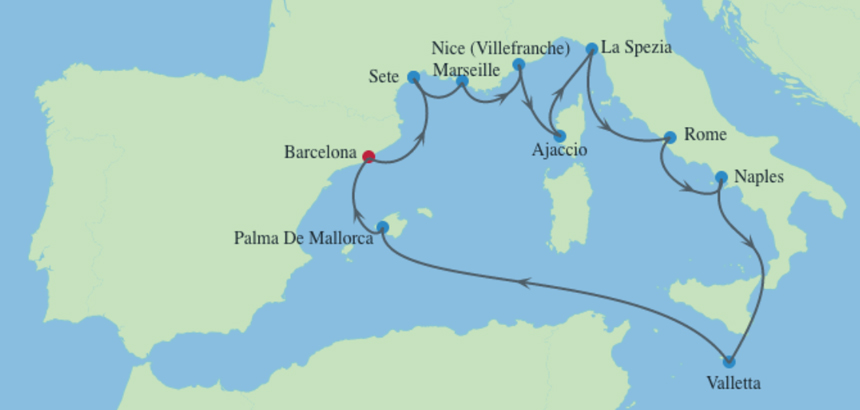 DISCLAIMER
This information has been compiled from various sources. Whilst every effort has been made to provide accurate information, the cruise lines can and do change their itineraries. Cruise Ship Speakers cannot be held liable for any inaccuracies that these programs may contain. Please refer to the up-to-date information provided by the cruise lines themselves. Please notify the Web Administrator if there are any inaccuracies.
Available Candidates
Click on the photo or name for full profile details.
The following people have indicated their availability for this cruise or sectors of this cruise.
The list is in ORDER by General Discipline (ie. Art Instructors, Bridge Directors, Craft Instructors, Destination Lecturers, Enrichment Speakers, etc).
Please contact the candidates directly if you would like to engage any of them. There are NO fees to do this.
Alternatively, we can arrange the bookings on your behalf. Please advise us of your choice(s) for this cruise.
Carmine Biancardi
Science, Engineering & Environment
Msc, MEng, PhD, EuroIng, CEng



Coming from:
Nassau, New Providence Bahamas

Besides being a university professor, scientist and a leading world entrepreneur, Carmine is an avid world traveler (over 100 countries visited) and a winning sportsman. His entire career has been driven by his strong principle of 'green technologies' as the keys of ethical increasing economic development. With a rather unique background blending European, British, American and Australian cultures with a blister of Japanese. He has lived in many countries and is now resident of the Bahamas. Carmine is a regular speaker on science and the environment to the general public and as a cruise ship speaker.
Bob Collins
Maritime History, Science & Destinations




Coming from:
Preston, Lancashire UK

Bob Collins (B.SC, MBA) is a graduate metallurgist and businessman with over thirty years professional experience working in the UK and internationally. Bob has developed his portfolio of entertaining and informative talks based on a deep interest in both maritime history and the influence of materials on the world of today. Bob is also an adult fan of LEGO and uses this to add character, a little humour and discussion topics to a relaxed and note free style of presentation.
Jack Hardy
Destinations, History, and Marine Exploration
BA-Univ. California, MS-Oregon State, PhD-Univ. of Washington



Coming from:
Portland, Oregon USA

Over the past 16 years professor, historian, and underwater explorer Jack Hardy has lectured on 67 different topics on more than 63 cruises. His richly-illustrated lectures focus on the history and culture of many popular cruise ship destinations, from the Baltic to the Mediterranean and Pacific. Also, as a diver and underwater photographer, other lectures include regional marine life, ancient shipwrecks, and famous ocean explorers. He has published more than 100 research papers and books. His research and exploration has taken him to 110 countries around the world.
| | | |
| --- | --- | --- |
| | | Dr. Gary Koverman is a forensic scientist and has worked for over 30 years in forensic laboratories in Ohio, Colorado and New Mexico. He has examined many world class crimes and is still working in his own private business in New Mexico. His expertise in a wide variety of forensic fields gives depth and understanding to many forms of physical evidence. Gary has lectured various law enforcement police agencies in the area of forensic science and has taught at universities in Ohio, Colorado, and New Mexico. He is also a great student of history and enjoys seeking out relevant historical events with a fresh forensic perspective for his talks. |
Dr Karen Woodman
Destination History & Culture
B.Sc., M.A., Ph.D.



Coming from:
Brisbane, Queensland Australia

Dr Karen Woodman is a retired university professor, who is an entertaining cruise enrichment speaker on topics such as history, education, street art, culture, dance, language, and food as they relate to cruise destinations. Karen is also an avid social dancer who enjoys sharing her love of dance, the benefits of social dance, and the mind-body connection. She has traveled extensively, including North and South America, the South Pacific, Australia and New Zealand, the Caribbean, Cuba, Europe, Scandinavia, and South-East Asia.