Enrichment Requirement

Cruise Itinerary
CRUISE ITINERARY - AX200405 Inaugural Spain & Portugal Cruise
Embarkation:
Southampton UK
Date: Sunday, April 5, 2020
Disembarkation:
Southampton UK
Date: Monday, April 13, 2020
No of Nights:
8
An experienced DESTINATION EXPERT is required who can cover the specific ports being visited during the cruise.
This is a SpeaknSave cruise offer meaning that a small booking administration fee will apply for the successful applicant.
Cabin provided will be a standard stateroom.
Bring a guest FREE OF CHARGE, twin share basis. Your guest will be required to pay the daily gratuity fee and their own travel expenses.
The successful applicant and their guest will be provided full passenger status including applicable bar discounts and free internet.
Roundtrip airfare for the speaker is provided within reason. Celebrity will not generally cover airfares between Australia and Europe for example.
Please submit your proposed talks directly related to the itinerary along with your application.
| | | |
| --- | --- | --- |
| Day 1 | EMBARK Southampton UK | |
| Day 2 | At sea | |
| Day 3 | Bilbao (from Getxo) Spain | |
| Day 4 | At sea | |
| Day 5 | Lisbon Portugal | |
| Day 6 | Leixoes (for Oporto) Portugal | |
| Day 7 | At sea | |
| Day 8 | Le Havre France | |
| Day 9 | DISEMBARK Southampton UK | |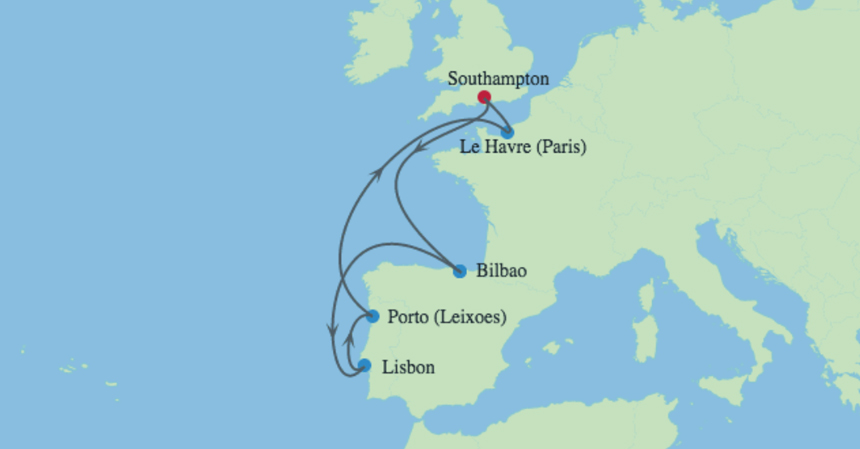 DISCLAIMER
This information has been compiled from various sources. Whilst every effort has been made to provide accurate information, the cruise lines can and do change their itineraries. Cruise Ship Speakers cannot be held liable for any inaccuracies that these programs may contain. Please refer to the up-to-date information provided by the cruise lines themselves. Please notify the Web Administrator if there are any inaccuracies.
Available Candidates
Click on the photo or name for full profile details.
The following people have indicated their availability for this cruise or sectors of this cruise.
The list is in ORDER by General Discipline (ie. Art Instructors, Bridge Directors, Craft Instructors, Destination Lecturers, Enrichment Speakers, etc).
Please contact the candidates directly if you would like to engage any of them. There are NO fees to do this.
Alternatively, we can arrange the bookings on your behalf. Please advise us of your choice(s) for this cruise.
Gillian Taylor
Destination & Ports Speaker




Coming from:
Brentwood, Essex UK

Gill Taylor, originally from London, is a qualified French linguist. Her love of languages and international cultures was deepened by her years living in Hong Kong where her public speaking experience also began. Following her travels in the Far East she has more recently spread her wings in almost every continent. Her years of English language teaching have prepared her well for destination speaking and it is a great pleasure for her, mixing facts and figures with self-deprecating London humour so that audiences are well informed and also entertained.
Judith Cranswick
Crime Writer, History & Destination Speaker




Coming from:
Swindon, - UK

Judith has three great passions – history, travel and writing. Her love of ancient civilizations and cultures have taken her throughout Europe, the Middle East, Asia, China, Indochina, Japan, India, South America, Mexico and Central America. History & travel have inspired her writing. An award-winning novelist, she is the author of two Travel Mystery series and several standalone psychological thrillers. Judith is an experienced destinations and enrichment lecturer and has also run writing workshops for several cruise lines.
Alice Roberts
Art History & History




Coming from:
Stratford-Upon-Avon, Warwickshire UK

Alice Roberts is a bright, sparky and enthusiastic professional historian. An expert in 18th century British history with a Masters from The University of Edinburgh, Alice is currently writing a book on James Gillray, the 18th century satirist. She also works as a historic researcher, writer and presenter for the history subscription channel, History Hit. Alice has extensive experience in public speaking. She is also the founder and editor of the award-winning historic magazine, 'The Plague', the founder of the Longbourn History Festival, and the creator of the celebrated historic Edinburgh Fringe show, 'News@1066'.
Jack Wilson
Destination & Port Lecturer
Local & Maritime Historian



Coming from:
Southampton, Hampshire UK

Jack spent most of his working life in Social Housing in the South of England, working for local Councils and Housing Associations. For the last several years he has been running his own consultancy in Housing Management and Care and has pursued a long-standing interest in Local History to qualify as a Green Badge Tourist Guide. Jack and his wife have always enjoyed travelling, and have been cruising since 2002. Jack has worked as a port lecturer and enrichment speaker talking on maritime subjects and social history.