Enrichment Requirement

Cruise Itinerary
CRUISE ITINERARY - SI200327 Southern Caribbean Cruise
Embarkation:
Fort Lauderdale, Florida USA
Date: Friday, March 27, 2020
Disembarkation:
Fort Lauderdale, Florida USA
Date: Sunday, April 5, 2020
No of Nights:
9
Speakers and Instructors who are available for this cruise should register their interest. No specific topics indicated.
| | | |
| --- | --- | --- |
| Day 1 | EMBARK Fort Lauderdale, Florida USA | |
| Day 2 | At sea | |
| Day 3 | At sea | |
| Day 4 | Oranjestad Aruba | |
| Day 5 | Willemstad Curaçao | |
| Day 6 | Kralendijk, Bonaire Island Netherlands | |
| Day 7 | At sea | |
| Day 8 | George Town, Grand Cayman British West Indies | |
| Day 9 | At sea | |
| Day 10 | DISEMBARK Fort Lauderdale, Florida USA | |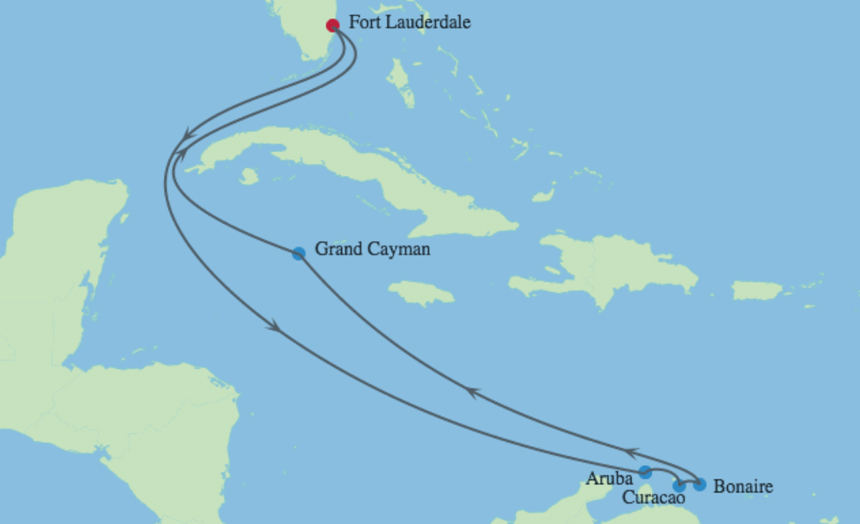 DISCLAIMER
This information has been compiled from various sources. Whilst every effort has been made to provide accurate information, the cruise lines can and do change their itineraries. Cruise Ship Speakers cannot be held liable for any inaccuracies that these programs may contain. Please refer to the up-to-date information provided by the cruise lines themselves. Please notify the Web Administrator if there are any inaccuracies.
Available Candidates
Click on the photo or name for full profile details.
The following people have indicated their availability for this cruise or sectors of this cruise.
The list is in ORDER by General Discipline (ie. Art Instructors, Bridge Directors, Craft Instructors, Destination Lecturers, Enrichment Speakers, etc).
Please contact the candidates directly if you would like to engage any of them. There are NO fees to do this.
Alternatively, we can arrange the bookings on your behalf. Please advise us of your choice(s) for this cruise.
Jim Clement
Destination Lecturer & Maritime Historian
Baltic, Mediterranean. Asia, Caribbean,Latin America, Panama, Norway,



Coming from:
Largo, Florida USA

Jim is a retired USA Diplomat who lived in 13 countries and has given Destination/Maritime History Lectures on more than 120 cruises in Europe, Asia, S. America. He graduated from the U.S. Naval Academy (BSc) and University of Chicago (MBA). He was a US Navy Submarine Officer, VP International for Fortune 500 companies. He was a University Professor for History, Geography, Logistics, and International Marketing. Having lived and worked in Panama and transited the Panama Canal 30 times and Suez Canal 4 times, Jim can give the ship's bridge commentary about the history of the Canal in English or Spanish. He has also narrated bridge commentary about Glaciers in Chile and Norway.
Sue Baic
Nutrition Scientist and Dietitian
MSc RD. Nutritionist & Dietitian. Author of Nutrition For Dummies



Coming from:
Bristol, Avon UK

Sue is an experienced cruise enrichment speaker in nutrition and health with over 30 years' work experience in the NHS, Public Health and teaching at the University of Bristol. She is noted for her lively, interactive and entertaining lecturing which brings the local world of food and nutrition on board. Sue has worked as a guest speaker in the US, the Caribbean, Scandinavia, the Mediterranean, the Far East and Australia. She can provide a tailored enrichment programme with broad appeal to those interested in nutrition, health and positive ageing to enhance passenger experience.
Matt Costello
Novelist, Scriptwriter, Game Designer




Coming from:
Ossining, NY USA

Matthew Costello is an American horror, Gothic, and science fiction writer. His articles have appeared in publications including the Los Angeles Times and Sports Illustrated. He scripted Trilobyte's bestselling CD-ROM interactive dramas "The 7th Guest" and its sequel "The 11th Hour", as well as many other videogames. His innovative work includes ground-breaking and award-winning games, online destinations, novels, and television.
| | | |
| --- | --- | --- |
| | | Laurie is a native from St. Louis, Missouri. She is a charismatic high energy speaker with an infectious enthusiasm for life. She has turned the tables on life and is an exciting Television & Radio Talk show Host, Life enrichment speaker, Life coach and fitness expert who make better the lives of those surrounding her. Laurie has spoken before and provided lecture series, motivational & inspirational talks and a rage of participatory programs to audience's reflecting all ages, cultures, ethnic groups and economic levels throughout a career spanning over 25 years. |
Sandra Millikin
Architectural & Art History
BA (Hons), Mphil (Art History)



Coming from:
Uffington, Oxon UK

Sandra Millikin is an American who has lived in England for over 40 years. She was educated at Smith College, Northampton, Massachusetts, USA and at the Courtauld Institute in London where she studied under the famous English architectural historian Sir John Summerson. She was assistant Curator at the Royal Institute of British Architects Drawings collection, where she contributed to the catalogue of the collection which is now housed in the Victoria and Albert Museum in London. Sandra has given talks on architectural history world wide on cruise ships and particularly enjoys days at sea as she is also a keen bridge player. She has also acted as Bridge Director on cruises.
| | | |
| --- | --- | --- |
| | | Les is an award-winning professor at the State University of New York at Stony Brook who explores the role of intelligence organizations in a democratic society, the conflict between necessary secrecy and public accountability, and examples of intelligence operations that influenced history and international relations. He is former Marine intelligence officer whose cruise talks attract audiences interested in learning more about a world of intelligence and espionage often described as a "wilderness of mirrors." |
| | | |
| --- | --- | --- |
| | | Author, publisher and newsman, Ken Rossignol has appeared on dozens of ships in the Pacific, Atlantic, Mediterranean, and the Caribbean discussing the stories of the history of the Panama Canal, the heroes of the Titanic, the explorations of the new world voyagers, the Bermuda Triangle and the history of piracy, among other maritime history topics. Rossignol has appeared live on Good Morning America, and in news productions in ABC 20/20; ABC World News Tonight and in a 2012 production of Discovery Channel Investigation Motives & Murders Series, A Body in the Bay. |
Franz Schneider
Enrichment Speaker on Maritime Subjects
Ocean Racing, Navigation, Classic Ocean Liners



Coming from:
Cambridge, Massachusetts USA

Franz Schneider enjoys giving talks on cruise ships because of his love of the sea. A sailor all his life, Franz became active in ocean racing as a teenager. He sailed many thousands of miles with Ted Turner, starting with races from Bermuda to Copenhagen in 1966, and from California to Honolulu in 1967. In the 1970s, Franz was Turner's navigator in many ocean races including the classic Newport to Bermuda, and Miami to Montego Bay races. He was also the founder of Landfall Navigation, a firm that offers navigational supplies and services. Franz talks about ocean racing, as well as several about navigation, including celestial navigation.
Harry M Strong
Ocean science & Meteorology
BS, MS, MPA, PSIA



Coming from:
Oak Hill, Fairfax USA

Harry M Strong worked for a nonprofit corporation for 38 years, spending the last 15 years supporting the National Oceanic and Atmospheric Administration (NOAA) in Washington, D.C., addressing a broad range of environmental issues. He is the President of HMS Consulting, LLC, has been a special interest speaker and visiting scientist on numerous cruise ships, speaking on "Our One Ocean". This series of talks is crafted to entertain, inform and educate the ship's guests on various ocean topics, emphasizing that our "global society" has but "One Ocean" and we all share in its fruits, its opportunities, its problems, its heritage and its potential.
| | | |
| --- | --- | --- |
| | | Col Verderame has been involved in the U.S. space program for 38 years, working for NASA & the USAF, with degrees in astro physics, geological engineering & aerospace engineering. He is a graduate of the USAF Test Pilot School, having flown in 56 different aircraft & was a NASA astronaut instructor, teaching astronauts to fly the Space Shuttle. He is an experienced cruise ship speaker who has been public speaking for over 30 years to diverse audiences from astronauts to community groups with a down-to-earth, engaging style that makes complex subjects easily understandable to anyone. |