Enrichment Requirement

Cruise Itinerary
CRUISE ITINERARY - SI200315 Southern Caribbean Cruise
Embarkation:
Fort Lauderdale, Florida USA
Date: Sunday, March 15, 2020
Disembarkation:
Fort Lauderdale, Florida USA
Date: Friday, March 27, 2020
No of Nights:
12
An experienced DESTINATION EXPERT is required who can cover the specific ports being visited during the cruise.
This is a SpeaknSave cruise offer meaning that a small booking administration fee will apply for the successful applicant.
Cabin provided will be a standard stateroom.
Bring a guest FREE OF CHARGE, twin share basis. Your guest will be required to pay the daily gratuity fee and their own travel expenses.
The successful applicant and their guest will be provided full passenger status including applicable bar discounts and free internet.
Roundtrip airfare for the speaker is provided within reason. Celebrity will not generally cover airfares between Australia and Europe for example.
Please submit your proposed talks directly related to the itinerary along with your application.
| | | |
| --- | --- | --- |
| Day 1 | EMBARK Fort Lauderdale, Florida USA | |
| Day 2 | At sea | |
| Day 3 | At sea | |
| Day 4 | Saint Croix USV | |
| Day 5 | St Johns Antigua | |
| Day 6 | Castries Saint Lucia | |
| Day 7 | Bridgetown Barbados | |
| Day 8 | St Georges Grenada | |
| Day 9 | Kingstown Saint Vincent | |
| Day 10 | Basseterre Saint Kitts and Nevis | |
| Day 11 | At sea | |
| Day 12 | At sea | |
| Day 13 | DISEMBARK Fort Lauderdale, Florida USA | |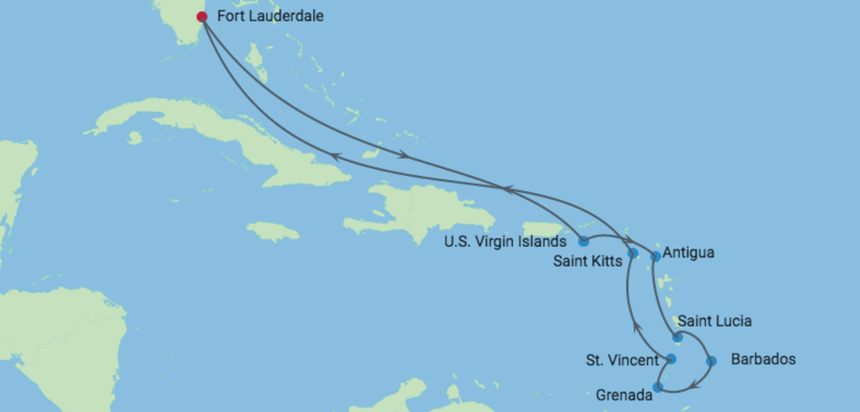 DISCLAIMER
This information has been compiled from various sources. Whilst every effort has been made to provide accurate information, the cruise lines can and do change their itineraries. Cruise Ship Speakers cannot be held liable for any inaccuracies that these programs may contain. Please refer to the up-to-date information provided by the cruise lines themselves. Please notify the Web Administrator if there are any inaccuracies.
Available Candidates
Click on the photo or name for full profile details.
The following people have indicated their availability for this cruise or sectors of this cruise.
The list is in ORDER by General Discipline (ie. Art Instructors, Bridge Directors, Craft Instructors, Destination Lecturers, Enrichment Speakers, etc).
Please contact the candidates directly if you would like to engage any of them. There are NO fees to do this.
Alternatively, we can arrange the bookings on your behalf. Please advise us of your choice(s) for this cruise.
Martin P. Lee
Destination Lecturer & Gentlemen Dance Host
BSc(Hons) MSc FBCS CITP



Coming from:
Poole, Dorset UK

Martin P. Lee graduated with first class honours in geography and geology from King's College London in 1975 followed by a masters degree in geography from Keele University. After service as a fellow at Lancaster University, he became a lecturer at Leicester University, and then a senior lecturer at the Royal Military College of Science. Upon early retirement in 2006, Martin has been a Gentleman Dance Host and Port Lecturer. He now spends half the year at sea and half the year at his home in Bournemouth.
| | | |
| --- | --- | --- |
| | | Author, publisher and newsman, Ken Rossignol has appeared on dozens of ships in the Pacific, Atlantic, Mediterranean, and the Caribbean discussing the stories of the history of the Panama Canal, the heroes of the Titanic, the explorations of the new world voyagers, the Bermuda Triangle and the history of piracy, among other maritime history topics. Rossignol has appeared live on Good Morning America, and in news productions in ABC 20/20; ABC World News Tonight and in a 2012 production of Discovery Channel Investigation Motives & Murders Series, A Body in the Bay. |