Enrichment Requirement

Cruise Itinerary
CRUISE ITINERARY - SU210130 World Cruise 2021 Sector 2
Embarkation:
Auckland NZ
Date: Saturday, January 30, 2021
Disembarkation:
Sydney Australia
Date: Saturday, February 13, 2021
No of Nights:
14
Only Speakers focusing on History, the Arts, Sciences, World Affairs or Extraordinary Lives who can relate their talks to the itinerary and ports of call should register their interest.
Please submit your proposed lecture topics for consideration. Ideally you should list 4 talks including a title and short synopsis.
| | | |
| --- | --- | --- |
| Day 1 | EMBARK Auckland NZ | |
| Day 2 | Auckland NZ | |
| Day 3 | At sea | |
| Day 4 | Napier NZ | |
| Day 5 | Wellington NZ | |
| Day 6 | Christchurch (Akaroa) NZ | |
| Day 7 | At sea | |
| Day 8 | Cruising Dusky & Doubtful Sounds NZ | |
| Day 9 | At sea | |
| Day 10 | At sea | |
| Day 11 | Hobart Australia | |
| Day 12 | Hobart Australia | |
| Day 13 | Melbourne Australia | |
| Day 14 | At sea | |
| Day 15 | DISEMBARK Sydney Australia | |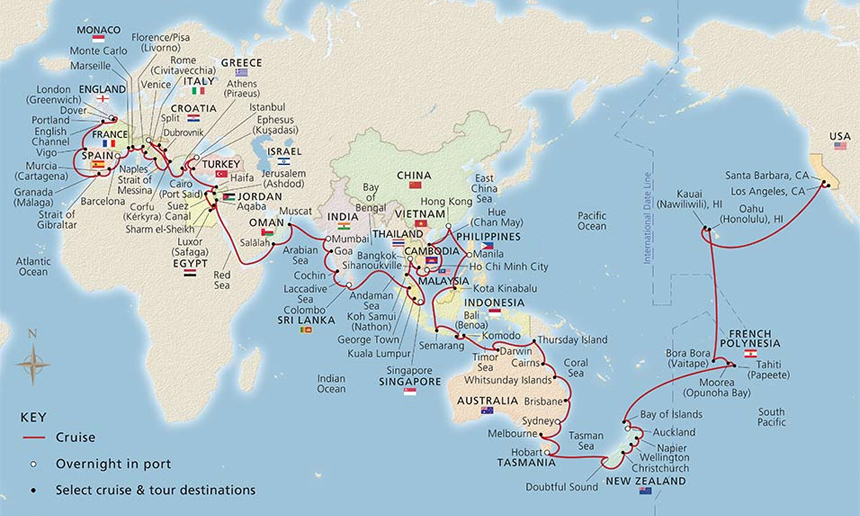 DISCLAIMER
This information has been compiled from various sources. Whilst every effort has been made to provide accurate information, the cruise lines can and do change their itineraries. Cruise Ship Speakers cannot be held liable for any inaccuracies that these programs may contain. Please refer to the up-to-date information provided by the cruise lines themselves. Please notify the Web Administrator if there are any inaccuracies.
Available Candidates
Click on the photo or name for full profile details.
The following people have indicated their availability for this cruise or sectors of this cruise.
The list is in ORDER by General Discipline (ie. Art Instructors, Bridge Directors, Craft Instructors, Destination Lecturers, Enrichment Speakers, etc).
Please contact the candidates directly if you would like to engage any of them. There are NO fees to do this.
Alternatively, we can arrange the bookings on your behalf. Please advise us of your choice(s) for this cruise.
Derrick Baan
Technology, Ships Master & Destination Speaker
B.Sc., Grad. Dip Marketing, Ships Master 4



Coming from:
Ormiston, Queensland Australia

Derrick Baan is a best selling author, ships master and an innovative corporate and maritime Instructor. Spending his early career in the computer industry, he was Asia-pacific Training Manager for AT&T, responsible for the training of existing and new staff across twelve countries. With a love of all things nautical, he subsequently owned his own maritime training business. He holds a Bachelor of Science, from the University of Tasmania and a Graduate Diploma in Strategic Marketing from Charles Sturt University. He is currently employed as a casual Ferry Master on the Brisbane River, pursuing a childhood dream to be a ship's captain.
Carmine Biancardi
Science, Engineering & Environment
Msc, MEng, PhD, EuroIng, CEng



Coming from:
Nassau, New Providence Bahamas

Besides being a university professor, scientist and a leading world entrepreneur, Carmine is an avid world traveler (over 100 countries visited) and a winning sportsman. His entire career has been driven by his strong principle of 'green technologies' as the keys of ethical increasing economic development. With a rather unique background blending European, British, American and Australian cultures with a blister of Japanese. He has lived in many countries and is now resident of the Bahamas. Carmine is a regular speaker on science and the environment to the general public and as a cruise ship speaker.
Robert Cribb
World History (especially Asia, Australia)
Viking Resident Historian



Coming from:
Canberra, ACT Australia

Robert is an Australian historian with a nose for interesting stories. He has lived in Europe, Asia and the U.S. and delights in enthusing undergraduates with the span of historical change in Asia and the Pacific. He knows Indonesia best, but also works on Japan, China, Mongolia, Korea, Myanmar and Vietnam. He has written seven books on Asian history on topics from opium smuggling and war crimes trials to orangutans and historical maps.
Dr Sherry Hutt
Destinations - History and Culture
Art, Architecture & Economics



Coming from:
Delray Beach, Florida USA

Dr. Sherry has been honored for heritage preservation and protection through teaching in law, museum and public lands management, co-authoring texts, as editor of the Yearbook of Cultural Property Law and publishing journal articles, prior to Cruise through History storybooks. She was a judge, attorney, museum trustee and head of the U.S. program for cultural heritage repatriation in the Department of the Interior. Her degrees are in Speech and Theater, Law and Forestry Economics. A world traveler, she now delights in presenting port destinations to cruise travelers.
Russell Lee
Science writer, humorist and storyteller
Not your average lecturer!



Coming from:
Cupertino, California USA

Russell Lee's life and career are a celebration of creativity in the art of communications and storytelling. He has experience as an entertainer, educator, lecturer, motivational speaker, cartoonist, musician, songwriter, actor and stand-up comedian. With an eclectic background in research and multimedia presentations, Russell can lecture on a wide range of topics, including cultures and geographies; history and famous historical figures; science and technology; and art and music. He believes in being entertaining as well as educational, and he uses storytelling to create memorable experiences for his audiences.
Robin Petch
Naturalist & Cetaceans Expert
Whales, Dolphins & Marine Conservation



Coming from:
North Ferriby, East Yorkshire UK

Robin has been involved with the study and conservation of whales, dolphins and the marine environment for nearly 25 years. He now shares his wide knowledge and experience with cruise ship passengers in lively and informative lectures with stunning photographs and video. His experience as an educator enables him to adapt his talks to suit audiences of all types and age ranges. On some cruises, Robin's interest in Seals and Seabirds, Pirates and Privateers and Nautical Sayings and Superstitions adds an extra dimension to his talks.
Geoff Peters
Maritime Explorers and Adventurers




Coming from:
Southampton, Hampshire UK

Edu-tainment is the best way to describe Geoff's speaking style, providing educational, entertaining and authoritative presentations whilst also injecting humour and personal experiences documenting his time at sea. Recently retired, Geoff and his wife Leanne have purchased a boat in the UK, cruised across the English Channel and now spend much of each year cruising the rivers, canals, and coastlines of Europe, creating their own adventures.