Enrichment Requirement

Cruise Itinerary
CRUISE ITINERARY - VE210310 In Search of the Northern Lights
Embarkation:
Bergen Norway
Date: Wednesday, March 10, 2021
Disembarkation:
Tilbury UK
Date: Monday, March 22, 2021
No of Nights:
12
Only Astronomy speakers should register their interest.
Please submit your proposed lecture topics for consideration. Ideally you should list 4 talks including a title and short synopsis.
| | | |
| --- | --- | --- |
| Day 1 | EMBARK Bergen Norway | |
| Day 2 | Bergen Norway | |
| Day 3 | At sea | |
| Day 4 | Narvik, North Cape Norway | |
| Day 5 | Alta Norway | |
| Day 6 | Alta Norway | |
| Day 7 | TromsÝ Norway | |
| Day 8 | TromsÝ Norway | |
| Day 9 | BodÝ Norway | |
| Day 10 | At sea | |
| Day 11 | Stavanger Norway | |
| Day 12 | At sea | |
| Day 13 | DISEMBARK Tilbury UK | |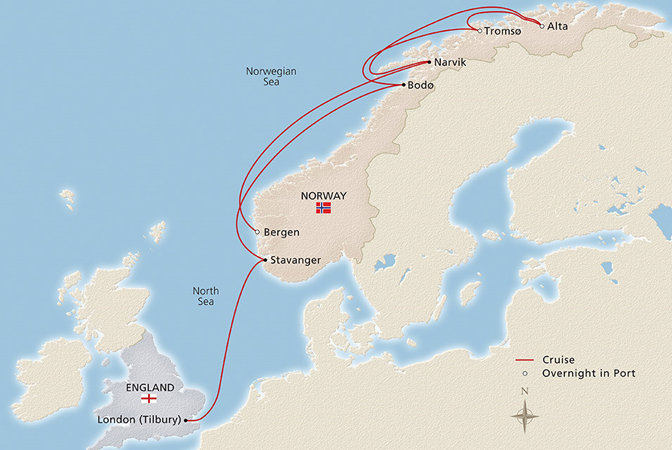 DISCLAIMER
This information has been compiled from various sources. Whilst every effort has been made to provide accurate information, the cruise lines can and do change their itineraries. Cruise Ship Speakers cannot be held liable for any inaccuracies that these programs may contain. Please refer to the up-to-date information provided by the cruise lines themselves. Please notify the Web Administrator if there are any inaccuracies.
Available Candidates
Click on the photo or name for full profile details.
The following people have indicated their availability for this cruise or sectors of this cruise.
The list is in ORDER by General Discipline (ie. Art Instructors, Bridge Directors, Craft Instructors, Destination Lecturers, Enrichment Speakers, etc).
Please contact the candidates directly if you would like to engage any of them. There are NO fees to do this.
Alternatively, we can arrange the bookings on your behalf. Please advise us of your choice(s) for this cruise.
| | | |
| --- | --- | --- |
| | | Jonathan completed a certificate and a diploma course in astronomy at the University of Cambridge, Institute of Continuing Education, and is a Fellow of the Royal Astronomy Society. He is one of the presenters at the University of Cambridge Institute of Astronomy public open evenings. Jonathan runs an Introduction to Astronomy course at the U3A in Cambridge and is also one of the presenters of a similar course for the Cambridge Astronomical Association. He is also one of the regular presenters on the monthly radio programme "The Sky Tonight" on Huntingdon Community Radio. |
John Haywood
Dark Age European Historian & Author
BA Hons (1st class), PhD early medieval maritime history



Coming from:
Lancaster, Lancashire UK

Born and brought up in the north of England, Dr John Haywood studied medieval history at the universities of Lancaster and Cambridge, and Copenhagen. His doctoral dissertation, published as Dark Age Naval Power in 1991, was a study of north European seafaring before the Viking Age. The author of over 20 books, John has written on a wide range of historical topics but his main interests are the Vikings, maritime history and historical atlases. John Haywood formerly taught medieval history at Lancaster University, but since 2002 has been a full-time writer and tour leader and lectures on cruise ships.
John Maclean
Astronomy & Astrophysics
FRAS (Fellow of the Royal Astronomical Society)



Coming from:
Exeter, Devon UK

John is an experienced Science Communicator in the fields of Astronomy and Astrophysics and is an award winning Astro Photographer. He has a special interest in Cometary science and is a member of the UK Meteor Monitoring Network as well as participating as a communicator for NASA and ESA space missions. John is an experienced presenter with an engaging and humorous style accompanied with extremely professional graphic and audio presentations. John has the ability to communicate scientific concepts in a way that the audience both enjoys and understands. He is also able to provide "Stargazing" nights on board and can lead Aurora expeditions.
Glenn Patrick
Physics, Cosmology & Earth Sciences
BSc, PhD, CPhys, FInstP, FRAS



Coming from:
Lyme Regis, Dorset UK

Glenn is a particle physicist who has spent most of his career working on large international experiments using accelerators at the CERN Laboratory in Geneva. Glenn is based at the Rutherford Appleton Laboratory where he is now an Honorary Scientist and is also a Visiting Professor at the University of Portsmouth, where he teaches. Glenn regularly gives public talks to a wide variety of audiences and specialises in explaining the concepts of physics, cosmology and astronomy in everyday language.
Lennart Resenbro
Science, Navigation and History
Scandinavia, Baltic & Arctic Regions



Coming from:
Vallensbaek Strand, Denmark

Lennart has sailed the seven seas as an officer before becoming a Naval Architect. He is now educating future officers of the Royal Danish Navy in their role as navigators. Believing that learning should be fun he is more of a performer than a traditional lecturer, and always wants his audiences to take part or gain some hands-on experience from his talks. Topics would be on Navigation combined with Astronomy, Arctic navigation in combination with great Arctic explorers, modern Ship construction and Naval History especially in the North Sea and Baltic region.
William Rickett
Forensics, Famous Trials, WWII and Destinations




Coming from:
Wooster, Wayne County, Ohio USA

Bill Rickett is a retired judge, former law professor and criminal trial attorney. Forensic evidence was always an important component of his practice, teaching and judicial duties. Hundreds of his former students practice throughout the country as prosecutors and defense attrorneys. Rickett earned his Bachelorís and Masterís degrees from The Ohio State University and his Juris Doctor cum laude from The University of Akron. He retired from the bench in 2012. That same year, he was appointed to but declined a seat on the Supreme Court of the Republic of Palau.
Louise Riofrio
Astronomy, Space Exploration, Pacific Voyaging
Alaska Naturalist, Astronomy, NASA Scientist



Coming from:
Kamuela, Hawaii USA

Louise Riofrio is educated in physics and astronomy. She worked as a Scientist at NASA Johnson Space Center in Houston, studying the Moon. She is known worldwide for discovering change in the the Speed of Light, and is invited to speak at scientific conferences worldwide. Her lectures describe how peoples of the Mediterranean discovered that Earth is round and travels around the Sun. Louise is also an Alaska Naturalist and she travels the Pacific each year in search of new discoveries.
| | | |
| --- | --- | --- |
| | | Col Verderame has been involved in the U.S. space program for 38 years, working for NASA & the USAF, with degrees in astro physics, geological engineering & aerospace engineering. He is a graduate of the USAF Test Pilot School, having flown in 56 different aircraft & was a NASA astronaut instructor, teaching astronauts to fly the Space Shuttle. He is an experienced cruise ship speaker who has been public speaking for over 30 years to diverse audiences from astronauts to community groups with a down-to-earth, engaging style that makes complex subjects easily understandable to anyone. |
| | | |
| --- | --- | --- |
| | | Jonathan H. Ward is an astronomer, author, speaker, and space historian. Jonathanís joy of bringing the space program to life for the public began in high school, when he served as a tour guide at the Smithsonianís National Air and Space Museum during the Apollo era. Today he is a Fellow of the Royal Astronomical Society, a Solar System Ambassador for NASAís Jet Propulsion Laboratory, and a frequent speaker on astronomy and space exploration to audiences ranging from schools to retirement communities to national conferences. |
Michael Kerry White
Film Actor, Author, Singer, International business




Coming from:
High Wycombe, Bucks UK

Michael was born outside Cardiff in the UK but now lives near London. For 30 years his working life was as a highly successful International Sales Director and CEO travelling the world presenting, working in and visiting many diverse countries and cultures. At the end of 2011 he decided to hand in his Frequent flyer cards and retire. This didn't last very long because by a series of accidents and good fortune he has become a multi-award winning character and comedic actor and author. Michael is highly sought after and accomplished speaker and presenter, who is enjoyed by audiences from all around the world.