Enrichment Requirement

Cruise Itinerary
CRUISE ITINERARY - EC191027 Hawaii Cruise
Embarkation:
Los Angeles, California USA
Date: Sunday, October 27, 2019
Disembarkation:
Los Angeles, California USA
Date: Monday, November 11, 2019
No of Nights:
15
An experienced ENRICHMENT SPEAKER is required who can provide 9 to 10 Powerpoint presentations.
This is a SpeaknSave cruise offer meaning that a small booking administration fee will apply for the successful applicant.
Cabin provided will be a standard stateroom.
Bring a guest FREE OF CHARGE, twin share basis. Your guest will be required to pay the daily gratuity fee and their own travel expenses.
The successful applicant and their guest will be provided full passenger status including applicable bar discounts and free internet.
Roundtrip airfare for the speaker is provided within reason. Celebrity will not generally cover airfares between Australia and Europe for example.
Please submit your proposed talks directly related to the itinerary along with your application.
| | | |
| --- | --- | --- |
| Day 1 | EMBARK Los Angeles, California USA | |
| Day 2 | At sea | |
| Day 3 | At sea | |
| Day 4 | At sea | |
| Day 5 | At sea | |
| Day 6 | Hilo, Hawaii USA | |
| Day 7 | Kailua-Kona, Hawaii USA | |
| Day 8 | Lahaina, Hawaii USA | |
| Day 9 | Honolulu, Hawaii USA | |
| Day 10 | At sea | |
| Day 11 | At sea | |
| Day 12 | At sea | |
| Day 13 | At sea | |
| Day 14 | At sea | |
| Day 15 | Ensenada Mexico | |
| Day 16 | DISEMBARK Los Angeles, California USA | |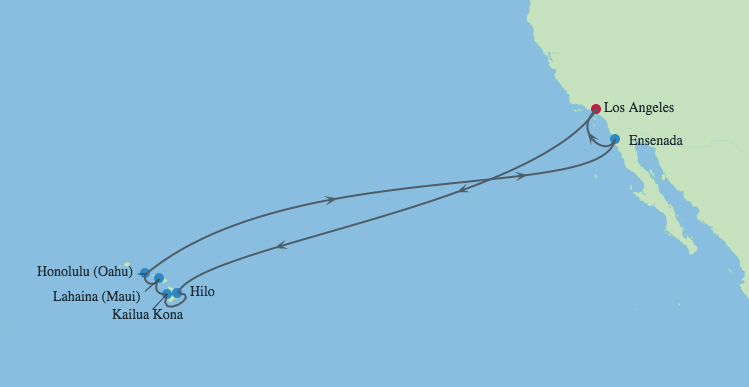 DISCLAIMER
This information has been compiled from various sources. Whilst every effort has been made to provide accurate information, the cruise lines can and do change their itineraries. Cruise Ship Speakers cannot be held liable for any inaccuracies that these programs may contain. Please refer to the up-to-date information provided by the cruise lines themselves. Please notify the Web Administrator if there are any inaccuracies.
Available Candidates
Click on the photo or name for full profile details.
The following people have indicated their availability for this cruise or sectors of this cruise.
The list is in ORDER by General Discipline (ie. Art Instructors, Bridge Directors, Craft Instructors, Destination Lecturers, Enrichment Speakers, etc).
Please contact the candidates directly if you would like to engage any of them. There are NO fees to do this.
Alternatively, we can arrange the bookings on your behalf. Please advise us of your choice(s) for this cruise.
Edward Butler
History, Genealogy, Law & Travel
Award winning author of history/genealogy/family history books



Coming from:
San Antonio, Texas USA

Judge Ed Butler was a Ford Foundation Scholar at Vanderbilt University School of Law, where he graduated with honors. For many years he was a Board Certified Civil Trial Attorney by both the Texas and National Boards. He is a retired federal judge; retired Naval Intelligence Commander; & former law school professor. His honors include the DAR Medal of Honor, SAR Gold Good Citizenship Medal, and he was selected to the Texas Genealogical Hall of Fame. He's listed in Who's Who in America & Who's Who in the World. He is a world traveler who has visited over 200 countries.
Bob Collins
Materials, Science, Maritime History




Coming from:
Preston, Lancashire UK

Bob Collins (B.SC, MBA) is a graduate metallurgist and businessman with over thirty years professional experience working in the UK and internationally. Bob has developed his portfolio of entertaining and informative talks based on a deep interest in both maritime history and the influence of materials on the world of today. Bob is also an adult fan of LEGO and uses this to add character, a little humour and discussion topics to a relaxed and note free style of presentation.
| | | |
| --- | --- | --- |
| | | Katrina Gulliver holds a PhD in history from Cambridge, and has worked at universities and museums in the US, UK, Germany, Singapore and Australia. Her research interests include Southeast Asia and the Pacific, and the development of port cities. She has taught courses on the histories of Asia since the spice race, urban history, and the development of policing and forensics. She is also the co-editor of the 'Pacific Worlds' series from the University of Nebraska Press, covering the histories and cultures of the Pacific. |
| | | |
| --- | --- | --- |
| | | Dr. Gary Koverman is a forensic scientist and has worked for over 30 years in forensic laboratories in Ohio, Colorado and New Mexico. He has examined many world class crimes and is still working in his own private business in New Mexico. His expertise in a wide variety of forensic fields gives depth and understanding to many forms of physical evidence. Gary has lectured various law enforcement police agencies in the area of forensic science and has taught at universities in Ohio, Colorado, and New Mexico. He is also a great student of history and enjoys seeking out relevant historical events with a fresh forensic perspective for his talks. |
Russell Lee
Science writer, humorist and storyteller
Not your average lecturer!



Coming from:
Cupertino, California USA

Russell Lee's life and career are a celebration of creativity in the art of communications and storytelling. He has experience as an entertainer, educator, lecturer, motivational speaker, cartoonist, musician, songwriter, actor and stand-up comedian. With an eclectic background in research and multimedia presentations, Russell can lecture on a wide range of topics, including cultures and geographies; history and famous historical figures; science and technology; and art and music. He believes in being entertaining as well as educational, and he uses storytelling to create memorable experiences for his audiences.
Glenn Patrick
Physics, Cosmology & Earth Sciences
BSc, PhD, CPhys, FInstP, FRAS



Coming from:
Lyme Regis, Dorset UK

Glenn is a particle physicist who has spent most of his career working on large international experiments using accelerators at the CERN Laboratory in Geneva. Glenn is based at the Rutherford Appleton Laboratory where he is now an Honorary Scientist and is also a Visiting Professor at the University of Portsmouth, where he teaches. Glenn regularly gives public talks to a wide variety of audiences and specialises in explaining the concepts of physics, cosmology and astronomy in everyday language.
Bill Powell
Travel & Music
South East Asia, the USA and contemporary music.



Coming from:
Chester, Cheshire UK

Bill was an accountant with BT and joined Marks and Spencer to head their Customer Services Division. He subsequently became Chairman of the Consumer Credit Trade Association. He took early retirement and embarked on a completely different career path as a Tour Manager, escorting groups of travellers to worldwide destinations. He specialises in the USA, Borneo and China. Bill's talks largely reflect his experiences during his ten years as a Tour Manager, mixing personal high (and low!) lights with amusing anecdotes about his journeys around the world.
Elisha Saffer
Maritime History, Oceanography, History, Culture




Coming from:
West Palm Beach, Florida USA

Al's background is a mixture of science, economics, technology and education. Al was an electronics instructor while in the U.S. Air Force, a Programing Instructor at New York University, and a Computer Systems Engineer and Instructor at IBM. Over a period of 10 summers Al has given a variety of enrichment lectures at Sunrise Senior College which is associated with the University of Maine. He has provided enrichment lectures on nine different cruises for four different cruise lines and his penchant for research enables him to give presentations across a wide range of subjects.
John Thomas
Motion Pictures and Television
Producer/Director/Professor; Feature Films, Documentaries, Celebs



Coming from:
Houston, Texas USA

John has worked 45 years in Hollywood, including the production of nearly 40 documentaries, commercials and 7 feature films as producer/director/writer and editor. He has worked at the major Hollywood studios, and directed many well-known stars. As a stand up comedian, John peppers his movie presentations with his trademark, easy-going and unassuming observational humor. Unlike other speakers who just talk about movies, John is an actual movie maker who can authoritatively answer audience questions, and provide honest answers along with real world illustrations and examples.
Michael Tribe
Science & Sports History
BSc., PhD, PGCE, C.Biol. FRSB



Coming from:
Eastbourne, East Sussex UK

Mike Tribe attended both Durham & Cambridge universities as a student, followed by 3 years as Head of Biology at a London school, before taking up a Lectureship at Sussex University. Mike has always enjoyed the challenges of teaching, especially communicating difficult scientific ideas in ways understandable to non-scientists. He was elected a Fellow of the Royal Society of Biology in 1978 and given an award for Excellence in Teaching by Sussex Alumni Society in 1999. He loves talking about most sports and was a County athlete and Cambridge Blue in his youth.
Ken Verderame
Astronomy & Space Travel




Coming from:
Indialantic, Florida USA

Col Verderame is currently the Director of the Joint STARS Combined Test Force at Patrick Air Force Base. He is a graduate of the US Air Force Test Pilot School and has flown in 56 different aircraft. While on active duty he was a NASA flight control & propulsion astronaut instructor, teaching astronauts to fly the Space Shuttle. While new to cruise ship enrichment lecturing, Col Verderame has been public speaking for over 25 years to a diverse group of audiences from Astronauts to students and community groups with a down-to-earth, engaging style that takes complex subjects and makes them easily understandable to anyone.
Michael Kerry White
Film Actor, Author, Singer, International business




Coming from:
High Wycombe, Bucks UK

Michael was born outside Cardiff in the UK but now lives near London. For 30 years his working life was as a highly successful International Sales Director and CEO travelling the world presenting, working in and visiting many diverse countries and cultures. At the end of 2011 he decided to hand in his Frequent flyer cards and retire. This didn't last very long because by a series of accidents and good fortune he has become a multi-award winning character and comedic actor and author. Michael is highly sought after and accomplished speaker and presenter, who is enjoyed by audiences from all around the world.
Dr Karen Woodman
Destination History & Culture
B.Sc., M.A., Ph.D.



Coming from:
Brisbane, Queensland Australia

Dr Karen Woodman is a retired university professor, who is an entertaining cruise enrichment speaker on topics such as history, education, street art, culture, dance, language, and food as they relate to cruise destinations. Karen is also an avid social dancer who enjoys sharing her love of dance, the benefits of social dance, and the mind-body connection. She has traveled extensively, including North and South America, the South Pacific, Australia and New Zealand, the Caribbean, Cuba, Europe, Scandinavia, and South-East Asia.