Enrichment Requirement

Cruise Itinerary
CRUISE ITINERARY - EC191027 Hawaii Cruise
Embarkation:
Los Angeles, California USA
Date: Sunday, October 27, 2019
Disembarkation:
Los Angeles, California USA
Date: Monday, November 11, 2019
No of Nights:
15
Speakers and Instructors who are available for this cruise should register their interest. No specific topics indicated.
| | | |
| --- | --- | --- |
| Day 1 | EMBARK Los Angeles, California USA | |
| Day 2 | At sea | |
| Day 3 | At sea | |
| Day 4 | At sea | |
| Day 5 | At sea | |
| Day 6 | Hilo, Hawaii USA | |
| Day 7 | Kailua-Kona, Hawaii USA | |
| Day 8 | Lahaina, Hawaii USA | |
| Day 9 | Honolulu, Hawaii USA | |
| Day 10 | At sea | |
| Day 11 | At sea | |
| Day 12 | At sea | |
| Day 13 | At sea | |
| Day 14 | At sea | |
| Day 15 | Ensenada Mexico | |
| Day 16 | DISEMBARK Los Angeles, California USA | |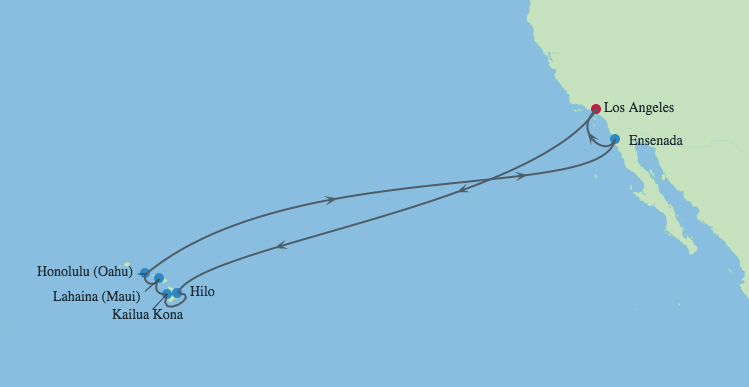 DISCLAIMER
This information has been compiled from various sources. Whilst every effort has been made to provide accurate information, the cruise lines can and do change their itineraries. Cruise Ship Speakers cannot be held liable for any inaccuracies that these programs may contain. Please refer to the up-to-date information provided by the cruise lines themselves. Please notify the Web Administrator if there are any inaccuracies.
Available Candidates
Click on the photo or name for full profile details.
The following people have indicated their availability for this cruise or sectors of this cruise.
The list is in ORDER by General Discipline (ie. Art Instructors, Bridge Directors, Craft Instructors, Destination Lecturers, Enrichment Speakers, etc).
Please contact the candidates directly if you would like to engage any of them. There are NO fees to do this.
Alternatively, we can arrange the bookings on your behalf. Please advise us of your choice(s) for this cruise.
Edward Butler
History, Genealogy, Law & Travel
Award winning author of history/genealogy/family history books



Coming from:
San Antonio, Texas USA

Judge Ed Butler was a Ford Foundation Scholar at Vanderbilt University School of Law, where he graduated with honors. For many years he was a Board Certified Civil Trial Attorney by both the Texas and National Boards. He is a retired federal judge; retired Naval Intelligence Commander; & former law school professor. His honors include the DAR Medal of Honor, SAR Gold Good Citizenship Medal, and he was selected to the Texas Genealogical Hall of Fame. He's listed in Who's Who in America & Who's Who in the World. He is a world traveler who has visited over 200 countries.
Matt Costello
Novelist, Scriptwriter, Game Designer




Coming from:
Ossining, NY USA

Matthew Costello is an American horror, Gothic, and science fiction writer. His articles have appeared in publications including the Los Angeles Times and Sports Illustrated. He scripted Trilobyte's bestselling CD-ROM interactive dramas "The 7th Guest" and its sequel "The 11th Hour", as well as many other videogames. His innovative work includes ground-breaking and award-winning games, online destinations, novels, and television.
| | | |
| --- | --- | --- |
| | | Laurie is a native from St. Louis, Missouri. She is a charismatic high energy speaker with an infectious enthusiasm for life. She has turned the tables on life and is an exciting Television & Radio Talk show Host, Life enrichment speaker, Life coach and fitness expert who make better the lives of those surrounding her. Laurie has spoken before and provided lecture series, motivational & inspirational talks and a rage of participatory programs to audienceís reflecting all ages, cultures, ethnic groups and economic levels throughout a career spanning over 25 years. |
| | | |
| --- | --- | --- |
| | | Dr. Gary Koverman is a forensic scientist and has worked for over 30 years in forensic laboratories in Ohio, Colorado and New Mexico. He has examined many world class crimes and is still working in his own private business in New Mexico. His expertise in a wide variety of forensic fields gives depth and understanding to many forms of physical evidence. Gary has lectured various law enforcement police agencies in the area of forensic science and has taught at universities in Ohio, Colorado, and New Mexico. He is also a great student of history and enjoys seeking out relevant historical events with a fresh forensic perspective for his talks. |
| | | |
| --- | --- | --- |
| | | Dick is Professor Emeritus of Geology, having retired in 2002 after 38 years of teaching and research at the University of Minnesota Duluth. He received his BA at the University of Minnesota Duluth (UMD), his MA at the University of Missouri-Columbia, spent a year in Finland as a Fulbright Fellow, and his Ph.D. at Stanford University. His specialty in geology is the study of sedimentary rocks. Dick has published 91 papers, 90 abstracts, 8 books, and has co-authored 12 geological maps, as well as had research projects on all 7 continents, including Antarctica. He has presented dozens of illustrated lectures on several cruise lines for the past 30 years in most parts of the world. |
Bill Powell
Travel & Music
South East Asia, the USA and contemporary music.



Coming from:
Chester, Cheshire UK

Bill was an accountant with BT and joined Marks and Spencer to head their Customer Services Division. He subsequently became Chairman of the Consumer Credit Trade Association. He took early retirement and embarked on a completely different career path as a Tour Manager, escorting groups of travellers to worldwide destinations. He specialises in the USA, Borneo and China. Bill's talks largely reflect his experiences during his ten years as a Tour Manager, mixing personal high (and low!) lights with amusing anecdotes about his journeys around the world.
Elisha Saffer
Maritime History, Oceanography, History, Culture




Coming from:
West Palm Beach, Florida USA

Alís background is a mixture of science, economics, technology and education. Al was an electronics instructor while in the U.S. Air Force, a Programing Instructor at New York University, and a Computer Systems Engineer and Instructor at IBM. Over a period of 10 summers Al has given a variety of enrichment lectures at Sunrise Senior College which is associated with the University of Maine. He has provided enrichment lectures on nine different cruises for four different cruise lines and his penchant for research enables him to give presentations across a wide range of subjects.
Steve Simone
Music Historian - History of Soul
Singer & Songwriter



Coming from:
Strabane, Northern Ireland UK

Steve Is an established artist and music historian and give a fascinating insight into the formation of Motown in Detroit to Stax Records In Memphis, as well as exploring the artist and musician that came to make there music famous. He also give a insight into the formation of Jazz and it roots to it modern interpretation.