Enrichment Requirement

Cruise Itinerary
CRUISE ITINERARY - 4929 Caribbean Cruise
Embarkation:
San Juan Puerto Rico
Date: Monday, November 11, 2019
Disembarkation:
Fort Lauderdale, Florida USA
Date: Friday, November 22, 2019
No of Nights:
11
Speakers and Instructors who are available for this cruise should register their interest. No specific topics indicated.
| | | |
| --- | --- | --- |
| Day 1 | EMBARK San Juan Puerto Rico | |
| Day 2 | St Thomas, Charlotte Amalie USV | |
| Day 3 | Gustavia Saint Barthélemy | |
| Day 4 | St Johns Antigua | |
| Day 5 | Fort-de-France, Martinique France | |
| Day 6 | Le Saintes, Guadeloupe | |
| Day 7 | Phillipsberg Saint Maarten | |
| Day 8 | Spanish Town, Virgin Gorda Virgin Islands | |
| Day 9 | At sea | |
| Day 10 | At sea | |
| Day 11 | Key West, Florida USA | |
| Day 12 | DISEMBARK Fort Lauderdale, Florida USA | |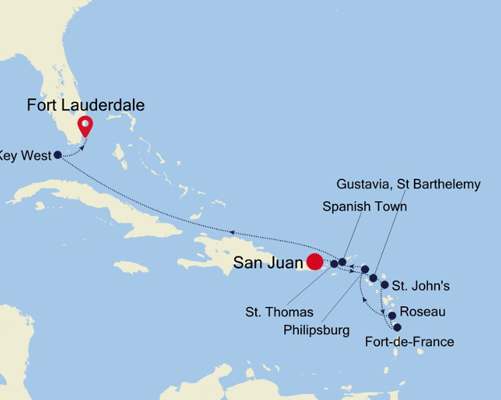 DISCLAIMER
This information has been compiled from various sources. Whilst every effort has been made to provide accurate information, the cruise lines can and do change their itineraries. Cruise Ship Speakers cannot be held liable for any inaccuracies that these programs may contain. Please refer to the up-to-date information provided by the cruise lines themselves. Please notify the Web Administrator if there are any inaccuracies.
Available Candidates
Click on the photo or name for full profile details.
The following people have indicated their availability for this cruise or sectors of this cruise.
The list is in ORDER by General Discipline (ie. Art Instructors, Bridge Directors, Craft Instructors, Destination Lecturers, Enrichment Speakers, etc).
Please contact the candidates directly if you would like to engage any of them. There are NO fees to do this.
Alternatively, we can arrange the bookings on your behalf. Please advise us of your choice(s) for this cruise.
James Jacobs
Geology, Oceanography, Natural History, Maritime History




Coming from:
Pt. Richmond, California USA

James enjoys sharing his life-long fascination with earth history and nature and describing it in simple and clear terms to interested cruise guests. As a Fulbright Scholar, he has taught graduate classes and workshops on a variety of environmental science and geology topics at universities in California, Germany, India, Israel, and Jamaica. After spending several years as an oil geologist, he started an environmental consulting company in California in 1990 and works as an expert witness on forensic cases. James has co-authored five environmental technical books.
| | | |
| --- | --- | --- |
| | | Dr. Gary Koverman is a forensic scientist and has worked for over 30 years in forensic laboratories in Ohio, Colorado and New Mexico. He has examined many world class crimes and is still working in his own private business in New Mexico. His expertise in a wide variety of forensic fields gives depth and understanding to many forms of physical evidence. Gary has lectured various law enforcement police agencies in the area of forensic science and has taught at universities in Ohio, Colorado, and New Mexico. He is also a great student of history and enjoys seeking out relevant historical events with a fresh forensic perspective for his talks. |