Enrichment Requirement

Cruise Itinerary
CRUISE ITINERARY - 3914 British Isles (with Dublin overnight) Cruise
Embarkation:
Southampton UK
Date: Monday, May 13, 2019
Disembarkation:
Southampton UK
Date: Saturday, May 25, 2019
No of Nights:
12
Speakers and Instructors who are available for this cruise should register their interest. No specific topics indicated.
| | | |
| --- | --- | --- |
| Day 1 | EMBARK Southampton UK | |
| Day 2 | St Peter Port Guernsey | |
| Day 3 | Cork (from Cobh) Ireland | |
| Day 4 | Dublin Ireland | |
| Day 5 | Dublin Ireland | |
| Day 6 | Belfast, Northern Ireland UK | |
| Day 7 | Greenock (Glasgow), Scotland UK | |
| Day 8 | At sea | |
| Day 9 | Invergordon, Scotland UK | |
| Day 10 | Edinburgh (from South Queensferry) UK | |
| Day 11 | At sea | |
| Day 12 | Le Havre France | |
| Day 13 | DISEMBARK Southampton UK | |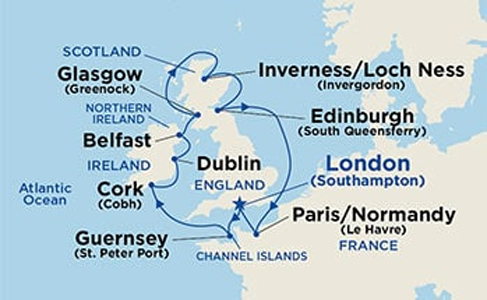 DISCLAIMER
This information has been compiled from various sources. Whilst every effort has been made to provide accurate information, the cruise lines can and do change their itineraries. Cruise Ship Speakers cannot be held liable for any inaccuracies that these programs may contain. Please refer to the up-to-date information provided by the cruise lines themselves. Please notify the Web Administrator if there are any inaccuracies.
Available Candidates
Click on the photo or name for full profile details.
The following people have indicated their availability for this cruise or sectors of this cruise.
The list is in ORDER by General Discipline (ie. Art Instructors, Bridge Directors, Craft Instructors, Destination Lecturers, Enrichment Speakers, etc).
Please contact the candidates directly if you would like to engage any of them. There are NO fees to do this.
Alternatively, we can arrange the bookings on your behalf. Please advise us of your choice(s) for this cruise.
Ronald Largent
Modern History and World Affairs




Coming from:
Anderson, CA USA

Ron has over 50 years travel experience where he has either worked, lived, or traveled in over 60 countries. He graduated from the University of California at Santa Barbara; attended the Air Command & Staff College and the Air War University in international relations, retiring as a reserve Colonel. He has also taught college courses in international business and travel. Currently, he is a professional travel speaker, motivational speaker and an international travel consultant-advisor to travel interest groups. His specialty is international travel destinations, international business, culture, history, and world current events.
Edward Butler
History, Genealogy, Law & Travel
Award winning author of history/genealogy/family history books



Coming from:
San Antonio, Texas USA

Judge Ed Butler was a Ford Foundation Scholar at Vanderbilt University School of Law, where he graduated with honors. For many years he was a Board Certified Civil Trial Attorney by both the Texas and National Boards. He is a retired federal judge; retired Naval Intelligence Commander; & former law school professor. His honors include the DAR Medal of Honor, SAR Gold Good Citizenship Medal, and he was selected to the Texas Genealogical Hall of Fame. He's listed in Who's Who in America & Who's Who in the World. He is a world traveler who has visited over 200 countries.
| | | |
| --- | --- | --- |
| | | Sam and Candy have directed and acted in theater for over 30 years. Their main goal now is to keep the movie musical alive. They have over 15 lectures dealing with the History of the Movie and Broadway Musical. They teach these courses at Rutger's University School of Continuing Education and various libraries and centers in NJ... "We promise you will leave our lectures with your toes tapping and a song in your heart." |
Judith Cranswick
Crime Writer, Tutor & Destination Speaker




Coming from:
Swindon, - UK

Judith has two great passions – writing and travel. She has travelled extensively throughout Europe, China, Indochina and Japan, Asia, India, Africa and Central and South America. Judith is an award-winning novelist and author of the Fiona Mason Mysteries and several stand-alone psychological thrillers. Travel has always been the inspiration for Judith's novels. Judith is an experienced speaker and in addition to writing her novels, she now works part time teaching Tai Chi and cruise ship lecturing.
Rab Houston
British and Irish History




Coming from:
Edinburgh, Scotland UK

Professor Rab Houston took a first class honours degree in Modern History from the University of St Andrews and, after six years at the University of Cambridge as a research student and research fellow, returned as a lecturer in 1983. A full professor since 1995, he has held visiting professorships. Rab has written 10 books on subjects such as early modern British and European literacy, British demography and urbanisation and society. In June 2017 he acted as an 'expert' lecturer on a 'Smithsonian Journeys' tour of Scotland. His talks on British and Irish History are entertaining and stimulating.
Gary Koverman
Forensic Science




Coming from:
Las Cruces, New Mexico USA

Gary Koverman is a forensic scientist and has worked for over 30 years in forensic laboratories in Ohio, Colorado and New Mexico. He has examined many world class crimes and is still working in his own private business in New Mexico. His expertise in a wide variety of forensic fields gives depth and understanding to many forms of physical evidence. Gary has lectured various law enforcement police agencies in the area of forensic science and has taught at universities in Ohio, Colorado, and New Mexico. He is also a great student of history and enjoys seeking out relevant historical events with a fresh forensic perspective for his talks.
Dr James Miller
Earth History, Volcanology & Field Geology




Coming from:
Shuniah, Ontario Canada

Dr. Jim Miller is an emeritus assistant professor of geology at the University of Minnesota. He received his Bachelor of Science degree in 1977 from the University of Illinois-Urbana and his PhD in 1986 from the University of Minnesota-Twin Cities. Throughout his professional career, Jim has also been extensively involved in public outreach, enthusiastically spreading his knowledge of local and global geology, geological processes, and Earth history. In his retirement, Jim continues to pursue his passion for telling awe-inspiring and entertaining stories about the 4.5 billion year history of Planet Earth.
| | | |
| --- | --- | --- |
| | | After a long career working for the RN Terri finished her time with a post that included giving presentations on computer security to naval ships and establishments. It was during this time that she received her training in public speaking. An enthusiastic traveller and photographer for many years she soon realised after retiring that there was a wide demand for speakers so started to develop a repertoire of travelogues using her many personal experiences and the vast number of photos taken over the years. |
Julian Ruck
Author & Political Commentator
BA (Hons.) Law



Coming from:
Kidwelly, Carmarthenshire UK

Julian trained as a lawyer in London and has been a law lecturer and manager of LSC contracts for CAB'x in some of the most deprived areas of the country. He is a columnist, Freedom of Information campaigner, Author and more recently, a weekly guest 'Letter from Wales' contributor to the influential Westminster Labour Uncut. He talks on current political and social issues.
Malcolm Welshman
Veterinarian, Writer, Broadcaster & Lecturer




Coming from:
Near Crewkerne, Somerset UK

Malcolm is a retired vet, freelance journalist and author. He has written three pet novels, the ebook version of the first reaching number two on Kindle's bestseller list. He has contributed many animal-orientated features for national magazines and is a feature writer for the Daily Mail. He currently partakes in a weekly talk show for a local radio station and is a regular panellist on Radio Somerset. He is in demand for his witty take on life as a vet and as an onboard raconteur has completed 36 cruise speaking engagements.
John Wilcock
Archaeology, History, Science & Computing
MA(Oxon), BSc, PhD, CEng, FIET, FBCS, CITP



Coming from:
Stafford, Staffordshire UK

Dr John Wilcock read Physics at Oxford University then worked for 7 years as an Engineer in the computer industry (1st and 2nd generations), before entering academia in 1969. He was one of the first world practitioners in Computer Archaeology (the application of computers to archaeological research). Categories include Archaeology, Egyptology, History, Computing, Espionage, Codes & ciphers, Science, Geology and Music. See full profile for suggested list of stand-alone and destination-based topics.