Enrichment Requirement

Cruise Itinerary
CRUISE ITINERARY - 3925 Western Europe Passage Cruise
Embarkation:
Southampton UK
Date: Sunday, September 22, 2019
Disembarkation:
Fort Lauderdale, Florida USA
Date: Tuesday, October 8, 2019
No of Nights:
16
An Enrichment Speaker is required who can provide 10 Powerpoint presentations.
This is a SpeaknSave cruise offer meaning that a small booking administration fee will apply for the successful applicant.
Cabin provided will be an Officer (Fleet) Cabin located in a crew area with either bunk beds or a double bed depending upon availability at time of sailing (to be advised).
Bring a guest FREE OF CHARGE, twin share basis. Your guest will be required to pay a daily gratuity fee of USD$13.50.
The successful applicant and their guest will be provided full passenger status.
Princess Cruises will pay for a one-way flight for the speaker only.
Read the GUEST PRESENTER MANUAL for full details relating to this offer and what Princess Cruises will provide.
Please submit your proposed talks along with your registration.
| | | |
| --- | --- | --- |
| Day 1 | EMBARK Southampton UK | |
| Day 2 | Zeebrugge (Bruges) Belgium | |
| Day 3 | Portland UK | |
| Day 4 | At sea | |
| Day 5 | Le Verdon, Bordeaux France | |
| Day 6 | Bilbao (from Getxo) Spain | |
| Day 7 | At sea | |
| Day 8 | Lisbon Portugal | |
| Day 9 | At sea | |
| Day 10 | Ponta Delgada Azores | |
| Day 11 | At sea | |
| Day 12 | At sea | |
| Day 13 | At sea | |
| Day 14 | At sea | |
| Day 15 | At sea | |
| Day 16 | At sea | |
| Day 17 | DISEMBARK Fort Lauderdale, Florida USA | |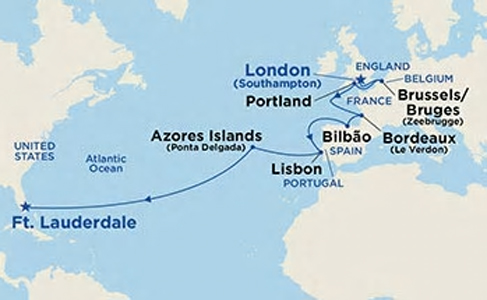 DISCLAIMER
This information has been compiled from various sources. Whilst every effort has been made to provide accurate information, the cruise lines can and do change their itineraries. Cruise Ship Speakers cannot be held liable for any inaccuracies that these programs may contain. Please refer to the up-to-date information provided by the cruise lines themselves. Please notify the Web Administrator if there are any inaccuracies.
Available Candidates
Click on the photo or name for full profile details.
The following people have indicated their availability for this cruise or sectors of this cruise.
The list is in ORDER by General Discipline (ie. Art Instructors, Bridge Directors, Craft Instructors, Destination Lecturers, Enrichment Speakers, etc).
Please contact the candidates directly if you would like to engage any of them. There are NO fees to do this.
Alternatively, we can arrange the bookings on your behalf. Please advise us of your choice(s) for this cruise.
Jim Clement
Destination Lecturer & Maritime Historian
Baltic, Mediterranean. Asia, Caribbean,Latin America, Panama, Norway,



Coming from:
Largo, Florida USA

Jim is a retired USA Diplomat who lived in 13 countries and has given Destination/Maritime History Lectures on more than 120 cruises in Europe, Asia, S. America. He graduated from the U.S. Naval Academy (BSc) and University of Chicago (MBA). He was a US Navy Submarine Officer, VP International for Fortune 500 companies. He was a University Professor for History, Geography, Logistics, and International Marketing. Having lived and worked in Panama and transited the Panama Canal 30 times and Suez Canal 4 times, Jim can give the ship's bridge commentary about the history of the Canal in English or Spanish. He has also narrated bridge commentary about Glaciers in Chile and Norway.
| | | |
| --- | --- | --- |
| | | Sam and Candy have directed and acted in theater for over 30 years. Their main goal now is to keep the movie musical alive. They have over 15 lectures dealing with the History of the Movie and Broadway Musical. They teach these courses at Rutger's University School of Continuing Education and various libraries and centers in NJ... "We promise you will leave our lectures with your toes tapping and a song in your heart." |
Matt Costello
Novelist, Scriptwriter, Game Designer




Coming from:
Ossining, NY USA

To be provided
Graham Hoyle
Murder Mystery Events Organiser




Coming from:
Ringwood, Hampshire UK

After retiring from a long career in the police force, Graham wanted to start a new career that was both entertaining and enjoyable, so "Catch the Killer" was born. Graham has written over eighteen original story lines that can be adapted to specific ships, cruise companies, captains or even specific passengers. The event is interactive, engaging and a lot of fun for the passengers who will find that working in small teams helps their thinking and leads to creating new friendships and contacts on board the ship.
Gary Koverman
Forensic Science




Coming from:
Las Cruces, New Mexico USA

Gary Koverman is a forensic scientist and has worked for over 30 years in forensic laboratories in Ohio, Colorado and New Mexico. He has examined many world class crimes and is still working in his own private business in New Mexico. His expertise in a wide variety of forensic fields gives depth and understanding to many forms of physical evidence. Gary has lectured various law enforcement police agencies in the area of forensic science and has taught at universities in Ohio, Colorado, and New Mexico. He is also a great student of history and enjoys seeking out relevant historical events with a fresh forensic perspective for his talks.
Lindsay Murray
Science
CSci CBiol CRadPro FRSB FLS



Coming from:
Gretna, Dumfries and Galloway UK

Lindsay Murray is a graduate biologist with something in excess of 30 years professional experience both in the UK and overseas, employed variously in clinical and veterinary microbiology, radiation protection, research management, and latterly in health and safety and research ethics. He regularly lectures on a wide range of science related topics to diverse audiences, and has a particular interest in public engagement with science.
Chris Rigby
Aviation
Airline Captain



Coming from:
Leamington Spa, Warwickshire UK

Captain Chris Rigby was trained by BOAC in the early 70's but left to join initially Cyprus Airways and then Britannia Airways at Birmingham. It was with Britannia that he gained his command at the age of 26, one of the youngest jet captains in the UK at that time. After a period of freelance work including private aircraft flying for Chris De Burgh, Nigel Mansell and other celebrities, he joined Easy Jet at its start up in Luton. Chris is still an active pilot doing freelance work. With over over 20,000 hours flying experience he is happy to share this experience through his series of aviation lectures.
Franz Schneider
Enrichment Speaker on Maritime Subjects
Ocean Racing, Navigation, Classic Ocean Liners



Coming from:
Cambridge, Massachusetts USA

Franz Schneider enjoys giving talks on cruise ships because of his love of the sea. A sailor all his life, Franz became active in ocean racing as a teenager. He sailed many thousands of miles with Ted Turner, starting with races from Bermuda to Copenhagen in 1966, and from California to Honolulu in 1967. In the 1970s, Franz was Turner's navigator in many ocean races including the classic Newport to Bermuda, and Miami to Montego Bay races. He was also the founder of Landfall Navigation, a firm that offers navigational supplies and services. Franz talks about ocean racing, as well as several about navigation, including celestial navigation.
Roy Short
Hollywood and Genealogy




Coming from:
Brentwood, California USA

Roy Short is a retired Senior Manager of Deloitte Consulting who has spent the past thirty years studying and teaching genealogy. Upon retirement from corporate consulting he launched "Short On Time", a Professional Genealogy practice and has conducted seminars and workshops on a wide range of family search topics. Since then, his passion for motion pictures has prompted him to create a portfolio of "Tribute" modules which explore and explain different aspects of movie making, stars and genres. He now spends most of his time entertaining and educating cruise passengers in both Hollywood and Genealogy.
David Sibbald
British & American Entertainment




Coming from:
2 Leeds Road, Harrogate UK

A Scot from Edinburgh, David started his career in the Newsroom at Radio Clyde in Glasgow after university, but the lure of teaching Spanish, Russian, Portuguese and French was too great to resist. He later owned his own restaurant in Harrogate, but returned to teaching until his retirement. Since then David has worked on local radio and the internet, providing programmes on music from the 40s, 50s, 60s, 70s and a recent interest – country music. David loves meeting people from all walks of life and is frequently invited to talk to groups locally and on cruises.
Steve Simone
Music Historian - History of Soul
Singer & Songwriter



Coming from:
Strabane, Northern Ireland UK

Steve Is an established artist and music historian and give a fascinating insight into the formation of Motown in Detroit to Stax Records In Memphis, as well as exploring the artist and musician that came to make there music famous. He also give a insight into the formation of Jazz and it roots to it modern interpretation.
Michael Kerry White
Film Actor, Author, Singer, International business




Coming from:
High Wycombe, Bucks UK

Michael was born outside Cardiff in the UK but now lives near London. For 30 years his working life was as a highly successful International Sales Director and CEO travelling the world presenting, working in and visiting many diverse countries and cultures. At the end of 2011 he decided to hand in his Frequent flyer cards and retire. This didn't last very long because by a series of accidents and good fortune he has become a multi-award winning character and comedic actor and author. Michael is highly sought after and accomplished speaker and presenter, who is enjoyed by audiences from all around the world.
John Wilcock
Archaeology, History, Science & Computing
MA(Oxon), BSc, PhD, CEng, FIET, FBCS, CITP



Coming from:
Stafford, Staffordshire UK

Dr John Wilcock read Physics at Oxford University then worked for 7 years as an Engineer in the computer industry (1st and 2nd generations), before entering academia in 1969. He was one of the first world practitioners in Computer Archaeology (the application of computers to archaeological research). Categories include Archaeology, Egyptology, History, Computing, Espionage, Codes & ciphers, Science, Geology and Music. See full profile for suggested list of stand-alone and destination-based topics.
Dr Karen Woodman
Destination History & Culture
B.Sc., M.A., Ph.D.



Coming from:
Brisbane, Queensland Australia

Dr Karen Woodman is a retired university professor, who is an entertaining cruise enrichment speaker on topics such as history, education, street art, culture, dance, language, and food as they relate to cruise destinations. Karen is also an avid social dancer who enjoys sharing her love of dance, the benefits of social dance, and the mind-body connection. She has traveled extensively, including North and South America, the South Pacific, Australia and New Zealand, the Caribbean, Cuba, Europe, Scandinavia, and South-East Asia.