Enrichment Requirement

Cruise Itinerary
CRUISE ITINERARY - SU200613 Into the Midnight Sun
Embarkation:
Bergen Norway
Date: Saturday, June 13, 2020
Disembarkation:
Greenwich, London UK
Date: Saturday, June 27, 2020
No of Nights:
14
Only Speakers focusing on the Arts, World Affairs or Extraordinary Lives who can relate their talks to the itinerary and ports of call should register their interest.
Please submit your proposed lecture topics for consideration.
| | | |
| --- | --- | --- |
| Day 1 | EMBARK Bergen Norway | |
| Day 2 | Bergen Norway | |
| Day 3 | Geiranger Norway | |
| Day 4 | Molde Norway | |
| Day 5 | Cruising the Inside Passage | |
| Day 6 | Tromsø Norway | |
| Day 7 | Honningsvag Norway | |
| Day 8 | Lofoten Islands Norway | |
| Day 9 | At sea | |
| Day 10 | Lerwick, Shetland Islands UK | |
| Day 11 | Kirkwall, Orkney Islands, Scotland UK | |
| Day 12 | Rosyth (for Edinburgh), Scotland UK | |
| Day 13 | At sea | |
| Day 14 | Greenwich, London UK | |
| Day 15 | DISEMBARK Greenwich, London UK | |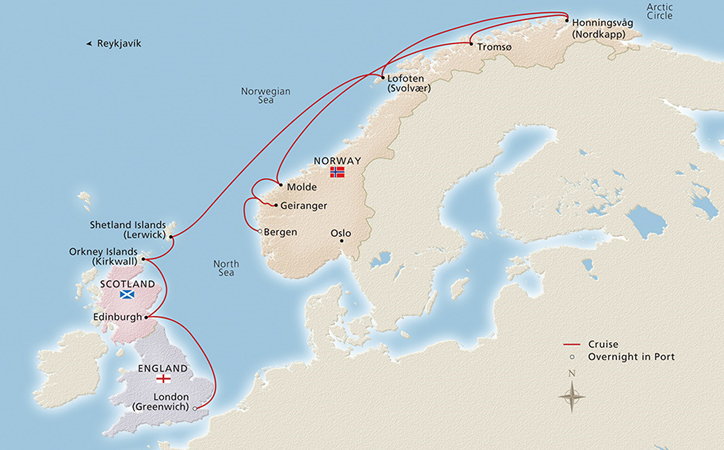 DISCLAIMER
This information has been compiled from various sources. Whilst every effort has been made to provide accurate information, the cruise lines can and do change their itineraries. Cruise Ship Speakers cannot be held liable for any inaccuracies that these programs may contain. Please refer to the up-to-date information provided by the cruise lines themselves. Please notify the Web Administrator if there are any inaccuracies.
Available Candidates
Click on the photo or name for full profile details.
The following people have indicated their availability for this cruise or sectors of this cruise.
The list is in ORDER by General Discipline (ie. Art Instructors, Bridge Directors, Craft Instructors, Destination Lecturers, Enrichment Speakers, etc).
Please contact the candidates directly if you would like to engage any of them. There are NO fees to do this.
Alternatively, we can arrange the bookings on your behalf. Please advise us of your choice(s) for this cruise.
Claudia Puma
Arts and Crafts Tutor




Coming from:
Hamburg, Michigan USA

Claudia Puma's life pursuit has been in the arts and crafts field, her love of color and design took many forms over the past 40 years. For over 38 years she participated in some of the best art fairs in Michigan, Ohio, Indiana, and Illinois. She won awards for her designs in Quilting and in jewelry design, Creative Designs was a very appropriate name for her business. Claudia began teaching on cruise ships in 1986 and has taught on Costa, Celebrity, Cunard, and Carnival, and has traveled extensively in the Mediterranean, Central American, Caribbean, and USA. Traveling the world is a passion for Claudia, teaching classes on cruise brings her two passions together.
Jim Clement
Destination Lecturer & Maritime Historian
Baltic, Mediterranean. Asia, Caribbean,Latin America, Panama, Norway,



Coming from:
Largo, Florida USA

Jim is a retired USA Diplomat who lived in 13 countries and has given Destination/Maritime History Lectures on more than 120 cruises in Europe, Asia, S. America. He graduated from the U.S. Naval Academy (BSc) and University of Chicago (MBA). He was a US Navy Submarine Officer, VP International for Fortune 500 companies. He was a University Professor for History, Geography, Logistics, and International Marketing. Having lived and worked in Panama and transited the Panama Canal 30 times and Suez Canal 4 times, Jim can give the ship's bridge commentary about the history of the Canal in English or Spanish. He has also narrated bridge commentary about Glaciers in Chile and Norway.
| | | |
| --- | --- | --- |
| | | Kathy gained a Doctorate in Agricultural History & Ecological Management, from Imperial College London, in 2004. She has many year's experience both as a civil servant and in private consultancy, organising lectures, activity workshops and study trips in England. Kathy is a member of the Speakers Club of Great Britain and is also an experienced destination lecturer. She has a passion for travel, meeting new people and seeing new places. Kathy has a range of Presentations on; Destinations, British traditions, and the countryside, which can be tailored to destinations or seasons as required. |
Ian Beckett
Modern and Military History
PhD, FR Hist S



Coming from:
Penzance, Cornwall UK

Ian retired as Professor of Military History from the University of Kent (UK) in 2015. Previously Ian held chairs in both the UK and the US, including the Horner Chair in Military Theory at the US Marine Corps University, Quantico, Virginia as well as being Visiting Professor at the US Naval War College, Newport, Rhode Island. He was also on the academic staff of the Royal Military Academy, Sandhurst for 15 years. Ian has an international reputation for his work on the First World War and on the history of the British Army. On cruise ships, however, he speaks more widely on modern and contemporary history.
Paul Brown
Maritime Historian & Author




Coming from:
Welford, Northamptonshire UK

Dr Paul Brown is a maritime history author and speaker. He is a consultant to National Historic Ships, the UK's authority on the preservation of historic ships and boats, and a maritime photographer. A member of the Society for Nautical Research, he was until recently a university lecturer and senior university manager, and has also lectured at the National Maritime Museum, Greenwich.
Margaret Cox
Forensic Anthropologist & Medical Historian
BA, BA Hons, Phd, MIFA, FSA



Coming from:
West Wellow, Hampshire UK

Professor Margaret Cox is an internationally experienced forensic anthropologist who has worked in such places as Iraq, Rwanda, Kosovo, Cyprus, Italy, Belgium and France. She retired from her role as Professor of Forensic Archaeology and Anthropology at Cranfield University and now undertakes consultancy work for governments. She has authored several academic books, appeared in numerous TV and radio documentaries. Her very popular lectures deal with archaeology & anthropology and the history of disease.
Glynda Easterbrook
Geology
BSc.(Hons), ARSM, MA(Ed), FGS



Coming from:
Bedford, Bedfordshire UK

Glynda is a geology graduate of Imperial College, London, an Associate of the Royal School of Mines and has an MA in Education. Starting her career as a mineralogist for the British Geological Survey, she then moved to the Science Faculty of the Open University where she taught and had responsibility for a wide range of Earth Science courses and Summer Schools. She has been an academic advisor to the BBC, the co-author of two books and is a Vice-President of the Oxford Geology Group. She is also President of the Huguenot Society and a Trustee of the Huguenot Museum in Rochester, UK.
| | | |
| --- | --- | --- |
| | | Sharing her passion for cross-cultural insights is central to the presentations by Lucy Hallman Russell. She holds four diplomas in piano, music history and harpsichord, with further studies in Italian, art history, pre-history and archaeology. As a performer and scholar, she has long taught at the University of Music Würzburg. Since 2006 lecturer on European culture (with her husband Ray) for National Geographic/Lindblad Expeditions, etc. Travels to 45 countries and fluency in several languages have given this charming, captivating speaker a special knowledge of all of Europe. |
Professor Ed Lynch
International Relations & Foreign Policy




Coming from:
Roanoke, Virginia USA

Dr. Ed Lynch is Chair of Political Science at Hollins University in Roanoke, Virginia. He is a recognized expert on foreign affairs, international relations and diplomacy, especially that of the Mediterranean world. He has sailed with several cruise lines as an expert speaker, traveling to South America, the Caribbean, Australia, Europe, Southeast Asia, India and the Middle East. Ed is a frequent commentator on political affairs for television, radio and newspapers. His travel adventures include visiting 20 countries in one year, experiencing a minor earthquake in Guatemala, and nearly getting killed in Ecuador, protecting a fellow traveller.
David Mercer
Sports Commentator & Journalist
The World of Tennis



Coming from:
Wendover, Buckinghamshire UK

David is a sports broadcaster specialising in tennis, badminton and rowing. From 1973 to 1984 David umpired at Wimbledon, taking charge of the Men's Doubles Final in 1983 and the Men's Singles Final, between Jimmy Connors and John McEnroe, in 1984. He umpired at numerous other tournaments and Davis Cup ties. David became a full-time broadcaster in 1984 when he joined BBC Radio Sport in London, and 2 years later he joined BBC Television. In his lectures David covers the world of tennis, past, present and future and reveals the hazards of being a sports broadcaster.
Prof. Dr. Daniel Nijensohn
Cultural Historian
Professor of Neurosurgery, MD, MS, PhD, FACS, FAANS (L)



Coming from:
Fairfield, Connecticut USA

Dr. Daniel E. Nijensohn was born and raised in Mendoza, Argentina, where he graduated in the National University of Cuyo Medical School with an MD degree. He interned at the University of Buenos Aires teaching hospitals, followed by a surgical internship at Baylor College of Medicine, Texas Medical Center. He subsequently moved to Rochester, Minnesota where he trained as a neurosurgeon at the Mayo Clinic. Dr. Nijensohn is an Honorary (Emeritus) Professor, Department of Neurosurgery, Yale University. He has lectured extensively including on about 30 ocean cruises. His interests include History, Geography, Biology, the Arts, Science, World Affairs and/or Extraordinary Lives.
Ray Carson Russell
General and Cultural History, International Affairs




Coming from:
Aub, Bavaria Germany

Ray Carson Russell studied history/international relations in Alabama, Munich and Rome, attaining a master's degree from the Univ. of Southern California Europe. Later he taught for American universities in Europe and published articles on democracy and issues of conflict and peace, as well as on travel and general cultural. Since 2006 lecturer (with his wife Lucy) for several cruise lines, incl. Nat. Geographic/Lindblad. Travels in 45 countries have brought considerable experience which enriches his work not only as a lecturer, but also as translator and writer of fiction.
Michael Stone
Archaeology & History
Viking Resident Historian



Coming from:
Chippenham, Wiltshire UK

No Mini Biography provided yet.
William Thayer
History, Science/Technology & World Affairs




Coming from:
San Diego, California USA

William Thayer received his BS in Math from Stanford, an MS in Aerospace Engineering from USC and an MBA from USC. He has spent 30 years in the aerospace industry in aircraft, missiles and spacecraft and 10 years in real estate/finance. Although he has a technical/financial background, history has always been his passion. He enjoys lecturing on great human accomplishments and great historical events. William enhances his historical experience by actually traveling to where history happened. He has visited all 7 continents, over 60 countries and been around the world 3 times.