Enrichment Requirement

Cruise Itinerary
CRUISE ITINERARY - SK201220 Panama Canal & Central America Holiday
Embarkation:
Miami, Florida USA
Date: Sunday, December 20, 2020
Disembarkation:
Miami, Florida USA
Date: Sunday, January 3, 2021
No of Nights:
14
Only Speakers focusing on World Affairs who can relate their talks to the itinerary and ports of call should register their interest.
Please submit your proposed lecture topics for consideration.
| | | |
| --- | --- | --- |
| Day 1 | EMBARK Miami, Florida USA | |
| Day 2 | Key West, Florida USA | |
| Day 3 | At sea | |
| Day 4 | Cozumel Mexico | |
| Day 5 | Belize City Belize | |
| Day 6 | CHRISTMAS DAY Roatan Island Honduras | |
| Day 7 | At sea | |
| Day 8 | Puerto Limon Costa Rica | |
| Day 9 | Colon Panama | |
| Day 10 | Cruising the Panama Canal | |
| Day 11 | At sea | |
| Day 12 | NEW YEARS EVE Montego Bay Jamaica | |
| Day 13 | At sea | |
| Day 14 | At sea | |
| Day 15 | DISEMBARK Miami, Florida USA | |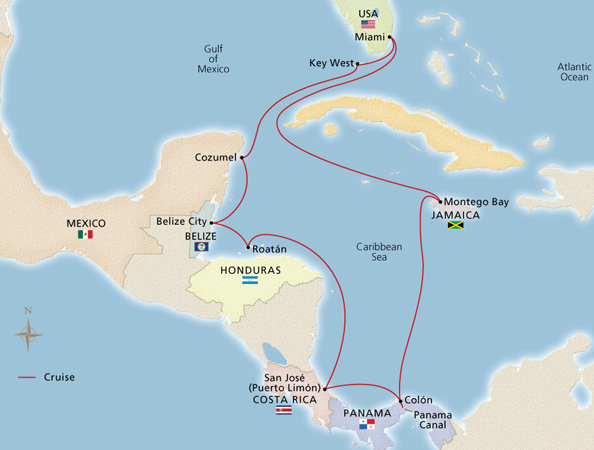 DISCLAIMER
This information has been compiled from various sources. Whilst every effort has been made to provide accurate information, the cruise lines can and do change their itineraries. Cruise Ship Speakers cannot be held liable for any inaccuracies that these programs may contain. Please refer to the up-to-date information provided by the cruise lines themselves. Please notify the Web Administrator if there are any inaccuracies.
Available Candidates
Click on the photo or name for full profile details.
The following people have indicated their availability for this cruise or sectors of this cruise.
The list is in ORDER by General Discipline (ie. Art Instructors, Bridge Directors, Craft Instructors, Destination Lecturers, Enrichment Speakers, etc).
Please contact the candidates directly if you would like to engage any of them. There are NO fees to do this.
Alternatively, we can arrange the bookings on your behalf. Please advise us of your choice(s) for this cruise.
Jim Clement
Destination Lecturer & Maritime Historian
Baltic, Mediterranean. Asia, Caribbean,Latin America, Panama, Norway,



Coming from:
Largo, Florida USA

Jim is a retired USA Diplomat who lived in 13 countries and has given Destination/Maritime History Lectures on more than 120 cruises in Europe, Asia, S. America. He graduated from the U.S. Naval Academy (BSc) and University of Chicago (MBA). He was a US Navy Submarine Officer, VP International for Fortune 500 companies. He was a University Professor for History, Geography, Logistics, and International Marketing. Having lived and worked in Panama and transited the Panama Canal 30 times and Suez Canal 4 times, Jim can give the ship's bridge commentary about the history of the Canal in English or Spanish. He has also narrated bridge commentary about Glaciers in Chile and Norway.
Angela Schneider
Music, History & Culture
History, Culinary History, Music and Arts, Destinations



Coming from:
Vancouver, British Columbia Canada

Angela Schneider holds Masters degrees in Music and Medieval History from Aachen University and is currently a violist with the Vancouver Symphony. Since 1995, she has been involved in the popular, new field of culinary history, which studies the ways in which food has shaped social, cultural and political history. Angela is much in demand as a speaker thanks to presentations that are entertaining, informative and visually rich. She is a popular Destination and Enrichment speaker on cruise ships because she brings history alive by humanizing the subjects and examining what motivates the larger processes of historical change.
Dr John Wineland
Archaeology, History, World History, Ancient History
RPA, PhD



Coming from:
Lakeland, Florida USA

Dr. John D. Wineland, Ph.D. is an archaeologist and History Professor currently living, excavating, and teaching in Central Florida. He has spent 35 years traveling, teaching, leading tours, and researching around the world. He teaches a wide range of courses in Archaeology and History, including Archaeology Fieldwork, World History, Ancient History, Medieval History, and European History. He is a Registered Professional Archaeologist who has excavated on three continents. He has been featured in world media as a leading archaeologist. John enjoys giving engaging presentations to engaged travelers, and also meeting and speaking one on one to the diverse cruising community.
John Douglas Chapman
WW2 Historian & Bletchley Park Expert
Welcome Host Gold : Tourism Marketing



Coming from:
Halesowen, West Midlands UK

Since 1992, John became a volunteer at Bletchley Park, the World War 2 home of the Code-Breakers, and founded the world famous Bletchley Park Post Office. John has been a Senior Tour Guide at Bletchley Park since 1998, entertaining thousands of visitors with anecdotes and revealing stories. As a member of the Guild of Battlefield Tour Guides, John assists the War Research Society with the Centenary Commemorative Tours in Belgium and France. His many lectures include WW2 Code-Breaking activities, Alan Turing, Winston Churchill, Women at War, Spies and Espionage and Ian Fleming.
Jill Eyers
Geology & Archaeology
Volcano Specialist



Coming from:
High Wycombe, Buckinghamshire UK

Born in London, with an early childhood in Australia, Dr Eyers studied geology and achieved her doctorate with the Department of Earth Sciences, Open University in 1992. Since that time she has lectured for several universities including Reading, Luton and the Open University as well as contributing to the Oxford University summer school programme each year. Her geological career has taken her to many parts of the world including the Caribbean, Brazil and Turkey which she finds particularly exciting. Jill presents an extensive series of talks on Geology and Archaeology.
Dr Mike Gibson
Music & Destinations
PhD MPhil FRCP



Coming from:
Southampton, Hants UK

An RAF medical air commodore, CEO of an occupational health company & a member of the Tribunal service, Mike was Honorary Surgeon to HM the Queen for 5 years. He has published widely with passions including history, bagpipes and travel.
Dr Dan Jones
Historian & Archaeologist
Dip Arch, MA, PhD



Coming from:
Suffolk, UK

Dan holds a PhD from University of East Anglia and is currently working on post-doctoral mediaeval material from Norwich. He has been a Member of Kent Archaeological Society since 1965 and has assisted in excavations, mainly on Roman and Mediaeval sites in UK and France since 1965. Dan is particularly interested in practical archaeology, ecclesiastical architecture and near-eastern ancient and classical history and talks on specific sites, or the general history of an area.
Iain Kennedy
Geography & Economic History




Coming from:
Haslemere, Surrey UK

Iain was educated in Lytham St Annes, Lancashire and then read law at Liverpool University. He qualified as a solicitor in 1972 specialising at the outset in advocacy before moving on to corporate work. Travel in the Caribbean and Central America have added dimensions and additional material for his engrossing presentations on the construction of the Panama Canal, Liverpool and the Slave Trade, Pirates of The Caribbean and the cotton and sugar trade. Iain is also passionate about the history and people of Cuba and their long suffering.
Russell Lee
Science writer, humorist and storyteller
Not your average lecturer!



Coming from:
Cupertino, California USA

Russell Lee's life and career are a celebration of creativity in the art of communications and storytelling. He has experience as an entertainer, educator, lecturer, motivational speaker, cartoonist, musician, songwriter, actor and stand-up comedian. With an eclectic background in research and multimedia presentations, Russell can lecture on a wide range of topics, including cultures and geographies; history and famous historical figures; science and technology; and art and music. He believes in being entertaining as well as educational, and he uses storytelling to create memorable experiences for his audiences.
Professor Ed Lynch
International Relations & Foreign Policy




Coming from:
Roanoke, Virginia USA

Dr. Ed Lynch is Chair of Political Science at Hollins University in Roanoke, Virginia. He is a recognized expert on foreign affairs, international relations and diplomacy, especially that of the Mediterranean world. He has sailed with several cruise lines as an expert speaker, traveling to South America, the Caribbean, Australia, Europe, Southeast Asia, India and the Middle East. Ed is a frequent commentator on political affairs for television, radio and newspapers. His travel adventures include visiting 20 countries in one year, experiencing a minor earthquake in Guatemala, and nearly getting killed in Ecuador, protecting a fellow traveller.
Prof. Dr. Daniel Nijensohn
Cultural Historian
Professor of Neurosurgery, MD, MS, PhD, FACS, FAANS (L)



Coming from:
Fairfield, Connecticut USA

Dr. Daniel E. Nijensohn was born and raised in Mendoza, Argentina, where he graduated in the National University of Cuyo Medical School with an MD degree. He interned at the University of Buenos Aires teaching hospitals, followed by a surgical internship at Baylor College of Medicine, Texas Medical Center. He subsequently moved to Rochester, Minnesota where he trained as a neurosurgeon at the Mayo Clinic. Dr. Nijensohn is an Honorary (Emeritus) Professor, Department of Neurosurgery, Yale University. He has lectured extensively including on about 30 ocean cruises. His interests include History, Geography, Biology, the Arts, Science, World Affairs and/or Extraordinary Lives.
Michael Taylor
Stock Trader, Investor & Historian
BA, MA, MSc



Coming from:
Hartlepool, Durham UK

Michael Taylor is a successful full time private investor, having achieved triple digit compounded portfolio returns for each of the last three years. Currently he is seeking to analyse previously unseen primary material on the life of Vice-Admiral Cuthbert Collingwood. He has been invited to speak in front of investment clubs, and delivered the results of a commissioned research paper on populism and the socio-economic effects on the European Union to leading academics and industry experts. Michael expects to publish his book on investing with Harriman-House in Q4 2018.
Dr Karen Woodman
Destination History & Culture
B.Sc., M.A., Ph.D.



Coming from:
Brisbane, Queensland Australia

Dr Karen Woodman is a retired university professor, who is an entertaining cruise enrichment speaker on topics such as history, education, street art, culture, dance, language, and food as they relate to cruise destinations. Karen is also an avid social dancer who enjoys sharing her love of dance, the benefits of social dance, and the mind-body connection. She has traveled extensively, including North and South America, the South Pacific, Australia and New Zealand, the Caribbean, Cuba, Europe, Scandinavia, and South-East Asia.