Enrichment Requirement

Cruise Itinerary
CRUISE ITINERARY - JU200712 Into the Midnight Sun
Embarkation:
Greenwich, London UK
Date: Sunday, July 12, 2020
Disembarkation:
Bergen Norway
Date: Sunday, July 26, 2020
No of Nights:
14
Only Speakers focusing on History, the Arts, World Affairs or Extraordinary Lives who can relate their talks to the itinerary and ports of call should register their interest.
Please submit your proposed lecture topics for consideration.
| | | |
| --- | --- | --- |
| Day 1 | EMBARK Greenwich, London UK | |
| Day 2 | Greenwich, London UK | |
| Day 3 | At sea | |
| Day 4 | Rosyth (for Edinburgh), Scotland UK | |
| Day 5 | Kirkwall, Orkney Islands, Scotland UK | |
| Day 6 | Lerwick, Shetland Islands UK | |
| Day 7 | At sea | |
| Day 8 | Lofoten Islands Norway | |
| Day 9 | Honningsvag Norway | |
| Day 10 | Tromsø Norway | |
| Day 11 | Cruising the Inside Passage | |
| Day 12 | Molde Norway | |
| Day 13 | Geiranger Norway | |
| Day 14 | Bergen Norway | |
| Day 15 | DISEMBARK Bergen Norway | |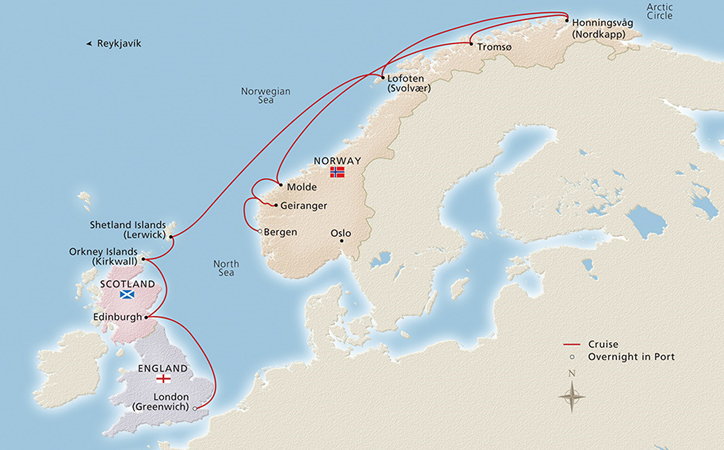 DISCLAIMER
This information has been compiled from various sources. Whilst every effort has been made to provide accurate information, the cruise lines can and do change their itineraries. Cruise Ship Speakers cannot be held liable for any inaccuracies that these programs may contain. Please refer to the up-to-date information provided by the cruise lines themselves. Please notify the Web Administrator if there are any inaccuracies.
Available Candidates
Click on the photo or name for full profile details.
The following people have indicated their availability for this cruise or sectors of this cruise.
The list is in ORDER by General Discipline (ie. Art Instructors, Bridge Directors, Craft Instructors, Destination Lecturers, Enrichment Speakers, etc).
Please contact the candidates directly if you would like to engage any of them. There are NO fees to do this.
Alternatively, we can arrange the bookings on your behalf. Please advise us of your choice(s) for this cruise.
Jim Clement
Destination Lecturer & Maritime Historian
Baltic, Mediterranean. Asia, Caribbean,Latin America, Panama, Norway,



Coming from:
Largo, Florida USA

Jim is a retired USA Diplomat who lived in 13 countries and has given Destination/Maritime History Lectures on more than 120 cruises in Europe, Asia, S. America. He graduated from the U.S. Naval Academy (BSc) and University of Chicago (MBA). He was a US Navy Submarine Officer, VP International for Fortune 500 companies. He was a University Professor for History, Geography, Logistics, and International Marketing. Having lived and worked in Panama and transited the Panama Canal 30 times and Suez Canal 4 times, Jim can give the ship's bridge commentary about the history of the Canal in English or Spanish. He has also narrated bridge commentary about Glaciers in Chile and Norway.
| | | |
| --- | --- | --- |
| | | Kathy gained a Doctorate in Agricultural History & Ecological Management, from Imperial College London, in 2004. She has many year's experience both as a civil servant and in private consultancy, organising lectures, activity workshops and study trips in England. Kathy is a member of the Speakers Club of Great Britain and is also an experienced destination lecturer. She has a passion for travel, meeting new people and seeing new places. Kathy has a range of Presentations on; Destinations, British traditions, and the countryside, which can be tailored to destinations or seasons as required. |
Dr. Charlie Berger
Enrichment Speaker - Natural History




Coming from:
East Thetford, Vermont USA

Dr. Charles Berger, DVM obtained his veterinary degree at Cornell University, and enjoyed a 55-year career in both Berkeley, California and rural Vermont. He rescued, raised and lectured with two Alaskan wolves at universities, ecology centers, museums and public schools, bringing to his audiences both the natural history and mythology of wolves. Charlie's lectures are supported by power point presentations as he engages the audience, without notes, but always with a sense of humor. He will leave the audience feeling both smarter and entertained.
Paul Brown
Maritime Historian & Author




Coming from:
Welford, Northamptonshire UK

Dr Paul Brown is a maritime history author and speaker. He is a consultant to National Historic Ships, the UK's authority on the preservation of historic ships and boats, and a maritime photographer. A member of the Society for Nautical Research, he was until recently a university lecturer and senior university manager, and has also lectured at the National Maritime Museum, Greenwich.
Dr Michael Chriss
Astronomy, History of Science & Astronomy




Coming from:
Tucson, Arizona USA

Michael Chriss has spent a lifetime in teaching and popularizing science through public lectures and planetarium programs. He was Professor of Astronomy and Humanities at the College of San Mateo, and its Planetarium Director. He received his degrees in astronomy at the University of Arizona with further studies in History of Art and Science at Berkeley, Stanford, and Oxford University. Since 1985, when Halley's Comet appeared in the skies, he has lectured aboard cruise ships on astronomy and other topics. He currently is Associate Lecturer in Astronomy at the University of Arizona.University of Arizona.
| | | |
| --- | --- | --- |
| | | Sharing her passion for cross-cultural insights is central to the presentations by Lucy Hallman Russell. She holds four diplomas in piano, music history and harpsichord, with further studies in Italian, art history, pre-history and archaeology. As a performer and scholar, she has long taught at the University of Music Würzburg. Since 2006 lecturer on European culture (with her husband Ray) for National Geographic/Lindblad Expeditions, etc. Travels to 45 countries and fluency in several languages have given this charming, captivating speaker a special knowledge of all of Europe. |
Dr Anna Kouremenos
Archaeology, History & Film
Viking Resident Historian



Coming from:
Tübingen, Germany

Dr. Anna Kouremenos is an archaeologist specializing in the study of identity and material culture in the Greco-Roman world. Recently, she has also conducted historical and archaeological research on the early medieval world. After receiving her BA and MA in Anthropology from The City University of New York, she moved to the UK to pursue a doctorate in Archaeology at the University of Oxford which was awarded to her in December 2013. Her research explores aspects of social, cultural, and island identities and focuses on bringing interdisciplinary perspectives to the field of archaeology.
John Maclean
Astronomy & Astrophysics
FRAS (Fellow of the Royal Astronomical Society)



Coming from:
Exeter, Devon UK

John is an experienced Science Communicator in the fields of Astronomy and Astrophysics and is an award winning Astro Photographer. He has a special interest in Cometary science and is a member of the UK Meteor Monitoring Network as well as participating as a communicator for NASA and ESA space missions. John is an experienced presenter with an engaging and humorous style accompanied with extremely professional graphic and audio presentations. John has the ability to communicate scientific concepts in a way that the audience both enjoys and understands. He is also able to provide "Stargazing" nights on board and can lead Aurora expeditions.
| | | |
| --- | --- | --- |
| | | Dr Camilla Mørk Røstvik is an Art Historian at the University of St Andrews, Scotland. She works on modern and contemporary art and history, especially related to women and minorities. She holds a Leverhulme Trust Early Career Fellowship. Her BA is from the University of Oslo, Norway - where she is from. Her MA and PhD were awarded by the University of Manchester, UK. |
Robin Petch
Naturalist & Cetaceans Expert
Whales, Dolphins & Marine Conservation



Coming from:
North Ferriby, East Yorkshire UK

Robin has been involved with the study and conservation of whales, dolphins and the marine environment for nearly 25 years. He now shares his wide knowledge and experience with cruise ship passengers in lively and informative lectures with stunning photographs and video. His experience as an educator enables him to adapt his talks to suit audiences of all types and age ranges. On some cruises, Robin's interest in Seals and Seabirds, Pirates and Privateers and Nautical Sayings and Superstitions adds an extra dimension to his talks.
Justin Reay
Art & Naval History




Coming from:
Oxford, Oxfordshire UK

After officer training in the Royal Navy and a long career in business, Justin studied the History of Art at Oxford University. He is Lectures Secretary for the Colloquium of Learned Societies at Oxford, and a tutor in art history. He is an advisor to museums and media companies, appearing in the PSB film 'Anthem'. He is editor of Samuel Pepys' papers at the Bodleian Library, has written about the Admiralty buildings in London and is editing a catalogue raisonné of maritime art. In his talks Justin introduces and interprets a rich variety of art and sheds new light on naval history.
Allan Thomas
Oceanography
BSc, NMSM, RAF(Rtd)



Coming from:
St. Columb Major, Cornwall UK

Allan joined the Royal Air Force in 1960 eventually becoming an Air Electronics Officer and aircraft captain serving on Maritime Patrol aircraft keeping an eye on the Soviet Navy, especially its submarine force. In 1993 Allan was seconded to the United States Navy where he qualified as a military oceanographer prior to taking command of operations at a joint US-UK Undersea Surveillance Facility. In his talks he describes undersea geology, historical oceanographic events, and marine animals: focussing on the waters that each cruise passes though accompanied by some amusing anecdotes from his Service days. He is also a qualified and accomplished Destination Presenter.
| | | |
| --- | --- | --- |
| | | Robert Wallace, intelligence historian and consultant, is a former senior intelligence officer, with 32 years service in the Central Intelligence Agency. Following retirement from CIA, Wallace co-authored the best selling SPYCRAFT: The Secret History of the CIA's Spytechs from Communism to al- Qaeda (2008) and founded Artemus Consulting Group, an international network of intelligence and security professionals. Wallace speaks and writes on intelligence, leadership and management topics. |
Professor Jon A. Wiant
World Affairs, Intelligence & Military History
SES (Ret.), Adjunct Professor of Intelligence Studies



Coming from:
Falls Church, Virginia USA

Jon Wiant is an authority on the intelligence and international affairs. His career spanned the Cold War and the global national security challenges that followed. He served as Deputy Assistant Secretary of State for Intelligence and the NSC Director for Intelligence Policy as well as senior positions at CIA and Defense. In retirement, this recipient of the Intelligence Distinguished Service Medal has taught at Washington universities. Cruise passengers will be intrigued by his talks on intelligence and international affairs.