Enrichment Requirement

Cruise Itinerary
CRUISE ITINERARY - JU200517 British Isles Explorer
Embarkation:
Greenwich, London UK
Date: Sunday, May 17, 2020
Disembarkation:
Bergen Norway
Date: Sunday, May 31, 2020
No of Nights:
14
Only Speakers focusing on History, the Arts, Sciences, World Affairs or Extraordinary Lives who can relate their talks to the itinerary and ports of call should register their interest.
Please submit your proposed lecture topics for consideration. Ideally you should list 4 talks including a title and short synopsis.
| | | |
| --- | --- | --- |
| Day 1 | EMBARK Greenwich, London UK | |
| Day 2 | Greenwich, London UK | |
| Day 3 | Dover UK | |
| Day 4 | At sea | |
| Day 5 | Dublin Ireland | |
| Day 6 | Holyhead, Wales UK | |
| Day 7 | Liverpool UK | |
| Day 8 | Belfast, Northern Ireland UK | |
| Day 9 | Ullapool, Scotland UK | |
| Day 10 | Kirkwall, Orkney Islands, Scotland UK | |
| Day 11 | Rosyth (for Edinburgh), Scotland UK | |
| Day 12 | Invergordon, Scotland UK | |
| Day 13 | Lerwick, Shetland Islands UK | |
| Day 14 | Bergen Norway | |
| Day 15 | DISEMBARK Bergen Norway | |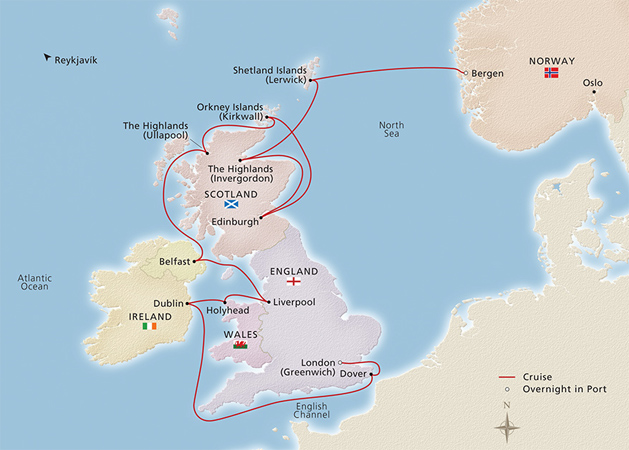 DISCLAIMER
This information has been compiled from various sources. Whilst every effort has been made to provide accurate information, the cruise lines can and do change their itineraries. Cruise Ship Speakers cannot be held liable for any inaccuracies that these programs may contain. Please refer to the up-to-date information provided by the cruise lines themselves. Please notify the Web Administrator if there are any inaccuracies.
Available Candidates
Click on the photo or name for full profile details.
The following people have indicated their availability for this cruise or sectors of this cruise.
The list is in ORDER by General Discipline (ie. Art Instructors, Bridge Directors, Craft Instructors, Destination Lecturers, Enrichment Speakers, etc).
Please contact the candidates directly if you would like to engage any of them. There are NO fees to do this.
Alternatively, we can arrange the bookings on your behalf. Please advise us of your choice(s) for this cruise.
Sharon Hudgins
History, Travel Destinations, Culture, Cuisines




Coming from:
McKinney, Texas USA

An award-winning author, Sharon Hudgins has also been a university professor, public speaker, journalist, photographer, and filmmaker. A seasoned traveler with a sense of adventure, Sharon has lived in 10 countries on 3 continents and traveled in more than 50 countries across the globe. As a lecturer on historical, cultural, and culinary topics, she has worked on numerous international tours and cruise ships. Her lectures are highly illustrated with historical and contemporary images, and enlivened by stories of her own experiences in the countries featured on the cruise itinerary.
| | | |
| --- | --- | --- |
| | | Michael was born and raised in upstate New York and attended SUNY Binghamton for his BA in European history. Then he went overseas to the London School of Economics for his MA in International History. Returning to the US, Michael completed a PhD in Russian history at the University of Wisconsin. Michael Share taught numerous courses in European, Russian, US, military and diplomatic history for the past 40 years, either part time or full time, in the US, Russia, Hong Kong, and currently at the University of Macau. Michael has lived in the USA, Russia, the UK, Hong Kong and currently in Macau. |
Alan Barr
Tudor History
16th and 17th Century English History



Coming from:
Tea Gardens, NSW Australia

Alan Barr has an abiding interest, some say passion, for 16th and 17th Century English history, with an emphasis on the Tudor period. Although a non-Academic in this field, Alanís accumulated knowledge is immense. To add to his continuing research and reading, he visits the UK and Europe twice yearly, attending historic sites, libraries and institutions, as well as participating and engaging in, small specialised historian led tours. A captivating story-teller, he quickly establishes rapport with his audience, bringing historical figures to life and relating historical facts to contemporary issues.
Michael Bowman
Geology, World Energy & Geopolitics
Professor of Petroleum Geology, University of Manchester



Coming from:
Slaithwaite, West Yorkshire UK

Mike Bowman retired from BP in March 2011. He has an Honorary Professorial Chair in Geology at the University of Manchester. Until late 2017 he was Chair of Petroleum Engineering at Texas A&M University Qatar. Mike is a geologist by training having completed a PhD at the University of Sheffield. During his 30 years with BP he was involved in a wide range of roles and jobs from specialist geologist to senior manager with postings around the world. Mike presents a series of illustrated talks covering the principles of Geology, route related topics and how geology impacts the world today.
This person has either:
- not yet subscribed
- not yet been contacted regarding a subscription, or
- has let their subscription lapse
Please suggest that they subscribe so they can participate in this facility for your benefit.
Karen Hansen
Enrichment Speaker - Music




Coming from:
tba, tba USA

This person has either:
- not yet subscribed
- not yet been contacted regarding a subscription, or
- has let their subscription lapse
Please suggest that they subscribe so they can participate in this facility for your benefit.
John Maclean
Astronomy & Astrophysics
FRAS (Fellow of the Royal Astronomical Society)



Coming from:
Exeter, Devon UK

John is an experienced Science Communicator in the fields of Astronomy and Astrophysics and is an award winning Astro Photographer. He has a special interest in Cometary science and is a member of the UK Meteor Monitoring Network as well as participating as a communicator for NASA and ESA space missions. John is an experienced presenter with an engaging and humorous style accompanied with extremely professional graphic and audio presentations. John has the ability to communicate scientific concepts in a way that the audience both enjoys and understands. He is also able to provide "Stargazing" nights on board and can lead Aurora expeditions.
Professor Jon A. Wiant
World Affairs, Intelligence & Military History
SES (Ret.), Adjunct Professor of Intelligence Studies



Coming from:
Falls Church, Virginia USA

Jon Wiant is an authority on the intelligence and international affairs. His career spanned the Cold War and the global national security challenges that followed. He served as Deputy Assistant Secretary of State for Intelligence and the NSC Director for Intelligence Policy as well as senior positions at CIA and Defense. In retirement, this recipient of the Intelligence Distinguished Service Medal has taught at Washington universities. Cruise passengers will be intrigued by his talks on intelligence and international affairs.