Enrichment Requirement

Cruise Itinerary
CRUISE ITINERARY - OR200405 Bangkok, Bali & Beyond
Embarkation:
Bali Indonesia
Date: Sunday, April 5, 2020
Disembarkation:
Bangkok (from Laem Chabang) Thailand
Date: Friday, April 17, 2020
No of Nights:
12
Only Speakers focusing on History or Science who can relate their talks to the itinerary and ports of call should register their interest.
Preference will be given to a speaker who can do back-to-back with the following cruise OR200417.
Please submit your proposed lecture topics for consideration. Ideally you should list 4 talks including a title and short synopsis.
| | | |
| --- | --- | --- |
| Day 1 | EMBARK Bali Indonesia | |
| Day 2 | At sea | |
| Day 3 | Surabaya Indonesia | |
| Day 4 | Semarang Indonesia | |
| Day 5 | Jakarta Indonesia | |
| Day 6 | Jakarta Indonesia | |
| Day 7 | At sea | |
| Day 8 | Singapore | |
| Day 9 | Kuala Lumpur (from Port Klang) Malaysia | |
| Day 10 | At sea | |
| Day 11 | At sea | |
| Day 12 | Bangkok (from Laem Chabang) Thailand | |
| Day 13 | DISEMBARK Bangkok (from Laem Chabang) Thailand | |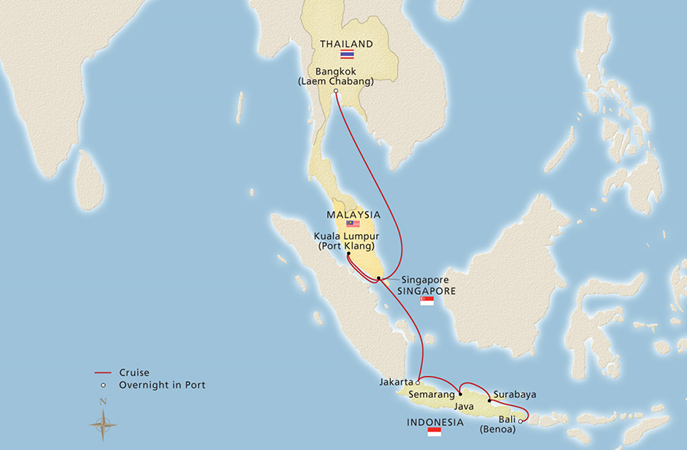 DISCLAIMER
This information has been compiled from various sources. Whilst every effort has been made to provide accurate information, the cruise lines can and do change their itineraries. Cruise Ship Speakers cannot be held liable for any inaccuracies that these programs may contain. Please refer to the up-to-date information provided by the cruise lines themselves. Please notify the Web Administrator if there are any inaccuracies.
Available Candidates
Click on the photo or name for full profile details.
The following people have indicated their availability for this cruise or sectors of this cruise.
The list is in ORDER by General Discipline (ie. Art Instructors, Bridge Directors, Craft Instructors, Destination Lecturers, Enrichment Speakers, etc).
Please contact the candidates directly if you would like to engage any of them. There are NO fees to do this.
Alternatively, we can arrange the bookings on your behalf. Please advise us of your choice(s) for this cruise.
Philip Creaser
Natural History and Heritage
Australia & The Pacific



Coming from:
Canberra City, ACT Australia

Phil has a broad background in Science, the Environment and Heritage in Australia, New Zealand and the Pacific. This is based on his degrees in geology and palaeontology and his experience working in Australian Government departments for more than 30 years. He is still actively involved in palaeontological fieldwork as well as promoting geological heritage and lobbying for the construction of a Natural History Museum in Australia.
Eva Eliscu
Dining and Culinary History




Coming from:
Chicago, Illinois USA

Eva Eliscu is a Swedish born culinary consultant and lecturer on the history and customs of the dining table and producer of the San Miguel's Annual "Food in Film Festival" in Mexico. She was educated in Sweden, Switzerland and the US. She has dual citizenship in both the European Union and the United States and is a permanent resident in Mexico. She is fluent in Swedish, English, survival French and continuing to learn Spanish. She has experience as a cruise ship guest speaker and has presented her lectures at International Libraries, gourmet and culinary groups, to food and wine festivals , as well as special interest groups.
| | | |
| --- | --- | --- |
| | | Laurie is a native from St. Louis, Missouri. She is a charismatic high energy speaker with an infectious enthusiasm for life. She has turned the tables on life and is an exciting Television & Radio Talk show Host, Life enrichment speaker, Life coach and fitness expert who make better the lives of those surrounding her. Laurie has spoken before and provided lecture series, motivational & inspirational talks and a rage of participatory programs to audience's reflecting all ages, cultures, ethnic groups and economic levels throughout a career spanning over 25 years. |
Simon Fris
Sciences, Energy & Ship Technology
MSc, MIMarE



Coming from:
's-Hertogenbosch, NBrabant Netherlands

Simon is fascinated by the decisive role of energy in every person's life, from personal comfort up to society's economic development and world spanning environmental effects. He graduated in power generation and subsequently spent over 40 years in major energy related companies. Next to Dutch, he is fluent in English and German, speaks French and some Spanish. Although new to cruise ship speaking, he is a regular speaker at professional seminars, and is known for his unconventional approach and humor to arouse and hold the interest of the audience.
Shaun Holt
Medicine & Health
Doctor / Health



Coming from:
Pauanui, Waikato NZ

Dr. Shaun Holt is an Adjunct Professor at Victoria University of Wellington in New Zealand. He holds Pharmacy and Medicine degrees, has been the Principal Investigator in over 50 clinical trials and has over 200 publications in the medical literature. Shaun has been a regular contributor on New Zealand TV1's Breakfast programme and national radio shows and is the author of 9 books including the bestseller "Natural Remedies That Really Work". Shaun is well known in New Zealand as an entertaining and easy-to-understand commentator on health issues, particularly in the fields of natural products and complementary therapies.
| | | |
| --- | --- | --- |
| | | Dr. Gary Koverman is a forensic scientist and has worked for over 30 years in forensic laboratories in Ohio, Colorado and New Mexico. He has examined many world class crimes and is still working in his own private business in New Mexico. His expertise in a wide variety of forensic fields gives depth and understanding to many forms of physical evidence. Gary has lectured various law enforcement police agencies in the area of forensic science and has taught at universities in Ohio, Colorado, and New Mexico. He is also a great student of history and enjoys seeking out relevant historical events with a fresh forensic perspective for his talks. |
Professor John Lattanzio
Astronomy, Astrophysics & Astrobiology
Life in the universe



Coming from:
Glen Waverley, VIC Australia

John is a Professor of astrophysics at Monash University. His specialty research areas are the lives of stars and the search for life in the Universe. He has published over 250 research papers, is a Fellow of the Royal Astronomical Society in the UK, and was made an Honorary Fellow of the Astronomical Society of Australia. He is the President of the International Astronomical Union's Commission on "Stellar Evolution ". John has a long record of delivering extremely successful and popular lectures to professional astronomers as well as the public.
Stephen Marsh
Wildlife and Adventure Travel




Coming from:
St. Leonards-On-Sea, East Sussex UK

Stephen has lectured about natural history around the world since 2007, having always been fascinated by wildlife. Although marine wildlife is his speciality, his love for and knowledge of other creatures and general ecology is extensive. In 2006 when a whale swam up the Thames into London, Stephen was volunteering on the rescue and this triggered an old passion. He left three decades in advertising behind to take up the challenge of rejuvenating the whale and dolphin survey charity ORCA and created a cruise programme for the charity that led to him lecturing on cruises worldwide. An inspiring speaker, his talks are enthralling and enchanting.
Geoff Peters
Maritime Explorers and Adventurers




Coming from:
Southampton, Hampshire UK

Edu-tainment is the best way to describe Geoff's speaking style, providing educational, entertaining and authoritative presentations whilst also injecting humour and personal experiences documenting his time at sea. Recently retired, Geoff and his wife Leanne have purchased a boat in the UK, cruised across the English Channel and now spend much of each year cruising the rivers, canals, and coastlines of Europe, creating their own adventures.
Dr Karen Woodman
Destination History & Culture
B.Sc., M.A., Ph.D.



Coming from:
Brisbane, Queensland Australia

Dr Karen Woodman is a retired university professor, who is an entertaining cruise enrichment speaker on topics such as history, education, street art, culture, dance, language, and food as they relate to cruise destinations. Karen is also an avid social dancer who enjoys sharing her love of dance, the benefits of social dance, and the mind-body connection. She has traveled extensively, including North and South America, the South Pacific, Australia and New Zealand, the Caribbean, Cuba, Europe, Scandinavia, and South-East Asia.