Enrichment Requirement

Cruise Itinerary
CRUISE ITINERARY - JU190728 British Isles Explorer
Embarkation:
Greenwich, London UK
Date: Sunday, July 28, 2019
Disembarkation:
Bergen Norway
Date: Sunday, August 11, 2019
No of Nights:
14
Only Speakers focusing on Science or World Affairs who can relate their talks to the itinerary and ports of call should register their interest.
Please submit your proposed lecture topics for consideration.
| | | |
| --- | --- | --- |
| Day 1 | EMBARK Greenwich, London UK | |
| Day 2 | Greenwich, London UK | |
| Day 3 | Dover UK | |
| Day 4 | At sea | |
| Day 5 | Dublin Ireland | |
| Day 6 | Holyhead, Wales UK | |
| Day 7 | Liverpool UK | |
| Day 8 | Belfast, Northern Ireland UK | |
| Day 9 | Ullapool, Scotland UK | |
| Day 10 | Kirkwall, Orkney Islands, Scotland UK | |
| Day 11 | Rosyth (for Edinburgh), Scotland UK | |
| Day 12 | Invergordon, Scotland UK | |
| Day 13 | Lerwick, Shetland Islands UK | |
| Day 14 | Bergen Norway | |
| Day 15 | DISEMBARK Bergen Norway | |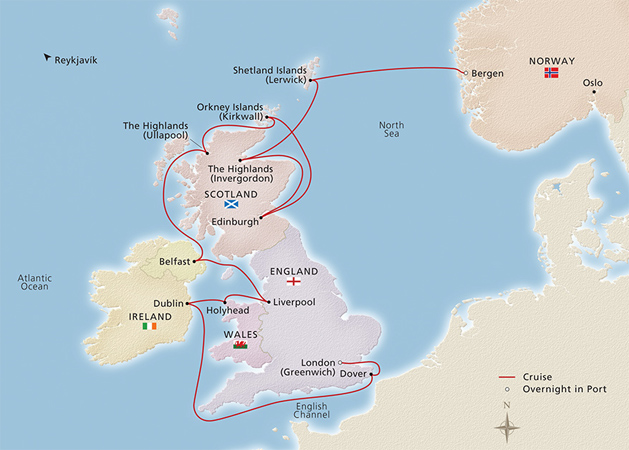 DISCLAIMER
This information has been compiled from various sources. Whilst every effort has been made to provide accurate information, the cruise lines can and do change their itineraries. Cruise Ship Speakers cannot be held liable for any inaccuracies that these programs may contain. Please refer to the up-to-date information provided by the cruise lines themselves. Please notify the Web Administrator if there are any inaccuracies.
Available Candidates
Click on the photo or name for full profile details.
The following people have indicated their availability for this cruise or sectors of this cruise.
The list is in ORDER by General Discipline (ie. Art Instructors, Bridge Directors, Craft Instructors, Destination Lecturers, Enrichment Speakers, etc).
Please contact the candidates directly if you would like to engage any of them. There are NO fees to do this.
Alternatively, we can arrange the bookings on your behalf. Please advise us of your choice(s) for this cruise.
Sharon Hudgins
History, Travel Destinations, Culture, Cuisines




Coming from:
McKinney, Texas USA

An award-winning author, Sharon Hudgins has also been a university professor, public speaker, journalist, photographer, and filmmaker. A seasoned traveler with a sense of adventure, Sharon has lived in 10 countries on 3 continents and traveled in more than 50 countries across the globe. As a lecturer on historical, cultural, and culinary topics, she has worked on numerous international tours and cruise ships. Her lectures are highly illustrated with historical and contemporary images, and enlivened by stories of her own experiences in the countries featured on the cruise itinerary.
Bart Howard
Military & Naval Historian
US and European Military and Naval History



Coming from:
FPO, Armed Forces Europe, Middle East Italy

Colonel (Retired) Bart Howard is a retired US Army officer, historian and expert on strategic leadership. He holds a Bachelorís from Santa Clara University, a Master of Military Studies from American Military University and a Master of Strategic Studies from the U.S. Army War College. He has lectured on leadership and history at the Institute for International Strategic Studies, Cornell University, Santa Clara University and the Air Force Academy. Bart's presentations bring to life the fascinating history of the region and allow his fellow passengers to better understand the strategic decisions of famous military and political leaders.
| | | |
| --- | --- | --- |
| | | David Mannion is a highly qualified teacher with 26 years teaching experience including The Open University (12 years), Schools and Colleges and with overseas teaching experience in two International Schools. He has degrees in astronomy and is a fellow of the Royal Astronomical Society (elected in 1984). He has sat on the RAS Education Committee and has given numerous lectures on Astronomy to the general public over the last 30 years. |