Enrichment Requirement

Cruise Itinerary
CRUISE ITINERARY - JU190714 British Isles Explorer
Embarkation:
Bergen Norway
Date: Sunday, July 14, 2019
Disembarkation:
Greenwich, London UK
Date: Sunday, July 28, 2019
No of Nights:
14
Only Speakers focusing on History, the Arts, Science, World Affairs or Extraordinary Lives who can relate their talks to the itinerary and ports of call should register their interest.
Please submit your proposed lecture topics for consideration.
| | | |
| --- | --- | --- |
| Day 1 | EMBARK Bergen Norway | |
| Day 2 | Bergen Norway | |
| Day 3 | Lerwick, Shetland Islands UK | |
| Day 4 | Invergordon, Scotland UK | |
| Day 5 | Rosyth (for Edinburgh), Scotland UK | |
| Day 6 | Kirkwall, Orkney Islands, Scotland UK | |
| Day 7 | Ullapool, Scotland UK | |
| Day 8 | Belfast, Northern Ireland UK | |
| Day 9 | Liverpool UK | |
| Day 10 | Holyhead, Wales UK | |
| Day 11 | Dublin Ireland | |
| Day 12 | At sea | |
| Day 13 | Dover UK | |
| Day 14 | Greenwich, London UK | |
| Day 15 | DISEMBARK Greenwich, London UK | |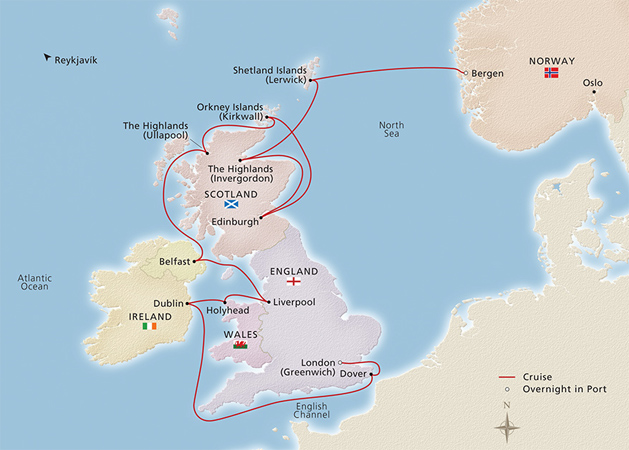 DISCLAIMER
This information has been compiled from various sources. Whilst every effort has been made to provide accurate information, the cruise lines can and do change their itineraries. Cruise Ship Speakers cannot be held liable for any inaccuracies that these programs may contain. Please refer to the up-to-date information provided by the cruise lines themselves. Please notify the Web Administrator if there are any inaccuracies.
Available Candidates
Click on the photo or name for full profile details.
The following people have indicated their availability for this cruise or sectors of this cruise.
The list is in ORDER by General Discipline (ie. Art Instructors, Bridge Directors, Craft Instructors, Destination Lecturers, Enrichment Speakers, etc).
Please contact the candidates directly if you would like to engage any of them. There are NO fees to do this.
Alternatively, we can arrange the bookings on your behalf. Please advise us of your choice(s) for this cruise.
Pauline Williams
Watercolour Art Instructor
B.A, P.G.C.E



Coming from:
Penarth, Vale of Glamorgan UK

Pauline studied art at St. Helens College of Art and at The University of Wales in Cardiff; She also has a Post Graduate teaching qualification from the University of Newport. Her art is a representation of life from her perspective. She has been painting and drawing from life, recording places, events and people wherever she goes. She especially enjoys drawing musicians whilst they play. Pauline also teaches drawing and painting, mostly to adults, specializing in portraiture and life-drawing.
Michael Fuller
Destination and Enrichment Lecturer
PhD, Archaeologist



Coming from:
St. Louis, Missouri MO USA

Professor Michael Fuller is an expert in the archaeological discoveries of both the Old World and New World. He has directed large excavation projects in Syria and the Republic of Macedonia, plus served as a staff member on digs in Greece, Egypt, Jordan, England and the USA. He received a PhD degree in Anthropology in 1986 and taught archaeology to thousands of students over a career of 40 years. Michael is an active field archaeologist, writer, lecturer and cruise ship speaker.
Andrew Baker
Modern History, Politics & Extraordinary Lives
Author, consultant, lecturer and ex Grammar School Headmaster



Coming from:
Thorpe Bay, Essex UK

Andrew is an engaging and entertaining speaker whose presentations have been praised for their warmth, humour, clarity and accessibility. He is a former Headmaster, an author, a consultant and a lecturer with a sharp eye for detail and anecdote. Andrew brings to life sensational episodes from the 60s and 70s; paints vivid and unforgettable portraits of those who have shaped today's world, looks at the huge social changes in our lifetimes and explores current issues such as Brexit and Post Truth. Sit back, reflect, remember, laugh and see our own times more clearly.
Dr Michael Chriss
Astronomy, History of Science & Astronomy




Coming from:
Tucson, Arizona USA

Michael Chriss has spent a lifetime in teaching and popularizing science through public lectures and planetarium programs. He was Professor of Astronomy and Humanities at the College of San Mateo, and its Planetarium Director. He received his degrees in astronomy at the University of Arizona with further studies in History of Art and Science at Berkeley, Stanford, and Oxford University. Since 1985, when Halley's Comet appeared in the skies, he has lectured aboard cruise ships on astronomy and other topics. He currently is Associate Lecturer in Astronomy at the University of Arizona.University of Arizona.
Russell Lee
Science writer, humorist and storyteller
Not your average lecturer!



Coming from:
Cupertino, California USA

Russell Lee's life and career are a celebration of creativity in the art of communications and storytelling. He has experience as an entertainer, educator, lecturer, motivational speaker, cartoonist, musician, songwriter, actor and stand-up comedian. With an eclectic background in research and multimedia presentations, Russell can lecture on a wide range of topics, including cultures and geographies; history and famous historical figures; science and technology; and art and music. He believes in being entertaining as well as educational, and he uses storytelling to create memorable experiences for his audiences.
Dr James Miller
Earth History, Volcanology & Field Geology




Coming from:
Shuniah, Ontario Canada

Dr. Jim Miller is an emeritus assistant professor of geology at the University of Minnesota. He received his Bachelor of Science degree in 1977 from the University of Illinois-Urbana and his PhD in 1986 from the University of Minnesota-Twin Cities. Throughout his professional career, Jim has also been extensively involved in public outreach, enthusiastically spreading his knowledge of local and global geology, geological processes, and Earth history. In his retirement, Jim continues to pursue his passion for telling awe-inspiring and entertaining stories about the 4.5 billion year history of Planet Earth.
Alan Riles
Geology and Earth Sciences
B.Met, M.EconGeol, Grad.Dip Prof Management



Coming from:
San Isidro, Lima Peru

Alan combines a life-long passion for travel, mountains and geology with his 40+ years experience as a mining professional to bring a unique perspective on earth sciences and how we better understand and develop the natural resources of which we are stewards. As a geometallurgist with a bachelor's degree in metallurgy and a masters in geology, his work covers the alchemy of how we convert the minerals and metals well-hidden in the rocks to the actual products we use in everyday life. He has mastered Spanish, resuscitated his French and also achieved some understanding of Brazilian Portuguese.
William Thayer
History, Science/Technology & World Affairs




Coming from:
San Diego, California USA

William Thayer received his BS in Math from Stanford, an MS in Aerospace Engineering from USC and an MBA from USC. He has spent 30 years in the aerospace industry in aircraft, missiles and spacecraft and 10 years in real estate/finance. Although he has a technical/financial background, history has always been his passion. He enjoys lecturing on great human accomplishments and great historical events. William enhances his historical experience by actually traveling to where history happened. He has visited all 7 continents, over 60 countries and been around the world 3 times.