Enrichment Requirement

Cruise Itinerary
CRUISE ITINERARY - JU190630 Into the Midnight Sun
Embarkation:
Greenwich, London UK
Date: Sunday, June 30, 2019
Disembarkation:
Bergen Norway
Date: Sunday, July 14, 2019
No of Nights:
14
Only Speakers focusing on History, the Arts, Science, World Affairs or Extraordinary Lives who can relate their talks to the itinerary and ports of call should register their interest.
If you are shortlisted please be prepared to submit your proposed talks if requested.
| | | |
| --- | --- | --- |
| Day 1 | EMBARK Greenwich, London UK | |
| Day 2 | Greenwich, London UK | |
| Day 3 | At sea | |
| Day 4 | Rosyth (for Edinburgh), Scotland UK | |
| Day 5 | Kirkwall, Orkney Islands, Scotland UK | |
| Day 6 | Lerwick, Shetland Islands UK | |
| Day 7 | At sea | |
| Day 8 | Lofoten Islands Norway | |
| Day 9 | Honningsvag Norway | |
| Day 10 | Tromsø Norway | |
| Day 11 | Cruising the Inside Passage | |
| Day 12 | Molde Norway | |
| Day 13 | Geiranger Norway | |
| Day 14 | Bergen Norway | |
| Day 15 | DISEMBARK Bergen Norway | |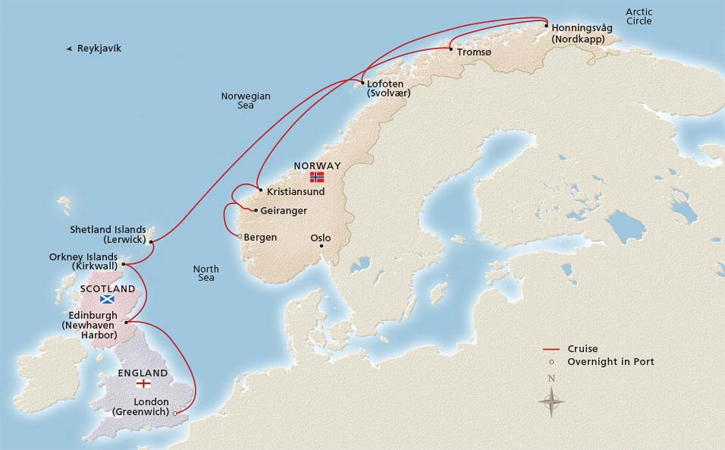 DISCLAIMER
This information has been compiled from various sources. Whilst every effort has been made to provide accurate information, the cruise lines can and do change their itineraries. Cruise Ship Speakers cannot be held liable for any inaccuracies that these programs may contain. Please refer to the up-to-date information provided by the cruise lines themselves. Please notify the Web Administrator if there are any inaccuracies.
Available Candidates
Click on the photo or name for full profile details.
The following people have indicated their availability for this cruise or sectors of this cruise.
The list is in ORDER by General Discipline (ie. Art Instructors, Bridge Directors, Craft Instructors, Destination Lecturers, Enrichment Speakers, etc).
Please contact the candidates directly if you would like to engage any of them. There are NO fees to do this.
Alternatively, we can arrange the bookings on your behalf. Please advise us of your choice(s) for this cruise.
Valerie Syms Martin
Art History, Workshops & Teaching
Oils, Watercolours, Pastels, Acrylics & Drawing Mediums



Coming from:
Dublin 18, Dublin Ireland

Valerie was born and raised in Dublin. She was a scholarship student in the National College of Art and Design, Dublin. She taught within the Irish secondary school system for over twenty years. Valerie is a member of the Watercolour Society of Ireland, the Dublin Painting and Sketching Club, and Plein Eire. She works in watercolours and oils. She works in mostly en plein air when the weather permits, and in the winter she paints mostly in a studio. Valerie's work has been exhibited in the Royal Hibernian Academy, and in exhibitions throughout Ireland. In 2016, Valerie won the top award in the Art in the Open festival, Wexford, the biggest plein air festival in Europe.
Jeremy Huw Williams
Opera & Classical Music
Opera Singer, PhD, DMus



Coming from:
Radyr, Caerdydd UK

The Welsh baritone Jeremy Huw Williams studied at St John's College, Cambridge, at the National Opera Studio, and with April Cantelo. He made his debut with Welsh National Opera as Guglielmo and has since appeared in sixty operatic roles. He has given performances at major venues in North and South America, Australia, Hong Kong, and most European countries. He is also an experienced choir trainer and vocal tutor at several universities and conservatoires worldwide.
| | | |
| --- | --- | --- |
| | | Professor Michael Fuller is an expert in the archaeological discoveries of both the Old World and New World. He has directed large excavation projects in Syria and the Republic of Macedonia, plus served as a staff member on digs in Greece, Egypt, Jordan, England and the USA. He received a PhD degree in Anthropology in 1986 and taught archaeology to thousands of students over a career of 40 years. Michael is an active field archaeologist, writer, lecturer and cruise ship speaker. |
Joseph Snyder
Destination and Special Interest
International Relations



Coming from:
Kensington, Maryland USA

Snyder was a diplomat with the U.S. State Department Foreign Service for thirty years. He served in Thailand, Iran, Taiwan, Malaysia and Austria, as well as in Washington. Among his positions was Director of the State Department Press Office and Spokesman, when he often delivered a televised daily briefing with reporters, and Deputy U.S. Ambassador to the International Atomic Energy Agency in Vienna, where he directed work on nuclear issues in North Korea, Iran and Iraq. For the past nine years he has been a destination and special interest lecturer on cruise ships, private jet tours and Smithsonian Journeys land tours.
Martin P. Lee
Destination Lecturer & Gentlemen Dance Host
BSc(Hons) MSc FBCS CITP



Coming from:
Poole, Dorset UK

Martin P. Lee graduated with first class honours in geography and geology from King's College London in 1975 followed by a masters degree in geography from Keele University. After service as a fellow at Lancaster University, he became a lecturer at Leicester University, and then a senior lecturer at the Royal Military College of Science. Upon early retirement in 2006, Martin has been a Gentleman Dance Host and Port Lecturer. He now spends half the year at sea and half the year at his home in Bournemouth.
Roy Bilham
Music & Music History
arcm Itcl



Coming from:
Bexleyheath, Kent UK

Roy joined the Royal Artillery Band as a trumpet player when he was 20 and served 22 years finishing with the rank of Band Sergeant Major and Deputy Bandmaster. Since retiring from the Army he has worked as a busy freelance player playing with many leading London Orchestras including the BBC Concert Orchestra and most notably the Philharmonia. In the eighties Roy started his own company Thames Fanfare Brass. Roy's talks also include him playing his trumpet from classical to modern day music with many amusing and interesting anecdotes featuring many famous names from music and show business.
Paul Brown
Maritime Historian & Author




Coming from:
Welford, Northamptonshire UK

Dr Paul Brown is a maritime history author and speaker. He is a consultant to National Historic Ships, the UK's authority on the preservation of historic ships and boats, and a maritime photographer. A member of the Society for Nautical Research, he was until recently a university lecturer and senior university manager, and has also lectured at the National Maritime Museum, Greenwich.
Edward Butler
History, Genealogy, Law & Travel
Award winning author of history/genealogy/family history books



Coming from:
San Antonio, Bexar, Texas USA

Judge Ed Butler was a Ford Foundation Scholar at Vanderbilt University School of Law, where he graduated with honors. For many years he was a Board Certified Civil Trial Attorney by both the Texas and National Boards. He is a retired federal judge; retired Naval Intelligence Commander; & former law school professor. His honors include the DAR Medal of Honor, SAR Gold Good Citizenship Medal, and he was selected to the Texas Genealogical Hall of Fame. He's listed in Who's Who in America & Who's Who in the World. He is a world traveler who has visited over 200 countries.
Peter Mawby
Ornithologist & Research Ecologist




Coming from:
Lancaster, Lancashire UK

As an ornithologist and research ecologist with a particular interest in the North Atlantic, Peter has travelled widely and is a regular cruise lecturer. His talks, which will be entertaining as well as informative, introduce the audience to the wildlife and ecology of the areas to be visited. When not lecturing, Peter is always happy to accompany tours or provide an on-board commentary.
Dr James Miller
Earth History, Volcanology & Field Geology




Coming from:
Shuniah, Ontario Canada

Dr. Jim Miller is an emeritus assistant professor of geology at the University of Minnesota. He received his Bachelor of Science degree in 1977 from the University of Illinois-Urbana and his PhD in 1986 from the University of Minnesota-Twin Cities. Throughout his professional career, Jim has also been extensively involved in public outreach, enthusiastically spreading his knowledge of local and global geology, geological processes, and Earth history. In his retirement, Jim continues to pursue his passion for telling awe-inspiring and entertaining stories about the 4.5 billion year history of Planet Earth.
David Parkin
Ornithologist & Natural Historian
Emeritus Professor - University of Nottingham



Coming from:
Trowell, Nottinghamshire UK

Raised on Tyneside, David started birding at school. The local Natural History Society motivated him to study Zoology and led to a successful university career, culminating as Nottingham's Professor of Avian Genetics. For 40 years David has enjoyed lecturing on birds and wildlife to a variety of organisations. On retiring he developed lectures for cruise audiences, tailoring these to the ship's itinerary and including a mix of illustrative talks and others on the science behind bird biology and conservation. Escorting ashore or out on deck, he is always keen to share his enthusiasm for birds.
Sue Stockdale
Explorer & Adventurer
MBA Entrepreneurship, MSc Quality Management



Coming from:
Swindon, Wiltshire UK

Sue Stockdale is a polar explorer and adventurer; author, and inspirational speaker who has undertaken more challenges to date than many people do in a lifetime. In 1996 she became the first British woman to ski to the Magnetic North Pole, and has also participated in expeditions to Chile, Antarctica, Geographical North Pole and Greenland. In her richly inspirational presentations she combines her personal expertise as a polar explorer with her profound business knowledge, including areas like Change Management, Leadership, Motivation, Risk Management and Managing Diversity.
| | | |
| --- | --- | --- |
| | | Emeritus Professor of English, Dr. C.W. Sullivan III is retired from the English Department at East Carolina University in Greenville, NC, USA. Among his honors there, he was named Distinguished Research Professor of Arts and Sciences at ECU, ECU Board of Trustees Distinguished Research Professor of English, and UNC Board of Governors Distinguished Professor for Teaching. He is also a Full Member of the Welsh Academy for his contributions to the study of medieval Welsh Celtic myth and literature, a past president of the International Association for the Fantastic in the Arts, and the former editor of the ejournal, Celtic Cultural Studies. |
Peter Varley
Meteorology & Oceanography
FRMetS CMet



Coming from:
Gosport, Hampshire UK

After gaining a degree in Physical Oceanography, Commander Varley spent three years undertaking research in underwater acoustics before joining the Royal Navy as an Instructor Officer specialising in meteorology and oceanography. Peter has forecast the weather onboard ships in the Norwegian Sea, the Mediterranean and the North and South Atlantic oceans. In 1995, Peter left the Royal Navy to run his own meteorological, oceanographic and training consultancy.