Enrichment Requirement

Cruise Itinerary
CRUISE ITINERARY - JU190425 Along Europe's Western Coast
Embarkation:
Barcelona Spain
Date: Thursday, April 25, 2019
Disembarkation:
Copenhagen Denmark
Date: Thursday, May 9, 2019
No of Nights:
14
Only Speakers focusing on Science or World Affairs who can relate their talks to the itinerary and ports of call should register their interest.
Please submit your proposed lecture topics for consideration.
| | | |
| --- | --- | --- |
| Day 1 | EMBARK Barcelona Spain | |
| Day 2 | Barcelona Spain | |
| Day 3 | Murcia (Cartagena) Spain | |
| Day 4 | Malaga (Granada) Spain | |
| Day 5 | At sea | |
| Day 6 | Porto Portugal | |
| Day 7 | At sea | |
| Day 8 | Falmouth UK | |
| Day 9 | Portsmouth UK | |
| Day 10 | Le Havre France | |
| Day 11 | Zeebrugge (Bruges) Belgium | |
| Day 12 | Amsterdam Netherlands | |
| Day 13 | Cruising the Kiel Canal | |
| Day 14 | Copenhagen Denmark | |
| Day 15 | DISEMBARK Copenhagen Denmark | |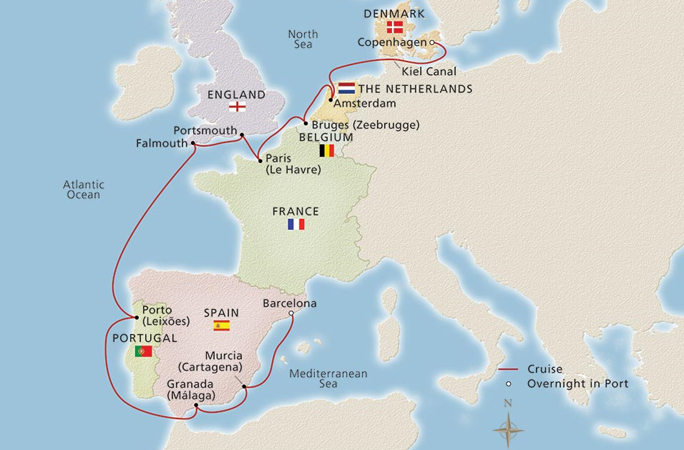 DISCLAIMER
This information has been compiled from various sources. Whilst every effort has been made to provide accurate information, the cruise lines can and do change their itineraries. Cruise Ship Speakers cannot be held liable for any inaccuracies that these programs may contain. Please refer to the up-to-date information provided by the cruise lines themselves. Please notify the Web Administrator if there are any inaccuracies.
Available Candidates
Click on the photo or name for full profile details.
The following people have indicated their availability for this cruise or sectors of this cruise.
The list is in ORDER by General Discipline (ie. Art Instructors, Bridge Directors, Craft Instructors, Destination Lecturers, Enrichment Speakers, etc).
Please contact the candidates directly if you would like to engage any of them. There are NO fees to do this.
Alternatively, we can arrange the bookings on your behalf. Please advise us of your choice(s) for this cruise.
| | | |
| --- | --- | --- |
| | | Sam and Candy have directed and acted in theater for over 30 years. Their main goal now is to keep the movie musical alive. They have over 15 lectures dealing with the History of the Movie and Broadway Musical. They teach these courses at Rutger's University School of Continuing Education and various libraries and centers in NJ... "We promise you will leave our lectures with your toes tapping and a song in your heart." |
Gillian Garratt
Popular Psychology
M.A. Psych. M.A. Prof. Writing, BEd (Hons)Accredited CBT Therapist



Coming from:
Falmouth, Cornwall UK

Gillian is a Psychologist, Cognitive Behavioural Therapist & author. She has extensive lecturing experience, as Business Consultant for leading 'Blue Chip' companies in the U.K. and California. From 2005-2008, she was on-board Manager for the 'Discovery' Lecture Programme on "Queen Mary 2", for Oxford University. Her first book, 'CBT for Work', was published in 2012, her next book is:- 'Your dog and you – understanding the canine psyche'. Topics include Sports Psychology, CBT, Pet therapy, Longevity, Laughter, Luck & Palmistry. She has a varied and fascinating lecture repertoire.
| | | |
| --- | --- | --- |
| | | David Mannion is a highly qualified teacher with 26 years teaching experience including The Open University (12 years), Schools and Colleges and with overseas teaching experience in two International Schools. He has degrees in astronomy and is a fellow of the Royal Astronomical Society (elected in 1984). He has sat on the RAS Education Committee and has given numerous lectures on Astronomy to the general public over the last 30 years. |
Dr Karen Woodman
Destination History & Culture
B.Sc., M.A., Ph.D.



Coming from:
Brisbane, Queensland Australia

Dr Karen Woodman is a retired university professor, who is an entertaining cruise enrichment speaker on topics such as history, education, street art, culture, dance, language, and food as they relate to cruise destinations. Karen is also an avid social dancer who enjoys sharing her love of dance, the benefits of social dance, and the mind-body connection. She has traveled extensively, including North and South America, the South Pacific, Australia and New Zealand, the Caribbean, Cuba, Europe, Scandinavia, and South-East Asia.