Enrichment Requirement

Cruise Itinerary
CRUISE ITINERARY - 2802 Panama Canal Ocean to Ocean Cruise
Embarkation:
Los Angeles, California USA
Date: Tuesday, January 9, 2018
Disembarkation:
Fort Lauderdale, Florida USA
Date: Wednesday, January 24, 2018
No of Nights:
15
Speakers and Instructors who are available for this cruise should register their interest. No specific topics indicated.
| | | |
| --- | --- | --- |
| Day 1 | EMBARK Los Angeles, California USA | |
| Day 2 | At sea | |
| Day 3 | At sea | |
| Day 4 | Puerto Vallarta Mexico | |
| Day 5 | At sea | |
| Day 6 | Huatulco Mexico | |
| Day 7 | At sea | |
| Day 8 | San Juan del Sur Nicaragua | |
| Day 9 | Puntarenas Costa Rica | |
| Day 10 | At sea | |
| Day 11 | Transit the Panama Canal | |
| Day 12 | Cartagena de Indias Columbia | |
| Day 13 | Oranjestad Aruba | |
| Day 14 | At sea | |
| Day 15 | At sea | |
| Day 16 | DISEMBARK Fort Lauderdale, Florida USA | |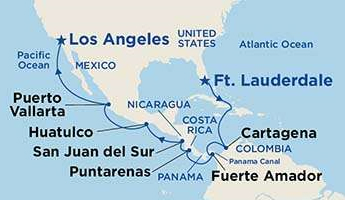 DISCLAIMER
This information has been compiled from various sources. Whilst every effort has been made to provide accurate information, the cruise lines can and do change their itineraries. Cruise Ship Speakers cannot be held liable for any inaccuracies that these programs may contain. Please refer to the up-to-date information provided by the cruise lines themselves. Please notify the Web Administrator if there are any inaccuracies.
Available Candidates
Click on the photo or name for full profile details.
The following people have indicated their availability for this cruise or sectors of this cruise.
The list is in ORDER by General Discipline (ie. Art Instructors, Bridge Directors, Craft Instructors, Destination Lecturers, Enrichment Speakers, etc).
Please contact the candidates directly if you would like to engage any of them. There are NO fees to do this.
Alternatively, we can arrange the bookings on your behalf. Please advise us of your choice(s) for this cruise.
David Bright MBE
Crime Investigations Specialist




Coming from:
Westcliff-on-Sea, Essex UK

David Bright served for 33 years, 3 months, 3 weeks and 3 days as a Police Officer. As a career detective he served in every rank within the Criminal Investigation Department. With 33 Commendations, all awarded for crime investigations, 3 awards for Gallantry, a Good Conduct Medal and an MBE, David is the most commended officer in the history of Essex Police. His opinion is also frequently sought by the media on high profile investigations or unusual crimes. David is in strong demand on the speakers' circuit with his gripping series of crime lectures.
Robert Cutts
American and Maritime History
BSc (Eng) London Univ, former CEng, Member SW Maritime Hist Socy



Coming from:
Downend, Bristol, UK

Robert worked in industry as a control engineer for 20 years before becoming an engineering lecturer. In 1987 he became an IT consultant and worked in computer-orientated fields before finally retiring in 2004. After taking numerous cruises, in 2007, Robert became a Saga Ambassador giving talks about Saga holidays to Women's Institutes and the like. This led him to start giving talks on maritime subjects mainly draw from the Journal that his great-grandfather, Henry Taylor, kept during his voyages to the west coast of the north and south of America in 1862.
Gary Koverman
Forensic Science




Coming from:
Las Cruces, New Mexico USA

Gary Koverman is a forensic scientist and has worked for over 30 years in forensic laboratories in Ohio, Colorado and New Mexico. He has examined many world class crimes and is still working in his own private business in New Mexico. His expertise in a wide variety of forensic fields gives depth and understanding to many forms of physical evidence. Gary has lectured various law enforcement police agencies in the area of forensic science and has taught at universities in Ohio, Colorado, and New Mexico. He is also a great student of history and enjoys seeking out relevant historical events with a fresh forensic perspective for his talks.
Sandra Millikin
Architectural & Art History
BA (Hons), Mphil (Art History)



Coming from:
Uffington, Oxon UK

Sandra Millikin is an American who has lived in England for over 40 years. She was educated at Smith College, Northampton, Massachusetts, USA and at the Courtauld Institute in London where she studied under the famous English architectural historian Sir John Summerson. She was assistant Curator at the Royal Institute of British Architects Drawings collection, where she contributed to the catalogue of the collection which is now housed in the Victoria and Albert Museum in London. Sandra has given talks on architectural history world wide on cruise ships and particularly enjoys days at sea as she is also a keen bridge player. She has also acted as Bridge Director on cruises.
Michael Turner
The Life and Voyages of Sir Francis Drake
BEd. Hons



Coming from:
Burnham on Sea, Somerset UK

Michael Turner from Burnham-on-Sea, Somerset, England began teaching physical education and geography to secondary school students in 1982. During the holidays, he continued backpacking and hitch-hiking in 83 countries taking photographs to enhance his lessons. His other reason for adventurous travel is to be the only person in the world to photograph the life & voyages of Sir Francis Drake. This has taken him to 46 countries; which makes his illustrated talks unique. Michael has lectured to the Royal Geographical Society, London, the Old Bodleian Library, Oxford and to the Ashridge Circle, Eastbourne. Michael appeared on television and radio documentaries for the BBC and History Channel.