Enrichment Requirement

Cruise Itinerary
CRUISE ITINERARY - 8857 Sector Asia & Australia Cruise
Embarkation:
Shanghai China
Date: Friday, August 24, 2018
Disembarkation:
Singapore
Date: Monday, September 3, 2018
No of Nights:
10
Cruise Cost: £50 per day for Lecturer. Guest cruises free. 5 Power Point presentations required. You receive:
1. Twin Share Crew Cabin.
2. Full passenger status for speaker and guest.
3. Discounts on drinks, misc. items and WiFi.
4. Lecturer's gratuities paid by Princess. Guest gratuities billed daily at US$13.50.
5. Possibility of complimentary tour escort opportunities.
6. One way flight between ports of embarkation and disembarkation for speaker paid for by Princess.
Travel to the port of embarkation for you and your guest is by your own arrangement.
| | | |
| --- | --- | --- |
| Day 1 | EMBARK Shanghai China | |
| Day 2 | At sea | |
| Day 3 | Busan South Korea | |
| Day 4 | At sea | |
| Day 5 | At sea | |
| Day 6 | Hong Kong China | |
| Day 7 | At sea | |
| Day 8 | Nha Trang Vietnam | |
| Day 9 | Phu My (for Ho Chi Minh City) Vietnam | |
| Day 10 | At sea | |
| Day 11 | DISEMBARK Singapore | |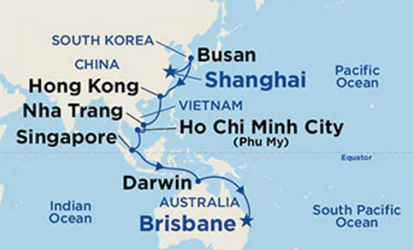 DISCLAIMER
This information has been compiled from various sources. Whilst every effort has been made to provide accurate information, the cruise lines can and do change their itineraries. Cruise Ship Speakers cannot be held liable for any inaccuracies that these programs may contain. Please refer to the up-to-date information provided by the cruise lines themselves. Please notify the Web Administrator if there are any inaccuracies.
Available Candidates
Click on the photo or name for full profile details.
The following people have indicated their availability for this cruise or sectors of this cruise.
The list is in ORDER by General Discipline (ie. Art Instructors, Bridge Directors, Craft Instructors, Destination Lecturers, Enrichment Speakers, etc).
Please contact the candidates directly if you would like to engage any of them. There are NO fees to do this.
Alternatively, we can arrange the bookings on your behalf. Please advise us of your choice(s) for this cruise.
Sue Baic
Nutrition
MSc RD. Nutritionist & Dietitian. Author of Nutrition For Dummies



Coming from:
Bristol, Avon UK

Sue Baic is an experienced and passionate public speaker in nutrition and health. She is noted for her lively, interactive and entertaining lecture style which often brings the local world of food and nutrition on board. Sue works as a freelance registered dietitian in the UK sometimes available at short notice. Since January 2017 she has been a guest speaker on board cruise ships in the Caribbean, Scandinavia and the Mediterranean. Sue contributes to an enrichment programme with broad appeal to those interested in diet, health and positive ageing to enhance passenger experience.
Malcolm Teasdale
Author, Adventurer and Enrichment Speaker




Coming from:
Destin, Florida USA

Malcolm Teasdale was born in Coventry, England and is a successful entrepreneur who now spends his time traveling to "off-the-beaten-track" places. Since retiring from the technology industry, he now travels to the more unusual destinations in the World in search of rich cultural experiences. His 4th travel book has just been published called, "Religion, Spirituality and the way of life in the Himalayas" which describes his experience in the Himalayan Kingdoms of Bhutan, Nepal, Tibet and Myanmar. Malcolm has a wide repertoire of talks on destinations, adventure and travel.