Enrichment Requirement

Cruise Itinerary
CRUISE ITINERARY - S813N Treasures of Asia Cruise
Embarkation:
Singapore
Date: Friday, May 25, 2018
Disembarkation:
Perth (Fremantle) Australia
Date: Friday, June 8, 2018
No of Nights:
14
Cruise Cost: £50 per day for Lecturer. Guest cruises free. 8 Power Point presentations required. You receive:
1. Twin Share Crew Cabin.
2. Full passenger status for speaker and guest.
3. Discounts on drinks, misc. items and WiFi.
4. Lecturer's gratuities paid by Princess. Guest gratuities billed daily at US$13.50.
5. Possibility of complimentary tour escort opportunities.
6. One way flight between ports of embarkation and disembarkation for speaker paid for by Princess.
Travel to the port of embarkation for you and your guest is by your own arrangement.
| | | |
| --- | --- | --- |
| Day 1 | EMBARK Singapore | |
| Day 2 | At sea | |
| Day 3 | Phu My (for Ho Chi Minh City) Vietnam | |
| Day 4 | At sea | |
| Day 5 | Sihanoukville Cambodia | |
| Day 6 | Bangkok (from Laem Chabang) Thailand | |
| Day 7 | Koh Samui Thailand | |
| Day 8 | At sea | |
| Day 9 | At sea | |
| Day 10 | At sea | |
| Day 11 | Bali Indonesia | |
| Day 12 | At sea | |
| Day 13 | At sea | |
| Day 14 | At sea | |
| Day 15 | DISEMBARK Perth (Fremantle) Australia | |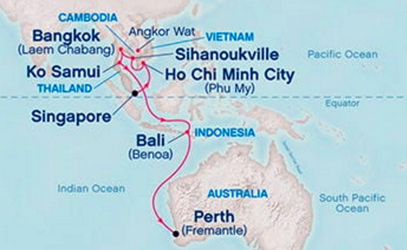 DISCLAIMER
This information has been compiled from various sources. Whilst every effort has been made to provide accurate information, the cruise lines can and do change their itineraries. Cruise Ship Speakers cannot be held liable for any inaccuracies that these programs may contain. Please refer to the up-to-date information provided by the cruise lines themselves. Please notify the Web Administrator if there are any inaccuracies.
Available Candidates
Click on the photo or name for full profile details.
The following people have indicated their availability for this cruise or sectors of this cruise.
The list is in ORDER by General Discipline (ie. Art Instructors, Bridge Directors, Craft Instructors, Destination Lecturers, Enrichment Speakers, etc).
Please contact the candidates directly if you would like to engage any of them. There are NO fees to do this.
Alternatively, we can arrange the bookings on your behalf. Please advise us of your choice(s) for this cruise.
Peter Dingle
Health and Wellness




Coming from:
South Fremantle, Western Australia Australia

Nobody knows health and wellness like Dr Peter Dingle, Australia's most engaging and innovative thought leader on the topics of health and wellness. Dr Dingle has spent the past 30 years as a researcher, educator, communicator and author. Formerly an associate professor at Murdoch University, Dr D has written 15 books on health and living well. One of the most informative and entertaining health speakers in Australia, he gives you the real facts on evidence-based wellness. He presents cutting-edge research findings in an accessible, down-to-earth manner—and is known for his straight-shooting style, sense of humour and the occasional magic trick or juggling display.
Ken Kelly
US Manned Space Programme: Mercury - Gemini - Apollo
BSc, PGCE



Coming from:
Leamington Spa, Warwickshire UK

Ken started his working life as a teacher and lecturer and taught Mathematics in the UK and Malaysia. Returning to the UK Ken swapped teaching for High Performance Sport. Awarded an Olympic Coach Scholarship in 1992, he has worked for a number of the UK's leading sports bodies. As a counter-point to his professional work, Ken has studied the US and Soviet manned space programmes extensively, from Mercury to the Space Shuttle, Vostok to Soyuz. Ken is an experienced, innovative and engaging presenter having spoken extensively at conferences in the UK and abroad.