Enrichment Requirement

Cruise Itinerary
CRUISE ITINERARY - ST190910 Empires of the Mediterranean
Embarkation:
Venice Italy
Date: Tuesday, September 10, 2019
Disembarkation:
Piraeus (Athens) Greece
Date: Thursday, September 19, 2019
No of Nights:
9
Only Speakers focusing on History, the Arts, Science, World Affairs or Extraordinary Lives who can relate their talks to the itinerary and ports of call should register their interest.
Please submit your proposed lecture topics for consideration.
| | | |
| --- | --- | --- |
| Day 1 | EMBARK Venice Italy | |
| Day 2 | Koper Slovenia | |
| Day 3 | Zadar Croatia | |
| Day 4 | Dubrovnik Croatia | |
| Day 5 | Kotor Montenegro | |
| Day 6 | Corfu Town, Corfu Greece | |
| Day 7 | Katakolon (for Olympia) Greece | |
| Day 8 | Santorini, Thíra Greece | |
| Day 9 | Piraeus (Athens) Greece | |
| Day 10 | DISEMBARK Piraeus (Athens) Greece | |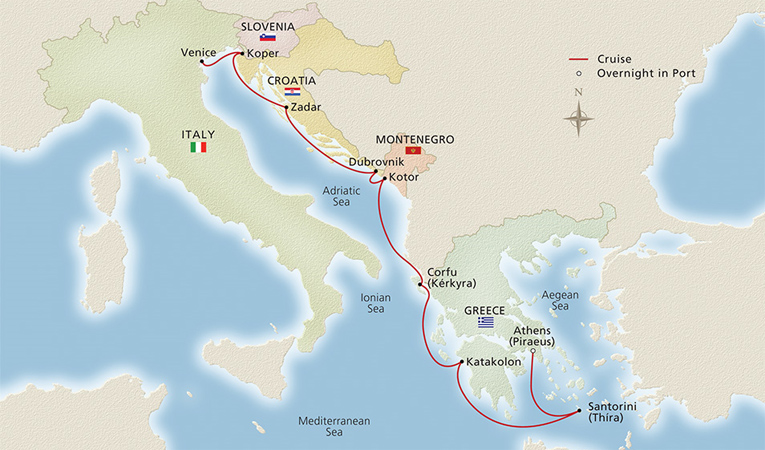 DISCLAIMER
This information has been compiled from various sources. Whilst every effort has been made to provide accurate information, the cruise lines can and do change their itineraries. Cruise Ship Speakers cannot be held liable for any inaccuracies that these programs may contain. Please refer to the up-to-date information provided by the cruise lines themselves. Please notify the Web Administrator if there are any inaccuracies.
Available Candidates
Click on the photo or name for full profile details.
The following people have indicated their availability for this cruise or sectors of this cruise.
The list is in ORDER by General Discipline (ie. Art Instructors, Bridge Directors, Craft Instructors, Destination Lecturers, Enrichment Speakers, etc).
Please contact the candidates directly if you would like to engage any of them. There are NO fees to do this.
Alternatively, we can arrange the bookings on your behalf. Please advise us of your choice(s) for this cruise.
Angela Schneider
Music, History & Culture
Destinations



Coming from:
Vancouver, British Columbia Canada

Angela Schneider holds Masters degrees in Music and Medieval History from Aachen University and is currently a violist with the Vancouver Symphony. Since 1995, she has been involved in the popular, new field of culinary history, which studies the ways in which food has shaped social, cultural and political history. Angela is much in demand as a speaker thanks to presentations that are entertaining, informative and visually rich. She is a popular Destination and Enrichment speaker on cruise ships because she brings history alive by humanizing the subjects and examining what motivates the larger processes of historical change.
Jeremy Paterson
Classical & Ancient History
Viking Resident Historian



Coming from:
Newcastle upon Tyne, Tyne & Wear UK

Jeremy Paterson studied Classics and Ancient History at Oxford, where he was also President of the University Archaeological Society. Subsequently he was Craven Research Fellow at The British School at Rome, where he studied the ancient Roman wine trade. For most of his career he taught Ancient History at Newcastle University, where he was also Dean of Arts and chaired the University Teaching Committee. He has travelled extensively throughout the Mediterranean and Europe, and is a very experienced lecturer on cruises and on land-based tours.
Dr Simon Poole
Health, Nutrition & Food
Medical Doctor



Coming from:
Cambridge, Cambridgeshire UK

Dr Simon Poole is a Cambridge based physician, author, broadcaster and acclaimed international authority on the Mediterranean diet and lifestyle, explaining and celebrating the combination of wonderful ingredients in this beautiful cuisine which can add years to life. Simon has regularly published on the subject of nutrition and lifestyle and public health in scientific journals including Nutrition and Food Science and the International Journal of Clinical Practice in addition to regular articles in the Guardian, magazines such as Cook Vegetarian, as well as international, radio and television appearances.
| | | |
| --- | --- | --- |
| | | William took early retirement from the Civil Service in 2008 with a generous redundancy package. He was educated at Colfe's Grammar School, Lee and Keele University. His BA in 1980 was in History and Geography. He specialised in Mediaeval History (Anglo-Saxons and Hundred Years War) winning the Wedgwood Prize for an essay on King Athelstan. He has a wide range of talks on Composers, Music of the Sea, Vikings & Anglo Saxons and Classical History. |
John Wilcock
Archaeology, History, Science & Computing
MA(Oxon), BSc, PhD, CEng, FIET, FBCS, CITP



Coming from:
Stafford, Staffordshire UK

Dr John Wilcock read Physics at Oxford University then worked for 7 years as an Engineer in the computer industry (1st and 2nd generations), before entering academia in 1969. He was one of the first world practitioners in Computer Archaeology (the application of computers to archaeological research). Categories include Archaeology, Egyptology, History, Computing, Espionage, Codes & ciphers, Science, Geology and Music. See full profile for suggested list of stand-alone and destination-based topics.