Enrichment Requirement

Cruise Itinerary
CRUISE ITINERARY - ST190910 Empires of the Mediterranean
Embarkation:
Venice Italy
Date: Tuesday, September 10, 2019
Disembarkation:
Piraeus (Athens) Greece
Date: Thursday, September 19, 2019
No of Nights:
9
Only Speakers focusing on World Affairs who can relate their talks to the itinerary and ports of call should register their interest.
Please submit your proposed lecture topics for consideration.
| | | |
| --- | --- | --- |
| Day 1 | EMBARK Venice Italy | |
| Day 2 | Koper Slovenia | |
| Day 3 | Zadar Croatia | |
| Day 4 | Dubrovnik Croatia | |
| Day 5 | Kotor Montenegro | |
| Day 6 | Corfu Town, Corfu Greece | |
| Day 7 | Katakolon (for Olympia) Greece | |
| Day 8 | Santorini, Thíra Greece | |
| Day 9 | Piraeus (Athens) Greece | |
| Day 10 | DISEMBARK Piraeus (Athens) Greece | |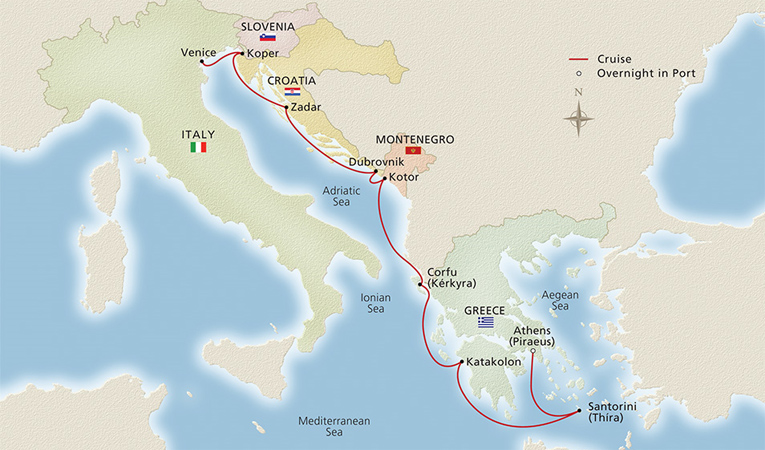 DISCLAIMER
This information has been compiled from various sources. Whilst every effort has been made to provide accurate information, the cruise lines can and do change their itineraries. Cruise Ship Speakers cannot be held liable for any inaccuracies that these programs may contain. Please refer to the up-to-date information provided by the cruise lines themselves. Please notify the Web Administrator if there are any inaccuracies.
Available Candidates
Click on the photo or name for full profile details.
The following people have indicated their availability for this cruise or sectors of this cruise.
The list is in ORDER by General Discipline (ie. Art Instructors, Bridge Directors, Craft Instructors, Destination Lecturers, Enrichment Speakers, etc).
Please contact the candidates directly if you would like to engage any of them. There are NO fees to do this.
Alternatively, we can arrange the bookings on your behalf. Please advise us of your choice(s) for this cruise.
Angela Schneider
Music, History & Culture
Destinations



Coming from:
Vancouver, British Columbia Canada

Angela Schneider holds Masters degrees in Music and Medieval History from Aachen University and is currently a violist with the Vancouver Symphony. Since 1995, she has been involved in the popular, new field of culinary history, which studies the ways in which food has shaped social, cultural and political history. Angela is much in demand as a speaker thanks to presentations that are entertaining, informative and visually rich. She is a popular Destination and Enrichment speaker on cruise ships because she brings history alive by humanizing the subjects and examining what motivates the larger processes of historical change.
Edward Butler
History, Genealogy, Law & Travel
Award winning author of history/genealogy/family history books



Coming from:
San Antonio, Bexar, Texas USA

Judge Ed Butler was a Ford Foundation Scholar at Vanderbilt University School of Law, where he graduated with honors. For many years he was a Board Certified Civil Trial Attorney by both the Texas and National Boards. He is a retired federal judge; retired Naval Intelligence Commander; & former law school professor. His honors include the DAR Medal of Honor, SAR Gold Good Citizenship Medal, and he was selected to the Texas Genealogical Hall of Fame. He's listed in Who's Who in America & Who's Who in the World. He is a world traveler who has visited over 200 countries.
Dr. Mary Jane Cryan
European History, Culture & Art
Italy specialist



Coming from:
Vetralla, VT Italy

American-Irish writer and historian Mary Jane Cryan has been living in Italy since 1965. An international educator, researcher and writer, she has also been an official Vatican guide, Site Director and lecturer for Elderhostel and the creator of start-ups for numerous American universities, high schools, writers' and artists' workshops. She continues to put her experience to good use acting as consultant for tourism and educational endeavours and as enrichment lecturer aboard luxury cruise ships plying the Mediterranean, Adriatic and Black Seas.
Jeremy Paterson
Enrichment Speaker - Historian
Viking Resident Historian



Coming from:
Newcastle upon Tyne, Tyne & Wear UK

No Mini Biography provided yet.
John Wilcock
Archaeology, History, Science & Computing
MA(Oxon), BSc, PhD, CEng, FIET, FBCS, CITP



Coming from:
Stafford, Staffordshire UK

Dr John Wilcock read Physics at Oxford University then worked for 7 years as an Engineer in the computer industry (1st and 2nd generations), before entering academia in 1969. He was one of the first world practitioners in Computer Archaeology (the application of computers to archaeological research). Categories include Archaeology, Egyptology, History, Computing, Espionage, Codes & ciphers, Science, Geology and Music. See full profile for suggested list of stand-alone and destination-based topics.