Enrichment Requirement

Cruise Itinerary
CRUISE ITINERARY - ST190516 Empires of the Mediterranean
Embarkation:
Piraeus (Athens) Greece
Date: Thursday, May 16, 2019
Disembarkation:
Venice Italy
Date: Saturday, May 25, 2019
No of Nights:
9
Only Speakers focusing on History, the Arts or World Affairs who can relate their talks to the itinerary and ports of call should register their interest.
Please submit your proposed lecture topics for consideration.
| | | |
| --- | --- | --- |
| Day 1 | EMBARK Piraeus (Athens) Greece | |
| Day 2 | Piraeus (Athens) Greece | |
| Day 3 | Santorini, Thíra Greece | |
| Day 4 | Katakolon (for Olympia) Greece | |
| Day 5 | Corfu Town, Corfu Greece | |
| Day 6 | Kotor Montenegro | |
| Day 7 | Dubrovnik Croatia | |
| Day 8 | Zadar Croatia | |
| Day 9 | Koper Slovenia | |
| Day 10 | DISEMBARK Venice Italy | |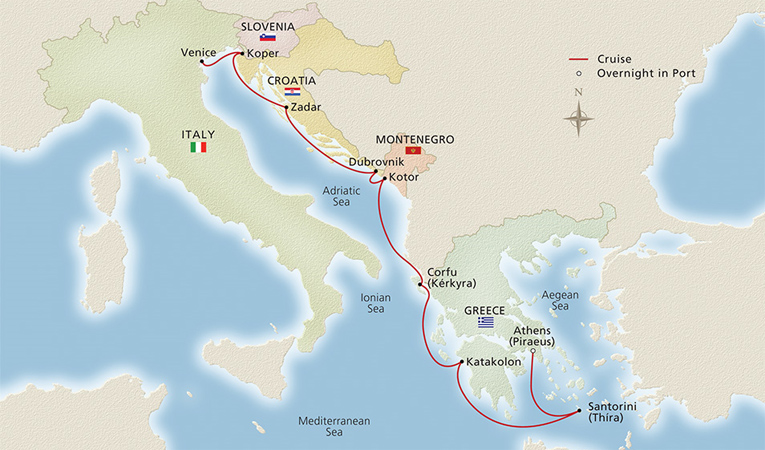 DISCLAIMER
This information has been compiled from various sources. Whilst every effort has been made to provide accurate information, the cruise lines can and do change their itineraries. Cruise Ship Speakers cannot be held liable for any inaccuracies that these programs may contain. Please refer to the up-to-date information provided by the cruise lines themselves. Please notify the Web Administrator if there are any inaccuracies.
Available Candidates
Click on the photo or name for full profile details.
The following people have indicated their availability for this cruise or sectors of this cruise.
The list is in ORDER by General Discipline (ie. Art Instructors, Bridge Directors, Craft Instructors, Destination Lecturers, Enrichment Speakers, etc).
Please contact the candidates directly if you would like to engage any of them. There are NO fees to do this.
Alternatively, we can arrange the bookings on your behalf. Please advise us of your choice(s) for this cruise.
Dr Sheila Hoffman
Art History - Iconologist
Historical Architecture



Coming from:
to be advised, to be advised USA

A native of New Mexico, Sheila K. Hoffman has lived in 5 different countries and wandered through more than a dozen others as a trained art historian, museologist, iconologist. A former museum curator. She refers to herself as, "A female Robert Langdon" (minus the tweed) with a museum fetish and a passion for all things archeo-religious. A curatorial-jedi and tech padawan. A sci-fi geek and an incurable explorer. A culinary crusader, foodie adventurer and mediocre cook." But her quirky disposition is paired with an excellent academic background.
John Douglas Chapman
WW2 Historian & Bletchley Park Expert
Welcome Host Gold : Tourism Marketing



Coming from:
Halesowen, West Midlands UK

Since 1992, John became a volunteer at Bletchley Park, the World War 2 home of the Code-Breakers, and founded the world famous Bletchley Park Post Office. John has been a Senior Tour Guide at Bletchley Park since 1998, entertaining thousands of visitors with anecdotes and revealing stories. As a member of the Guild of Battlefield Tour Guides, John assists the War Research Society with the Centenary Commemorative Tours in Belgium and France. His many lectures include WW2 Code-Breaking activities, Alan Turing, Winston Churchill, Women at War, Spies and Espionage and Ian Fleming.
| | | |
| --- | --- | --- |
| | | Sharing her passion for cross-cultural insights is central to the presentations by Lucy Hallman Russell. She holds four diplomas in piano, music history and harpsichord, with further studies in Italian, art history, pre-history and archaeology. As a performer and scholar, she has long taught at the University of Music Würzburg. Since 2006 lecturer on European culture (with her husband Ray) for National Geographic/Lindblad Expeditions, etc. Travels to 45 countries and fluency in several languages have given this charming, captivating speaker a special knowledge of all of Europe. |
Helen Poole
Archaeology & History
BA, Dip Arch, AMA, PGCE



Coming from:
Haywards Heath, West Sussex UK

Helen studied English, History and Archaeology at Bristol University before going on to postgraduate studies in archaeology at Durham and museum studies at Leicester. Teaching qualifications at Brighton followed later. A vacation studentship at the British Museum led to a lifelong enthusiasm for a museum career. Helen is an enthusiastic sharer of information and she has been lecturing on cruises in and around the Mediterranean and the Red Sea from 2005.
Nicholas Reed
Classical & Art History
BA (Oxon), MA (Manc) MPhil (St.A.)



Coming from:
Folkestone, Kent UK

Nicholas took his first degree at Oxford in Greats (Latin, Greek, Ancient History and Philosophy). He was President of Oxford University Archaeological Society in 1969. From 1970 to 1986 he had 15 articles published in learned journals on subjects in Roman History and Archaeology, including articles on the Romans in Germany and on the Greek Islands. In the 1980s he moved into the field of art history, on which he is the author of some six books, mainly on the French Impressionists. He has been a lecturer for NADFAS, the fine arts organisation, since 1991.
Ray Carson Russell
General and Cultural History, International Affairs




Coming from:
Aub, Bavaria Germany

Ray Carson Russell studied history/international relations in Alabama, Munich and Rome, attaining a master's degree from the Univ. of Southern California Europe. Later he taught for American universities in Europe and published articles on democracy and issues of conflict and peace, as well as on travel and general cultural. Since 2006 lecturer (with his wife Lucy) for several cruise lines, incl. Nat. Geographic/Lindblad. Travels in 45 countries have brought considerable experience which enriches his work not only as a lecturer, but also as translator and writer of fiction.
Robert Schrire
Poltical Science




Coming from:
Rondebosch, Cape Town South Africa

Robert Schrire, described by the former editor of the New York Times as "one of South Africa's leading political analysts," is an internationally recognized expert on international and African affairs whose views have been published by The Economist, Washington Post, Los Angeles Times amongst many others. He has been a regular contributor to the BBC, ABC and SABC television networks. Robert Is presently based on Cape Town and he has also held faculty positions at many universities including Princeton, Johns Hopkins, Western Australia, Kent and Sciences Po in Paris.
John Sherlock
Architecture
MA (Oxon)



Coming from:
Horsham, West Sussex UK

John is a seasoned cruise speaker on architecture and its history, having worked with Swan Hellenic, Cunard, Voyages of Discovery and P&O. John has the knack of making his talks fun, even though there's a lot of content! When working at Windsor Great Park, he was selected to make a presentation to HM the Queen and HRH the Duke of Edinburgh at Windsor Castle.
| | | |
| --- | --- | --- |
| | | William took early retirement from the Civil Service in 2008 with a generous redundancy package. He was educated at Colfe's Grammar School, Lee and Keele University. His BA in 1980 was in History and Geography. He specialised in Mediaeval History (Anglo-Saxons and Hundred Years War) winning the Wedgwood Prize for an essay on King Athelstan. He has a wide range of talks on Composers, Music of the Sea, Vikings & Anglo Saxons and Classical History. |
Jim Williams
Historian & Author
Frauds and Charlatans



Coming from:
Stockport, UK

Jim comes to lecturing with a background as a formerly practising barrister, a lawyer in the international construction industry and an internationally published author of eleven novels and two non-fiction works. One of the novels, The Hitler Diaries, caused a sensation when it was published nine months before the famous forgery scandal. Jim talks about his specialist knowledge of the history and practices of charlatans: the frauds and colourful characters who manage to persuade other people to believe in the most improbable things.