Enrichment Requirement

Cruise Itinerary
CRUISE ITINERARY - SK200221 Panama Canal & Central America
Embarkation:
Miami, Florida USA
Date: Friday, February 21, 2020
Disembarkation:
Miami, Florida USA
Date: Friday, March 6, 2020
No of Nights:
14
Only Speakers focusing on History and World Affairs who can relate their talks to the itinerary and ports of call should register their interest.
Please submit your proposed lecture topics for consideration.
| | | |
| --- | --- | --- |
| Day 1 | EMBARK Miami, Florida USA | |
| Day 2 | Key West, Florida USA | |
| Day 3 | At sea | |
| Day 4 | Cozumel Mexico | |
| Day 5 | Belize City Belize | |
| Day 6 | Roatan Island Honduras | |
| Day 7 | At sea | |
| Day 8 | Puerto Limon Costa Rica | |
| Day 9 | Colon Panama | |
| Day 10 | Cruising the Panama Canal | |
| Day 11 | At sea | |
| Day 12 | Montego Bay Jamaica | |
| Day 13 | At sea | |
| Day 14 | At sea | |
| Day 15 | DISEMBARK Miami, Florida USA | |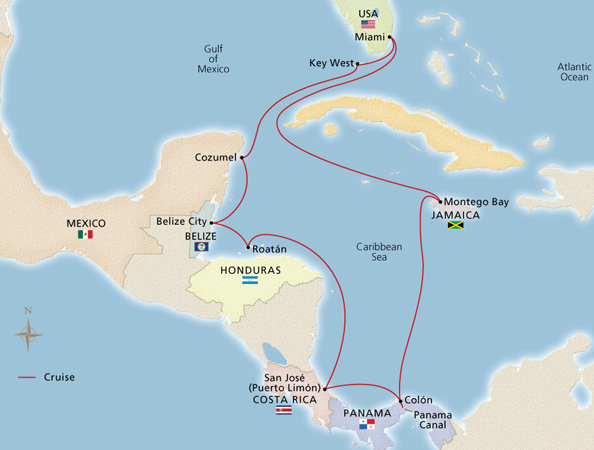 DISCLAIMER
This information has been compiled from various sources. Whilst every effort has been made to provide accurate information, the cruise lines can and do change their itineraries. Cruise Ship Speakers cannot be held liable for any inaccuracies that these programs may contain. Please refer to the up-to-date information provided by the cruise lines themselves. Please notify the Web Administrator if there are any inaccuracies.
Available Candidates
Click on the photo or name for full profile details.
The following people have indicated their availability for this cruise or sectors of this cruise.
The list is in ORDER by General Discipline (ie. Art Instructors, Bridge Directors, Craft Instructors, Destination Lecturers, Enrichment Speakers, etc).
Please contact the candidates directly if you would like to engage any of them. There are NO fees to do this.
Alternatively, we can arrange the bookings on your behalf. Please advise us of your choice(s) for this cruise.
Michael Fuller
Destination and Enrichment Lecturer
PhD, Archaeologist



Coming from:
St. Louis, Missouri MO USA

Professor Michael Fuller is an expert in the archaeological discoveries of both the Old World and New World. He has directed large excavation projects in Syria and the Republic of Macedonia, plus served as a staff member on digs in Greece, Egypt, Jordan, England and the USA. He received a PhD degree in Anthropology in 1986 and taught archaeology to thousands of students over a career of 40 years. Michael is an active field archaeologist, writer, lecturer and cruise ship speaker.
Sue Baic
Nutrition Scientist and Dietitian
MSc RD. Nutritionist & Dietitian. Author of Nutrition For Dummies



Coming from:
Bristol, Avon UK

Sue is an experienced cruise enrichment speaker in nutrition and health with over 30 years' work experience in the NHS, Public Health and teaching at the University of Bristol. She is noted for her lively, interactive and entertaining lecturing which brings the local world of food and nutrition on board. Sue has worked as a guest speaker in the US, the Caribbean, Scandinavia, the Mediterranean, the Far East and Australia. She can provide a tailored enrichment programme with broad appeal to those interested in nutrition, health and positive ageing to enhance passenger experience.
Carmine Biancardi
Science, Engineering & Environmement
Msc, MEng, PhD, EuroIng, CEng



Coming from:
Nassau, New Providence Bahamas

Besides being a university professor, scientist and a leading world entrepreneur, Carmine is an avid world traveler (over 100 countries visited) and a winning sportsman. His entire career has been driven by his strong principle of 'green technologies' as the keys of ethical increasing economic development. With a rather unique background blending European, British, American and Australian cultures with a blister of Japanese. He has lived in many countries and is now resident of the Bahamas. Carmine is a regular speaker on science and the environment to the general public and as a cruise ship speaker.
Dr Beth Foggin
Speaker and Consultant
History/Travel &Tourism



Coming from:
South Surrey, British Columbia Canada

In 1988 following the first of two 9 month periods living and traveling 'Downunder,' the direction of Beth Foggin's life journey was significantly altered. She has returned to the South Pacific over forty times even while enlarging her horizons to include other destinations. "Tourism' was a part of the multi-disciplinary PhD in Applied Social Sciences from the Université de Montréal. Beth has lectured on numerous world-wide destinations since her first cruise in 2005. In her presentations, she enthusiastically faces the challenge said to be of an historian - 'to bring the dead to life' – as she explores with her audience various aspects of the socio-cultural history of a region, a city or a cultural group.
Dr Mike Gibson
Music & Destinations
PhD MPhil FRCP



Coming from:
Southampton, Hants UK

An RAF medical air commodore, CEO of an occupational health company & a member of the Tribunal service, Mike was Honorary Surgeon to HM the Queen for 5 years. He has published widely with passions including history, bagpipes and travel.
| | | |
| --- | --- | --- |
| | | Eileen specialises in the History, Arts, Myths & Legends of the Ancient World and as a qualified Egyptologist, author and lecturer, is also an authority on the people of Ancient Egypt, their history, language, art, religion and funerary practices. She is an experienced Guest Speaker on cruise ships, lectures to Archaeology/Egyptology societies in the UK and is also an accredited Lecturer for NADFAS. |
Iain Kennedy
Geography & Economic History




Coming from:
Haslemere, Surrey UK

Iain was educated in Lytham St Annes, Lancashire and then read law at Liverpool University. He qualified as a solicitor in 1972 specialising at the outset in advocacy before moving on to corporate work. Travel in the Caribbean and Central America have added dimensions and additional material for his engrossing presentations on the construction of the Panama Canal, Liverpool and the Slave Trade, Pirates of The Caribbean and the cotton and sugar trade. Iain is also passionate about the history and people of Cuba and their long suffering.
Sandra Millikin
Architectural & Art History
BA (Hons), Mphil (Art History)



Coming from:
Uffington, Oxon UK

Sandra Millikin is an American who has lived in England for over 40 years. She was educated at Smith College, Northampton, Massachusetts, USA and at the Courtauld Institute in London where she studied under the famous English architectural historian Sir John Summerson. She was assistant Curator at the Royal Institute of British Architects Drawings collection, where she contributed to the catalogue of the collection which is now housed in the Victoria and Albert Museum in London. Sandra has given talks on architectural history world wide on cruise ships and particularly enjoys days at sea as she is also a keen bridge player. She has also acted as Bridge Director on cruises.
Keith Muras
Diplomacy, Espionage, Politics & World Affairs




Coming from:
Princes Risborough, Buckinghamshire UK

In a British Diplomatic Service career spanning 23 years Keith focused on the intelligence and security dimensions of international politics. Keith served in Central, South and East Africa, in the Former Soviet Union, and in the Caribbean. From South Africa at the heights of apartheid to Moscow in the depths of the 'Cold War' and to combating drug trafficking and crime in the Caribbean, Keith's talks are based around his unique personal experiences in the many parts of the world in which he lived and served.
Captain Rick Reynolds
Aviator & Concorde Expert
ex-Concorde Pilot and BA Captain



Coming from:
Kingston upon Thames, Surrey UK

At age 15 Rick skipped school to watch Concorde take-off from Heathrow on its first ever passenger flight to Bahrain, and his journey began. After leaving school in London aged 18 with minimal A-level grades he began work to pay for his flying training. He self-studied for the Airline Transport Pilots License theory exams and in 1985 completed the required flying tests at Oxford Air Training School, all self-financed. After years flying different commercial aircraft, in Nov 1996 Rick's bid to fly Concorde was successful and he flew supersonic until the Air France crash and subsequent grounding of the fleet in 2000.
Rina Tillinger
Anglo-American History
Serious with a Splash of Humour



Coming from:
Mickle Trafford, Chester UK

From the Midwest US and the Northwest UK, Rina Tillinger speaks on Anglo-American history with a dash of culture-clash comedy. She is the female Bill Bryson! Rina wrote a weekly humour column called Yankee Doodles about amusing differences between America and Britain in The Chester Chronicle. An accomplished paper and fabric cutter, she also makes unique cards, coasters, pictures, earrings, mounts and scarves. Rina regularly gives talks to the Cheshire Women's Institute, U3A, Rotary Club, Inner Wheel and Probus Club.
Michael Kerry White
Film Actor, Author, Singer, International business




Coming from:
High Wycombe, Bucks UK

Michael was born outside Cardiff in the UK but now lives near London. For 30 years his working life was as a highly successful International Sales Director and CEO travelling the world presenting, working in and visiting many diverse countries and cultures. At the end of 2011 he decided to hand in his Frequent flyer cards and retire. This didn't last very long because by a series of accidents and good fortune he has become a multi-award winning character and comedic actor and author. Michael is highly sought after and accomplished speaker and presenter, who is enjoyed by audiences from all around the world.