Enrichment Requirement

Cruise Itinerary
CRUISE ITINERARY - SK190516 Majestic Fjords & Vibrant Cities
Embarkation:
Copenhagen Denmark
Date: Thursday, May 16, 2019
Disembarkation:
Bergen Norway
Date: Monday, May 27, 2019
No of Nights:
11
Only Speakers focusing on History who can relate their talks to the itinerary and ports of call should register their interest.
| | | |
| --- | --- | --- |
| Day 1 | EMBARK Copenhagen Denmark | |
| Day 2 | Copenhagen Denmark | |
| Day 3 | Warnemünde (for Berlin) Germany | |
| Day 4 | Ålborg Denmark | |
| Day 5 | Gothenburg Sweden | |
| Day 6 | Oslo Norway | |
| Day 7 | Oslo Norway | |
| Day 8 | Kristiansand Norway | |
| Day 9 | Stavanger Norway | |
| Day 10 | Eidfjord Norway | |
| Day 11 | Bergen Norway | |
| Day 12 | DISEMBARK Bergen Norway | |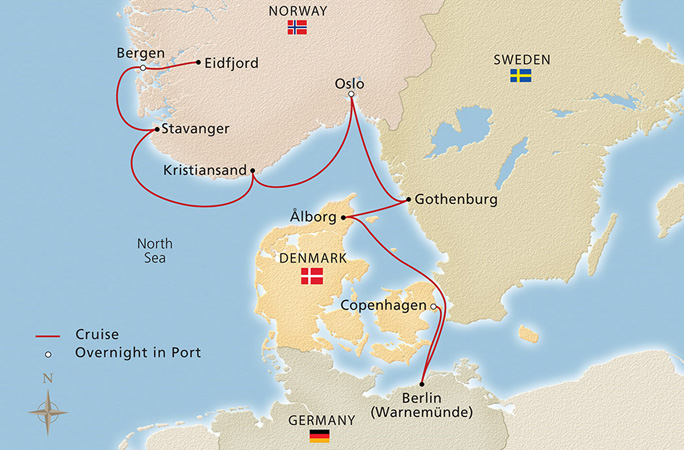 DISCLAIMER
This information has been compiled from various sources. Whilst every effort has been made to provide accurate information, the cruise lines can and do change their itineraries. Cruise Ship Speakers cannot be held liable for any inaccuracies that these programs may contain. Please refer to the up-to-date information provided by the cruise lines themselves. Please notify the Web Administrator if there are any inaccuracies.
Available Candidates
Click on the photo or name for full profile details.
The following people have indicated their availability for this cruise or sectors of this cruise.
The list is in ORDER by General Discipline (ie. Art Instructors, Bridge Directors, Craft Instructors, Destination Lecturers, Enrichment Speakers, etc).
Please contact the candidates directly if you would like to engage any of them. There are NO fees to do this.
Alternatively, we can arrange the bookings on your behalf. Please advise us of your choice(s) for this cruise.
Jim Clement
Destination Lecturer & Maritime Historian
Baltic, Mediterranean. Asia, Caribbean,Latin America, Panama, Norway,



Coming from:
Largo, Florida USA

Jim is a retired USA Diplomat who lived in 13 countries and has given Destination/Maritime History Lectures on more than 120 cruises in Europe, Asia, S. America. He graduated from the U.S. Naval Academy (BSc) and University of Chicago (MBA). He was a US Navy Submarine Officer, VP International for Fortune 500 companies. He was a University Professor for History, Geography, Logistics, and International Marketing. Having lived and worked in Panama and transited the Panama Canal 30 times and Suez Canal 4 times, Jim can give the ship's bridge commentary about the history of the Canal in English or Spanish. He has also narrated bridge commentary about Glaciers in Chile and Norway.
| | | |
| --- | --- | --- |
| | | Kathy gained a Doctorate in Agricultural History & Ecological Management, from Imperial College London, in 2004. She has many year's experience both as a civil servant and in private consultancy, organising lectures, activity workshops and study trips in England. Kathy is a member of the Speakers Club of Great Britain and is also an experienced destination lecturer. She has a passion for travel, meeting new people and seeing new places. Kathy has a range of Presentations on; Destinations, British traditions, and the countryside, which can be tailored to destinations or seasons as required. |
Martin P. Lee
Destination Lecturer & Gentlemen Dance Host
BSc(Hons) MSc FBCS CITP



Coming from:
Poole, Dorset UK

Martin P. Lee graduated with first class honours in geography and geology from King's College London in 1975 followed by a masters degree in geography from Keele University. After service as a fellow at Lancaster University, he became a lecturer at Leicester University, and then a senior lecturer at the Royal Military College of Science. Upon early retirement in 2006, Martin has been a Gentleman Dance Host and Port Lecturer. He now spends half the year at sea and half the year at his home in Bournemouth.
Raymond Arvidson
Planetary Scientist, Geologist & Astronomer
James S McDonnell University Professor



Coming from:
Saint Louis, Missouri USA

Raymond Arvidson received a Ph.D. from Brown University in 1974. He is presently the James S. McDonnell Distinguished University Professor Washington University in St. Louis, and Director of the Earth and Planetary Remote Sensing Laboratory. He focuses on teaching and research about current and past environments on the Earth, Mars, and Venus. Arvidson has lectured (and engaged passengers in numerous conversations) on planetary geology and astronomy, local and global geology, climate change, oceans, and how study of other planets fits into a better understanding of the Earth.
| | | |
| --- | --- | --- |
| | | Caroline took a BA Hons in Italian at London University, and a MA in French and the Theory of Literature. She followed this at UCL with a PhD on Voltaire and the Eighteenth Century. For some years she lived abroad, in Berlin and Italy, and much of her career was spent teaching at school and university. She has been lecturing regularly since 2009 on cruise ships and for charity events, offering a variety of subjects ranging from the Romanovs and Russian and Scandinavian history, the Portuguese royal family and the Byzantine and Ottoman Empires, to the events that shaped the Caribbean. |
Edward Butler
History, Genealogy, Law & Travel
Award winning author of history/genealogy/family history books



Coming from:
San Antonio, Bexar, Texas USA

Judge Ed Butler was a Ford Foundation Scholar at Vanderbilt University School of Law, where he graduated with honors. For many years he was a Board Certified Civil Trial Attorney by both the Texas and National Boards. He is a retired federal judge; retired Naval Intelligence Commander; & former law school professor. His honors include the DAR Medal of Honor, SAR Gold Good Citizenship Medal, and he was selected to the Texas Genealogical Hall of Fame. He's listed in Who's Who in America & Who's Who in the World. He is a world traveler who has visited over 200 countries.
Colin Johnson
Forensic Pyschology, Criminology & Law Enforcement




Coming from:
Mattingley, Hampshire UK

Colin is an internationally accredited and operational Geographic Profiler and was the first ever Fellow of his discipline across Europe. He holds a master's degree in psychology. A police officer for 30 years, principally as a detective, he specialised in investigating major crime, including murder, stranger rape and abduction. He became one of the first officers selected to the National Crime Faculty. Colin has worked operationally and lectured across several continents, including in Australia, Dubai, France and the U.S.
Lindsay Murray
Science
CSci CBiol CRadPro FRSB FLS



Coming from:
Gretna, Dumfries and Galloway UK

Lindsay Murray is a graduate biologist with something in excess of 30 years professional experience both in the UK and overseas, employed variously in clinical and veterinary microbiology, radiation protection, research management, and latterly in health and safety and research ethics. He regularly lectures on a wide range of science related topics to diverse audiences, and has a particular interest in public engagement with science.
Harry M Strong
Ocean science & Meteorology
BS, MS, MPA, PSIA



Coming from:
Oak Hill, Fairfax USA

Harry M Strong worked for a nonprofit corporation for 38 years, spending the last 15 years supporting the National Oceanic and Atmospheric Administration (NOAA) in Washington, D.C., addressing a broad range of environmental issues. He is the President of HMS Consulting, LLC, has been a special interest speaker and visiting scientist on numerous cruise ships, speaking on "Our One Ocean". This series of talks is crafted to entertain, inform and educate the ship's guests on various ocean topics, emphasizing that our "global society" has but "One Ocean" and we all share in its fruits, its opportunities, its problems, its heritage and its potential.
Marilyn Varcoe
Psychologist, Health & Wellness and Life Coach
PHD



Coming from:
Naples, Florida USA

Dr. Marilyn Varcoe is a licensed cognitive behavioral psychologist and life coach providing psychological care to a broad spectrum of clients. She obtained her Ph.D. in Psychology from Pennsylvania State University, her M.S. from Southern Illinois University, and her B.A. from the College of New Jersey. Dr. Varcoe has extensive years of experience in counseling, therapy and coaching. She is a frequent presenter of seminars and lectures on toxic stress and personal development. Marilyn is also the founder of Golf Smart, Inc., a program that teaches mental skills to golfers.