Enrichment Requirement

Cruise Itinerary
CRUISE ITINERARY - SK191216 Mid Atlantic Crossing
Embarkation:
Lisbon Portugal
Date: Monday, December 16, 2019
Disembarkation:
Miami, Florida USA
Date: Friday, December 27, 2019
No of Nights:
11
Only Speakers focusing on Science or World Affairs who can relate their talks to the itinerary and ports of call should register their interest.
If you are shortlisted please be prepared to submit your proposed talks if requested.
| | | |
| --- | --- | --- |
| Day 1 | EMBARK Lisbon Portugal | |
| Day 2 | At sea | |
| Day 3 | At sea | |
| Day 4 | Ponta Delgada Azores | |
| Day 5 | At sea | |
| Day 6 | At sea | |
| Day 7 | At sea | |
| Day 8 | At sea | |
| Day 9 | Hamilton Bermuda | |
| Day 10 | CHRISTMAS DAY At sea | |
| Day 11 | At sea | |
| Day 12 | DISEMBARK Miami, Florida USA | |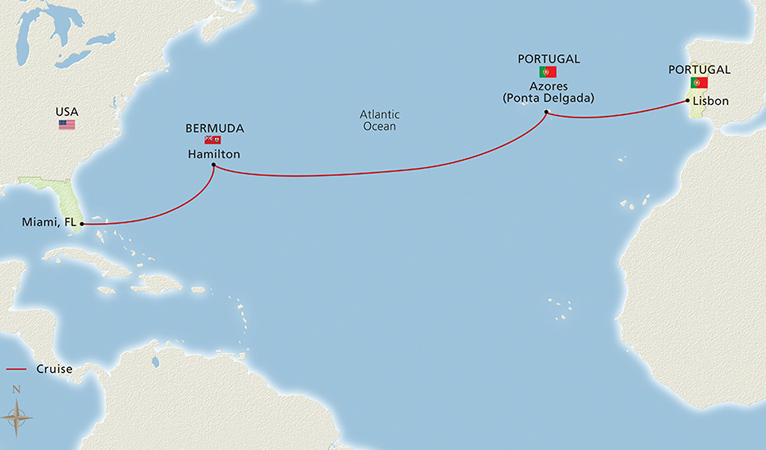 DISCLAIMER
This information has been compiled from various sources. Whilst every effort has been made to provide accurate information, the cruise lines can and do change their itineraries. Cruise Ship Speakers cannot be held liable for any inaccuracies that these programs may contain. Please refer to the up-to-date information provided by the cruise lines themselves. Please notify the Web Administrator if there are any inaccuracies.
Available Candidates
Click on the photo or name for full profile details.
The following people have indicated their availability for this cruise or sectors of this cruise.
The list is in ORDER by General Discipline (ie. Art Instructors, Bridge Directors, Craft Instructors, Destination Lecturers, Enrichment Speakers, etc).
Please contact the candidates directly if you would like to engage any of them. There are NO fees to do this.
Alternatively, we can arrange the bookings on your behalf. Please advise us of your choice(s) for this cruise.
| | | |
| --- | --- | --- |
| | | Michael Chriss has spent a lifetime in teaching and popularizing science through public lectures and planetarium programs. He was Professor of Astronomy and Humanities at the College of San Mateo, and its Planetarium Director. He received his degrees in astronomy at the University of Arizona with further studies in History of Art and Science at Berkeley, Stanford, and Oxford University. Since 1985, when Halley's Comet appeared in the skies, he has lectured aboard cruise ships on astronomy and other topics. He currently is Associate Lecturer in Astronomy at the University of Arizona.University of Arizona. |
Oliver Everett
Royal Librarian & Former Diplomat




Coming from:
Great Dunmow, Essex UK

Mr Everett is Librarian Emeritus of the Royal Library, Windsor Castle. He was Librarian there from 1985 to 2002, wrote the official guidebook on Windsor Castle, taught a course on its history and advised on a television programme on it. Mr Everett was educated at Cambridge University and did post-graduate work at Tufts University, USA, and at the London School of Economics. He lectures widely in Britain and abroad, including at the Victoria & Albert Museum, London; the Metropolitan Museum of Art, New York; the Getty Museum, Los Angeles; and the Boston Museum of Fine Art.
Dr Mike Gibson
Music & Destinations
PhD MPhil FRCP



Coming from:
Southampton, Hants UK

An RAF medical air commodore, CEO of an occupational health company & a member of the Tribunal service, Mike was Honorary Surgeon to HM the Queen for 5 years. He has published widely with passions including history, bagpipes and travel.
Dr Dan Jones
Historian & Archaeologist
Dip Arch, MA, PhD



Coming from:
Suffolk, UK

Dan holds a PhD from University of East Anglia and is currently working on post-doctoral mediaeval material from Norwich. He has been a Member of Kent Archaeological Society since 1965 and has assisted in excavations, mainly on Roman and Mediaeval sites in UK and France since 1965. Dan is particularly interested in practical archaeology, ecclesiastical architecture and near-eastern ancient and classical history and talks on specific sites, or the general history of an area.
Russell Lee
Science writer, humorist and storyteller
Not your average lecturer!



Coming from:
Cupertino, California USA

Russell Lee's life and career are a celebration of creativity in the art of communications and storytelling. He has experience as an entertainer, educator, lecturer, motivational speaker, cartoonist, musician, songwriter, actor and stand-up comedian. With an eclectic background in research and multimedia presentations, Russell can lecture on a wide range of topics, including cultures and geographies; history and famous historical figures; science and technology; and art and music. He believes in being entertaining as well as educational, and he uses storytelling to create memorable experiences for his audiences.
Anita Mays
Aviation
Pilot on Executive Jets; Humorous tales of venues and passengers



Coming from:
Sunninghill, Berks UK

Anita Mays is the youngest of four and was born in Nigeria to Yorkshire Parents. She spent most of her young life in Africa while attending boarding school in England where she excelled in sports. At Birmingham university and Aix-En-Provence, she attained an honours degree in English and French. She is a qualified English teacher, speaks French & Italian, loves keep fit and many sports including recreational flying. After being turned down by many airlines to become an airhostess, Anita became an instructor then a qualified commercial pilot. She has enjoyed a remarkable and colourful career, flying executive jets, cooperate, airline, freight and some film work.
Dr James Miller
Earth History, Volcanology & Field Geology




Coming from:
Shuniah, Ontario Canada

Dr. Jim Miller is an emeritus assistant professor of geology at the University of Minnesota. He received his Bachelor of Science degree in 1977 from the University of Illinois-Urbana and his PhD in 1986 from the University of Minnesota-Twin Cities. Throughout his professional career, Jim has also been extensively involved in public outreach, enthusiastically spreading his knowledge of local and global geology, geological processes, and Earth history. In his retirement, Jim continues to pursue his passion for telling awe-inspiring and entertaining stories about the 4.5 billion year history of Planet Earth.
Fiann Paul
World Record Breaking Rower




Coming from:
tba, tba Iceland

This person has either:
- not yet subscribed
- not yet been contacted regarding a subscription, or
- has let their subscription lapse
Please suggest that they subscribe so they can participate in this facility for your benefit.
Geoff Peters
Maritime Explorers and Adventurers




Coming from:
Sunshine Coast, Queensland Australia

Edu-tainment is the best way to describe Geoff's speaking style, providing educational, entertaining and authoritative presentations whilst also injecting humour and personal experiences documenting his time at sea. Recently retired, Geoff and his wife Leanne have purchased a boat in the UK, cruised across the English Channel and now spend much of each year cruising the rivers, canals, and coastlines of Europe, creating their own adventures.
Nicholas Reed
Classical & Art History
BA (Oxon), MA (Manc) MPhil (St.A.)



Coming from:
Folkestone, Kent UK

Nicholas took his first degree at Oxford in Greats (Latin, Greek, Ancient History and Philosophy). He was President of Oxford University Archaeological Society in 1969. From 1970 to 1986 he had 15 articles published in learned journals on subjects in Roman History and Archaeology, including articles on the Romans in Germany and on the Greek Islands. In the 1980s he moved into the field of art history, on which he is the author of some six books, mainly on the French Impressionists. He has been a lecturer for NADFAS, the fine arts organisation, since 1991.
Franz Schneider
Enrichment Speaker on Maritime Subjects
Ocean Racing, Navigation, Classic Ocean Liners



Coming from:
Cambridge, Massachusetts USA

Franz Schneider enjoys giving talks on cruise ships because of his love of the sea. A sailor all his life, Franz became active in ocean racing as a teenager. He sailed many thousands of miles with Ted Turner, starting with races from Bermuda to Copenhagen in 1966, and from California to Honolulu in 1967. In the 1970s, Franz was Turner's navigator in many ocean races including the classic Newport to Bermuda, and Miami to Montego Bay races. He was also the founder of Landfall Navigation, a firm that offers navigational supplies and services. Franz talks about ocean racing, as well as several about navigation, including celestial navigation.
Steve Simone
Music Historian - History of Soul
Singer & Songwriter



Coming from:
Strabane, Northern Ireland UK

Steve Is an established artist and music historian and give a fascinating insight into the formation of Motown in Detroit to Stax Records In Memphis, as well as exploring the artist and musician that came to make there music famous. He also give a insight into the formation of Jazz and it roots to it modern interpretation.
Dr James Teslow
Space Science, Astronomy & Engineering
PhD Rockets, Star-gazing



Coming from:
Camano Island, Washington USA

Dr. James Teslow is an educator who also practiced aerospace engineering for 30 years. He obtained his undergraduate degree at the University of Washington, and two Masters degrees and a PhD at the University of Colorado. His engineering positions included work in the areas of liquid and solid rocket propulsion system analysis and design, launch support, new technology research, and business development. James has taught several classroom and online courses in educational technology, research methods, and instructional development as an adjunct professor.
John Turkington
Art & Cultural Historian
Vikings / Art history and philosophy



Coming from:
Blackburn, Lancashire UK

John is now retired but spent the whole of his working life in education, ending his career as a headteacher with an added role as an Information Technology adviser. He has a degree in philosophy, an MA in research and various teaching diplomas. John has a wide, eclectic mix of interests including theatre, music, and painting in watercolours combined with extensive reading. He has an extensive series of talks on Vikings as well as art history and philosophy.