Enrichment Requirement

Cruise Itinerary
CRUISE ITINERARY - OR191227 Australia & New Zealand
Embarkation:
Sydney Australia
Date: Friday, December 27, 2019
Disembarkation:
Auckland NZ
Date: Friday, January 10, 2020
No of Nights:
14
Only Australian based Speakers focusing on the Arts, World Affairs or Extraordinary Lives who can relate their talks to the itinerary and ports of call should register their interest.
If you are shortlisted please be prepared to submit your proposed talks if requested.
| | | |
| --- | --- | --- |
| Day 1 | EMBARK Sydney Australia | |
| Day 2 | Sydney Australia | |
| Day 3 | At sea | |
| Day 4 | Melbourne Australia | |
| Day 5 | NEW YEARS EVE At sea | |
| Day 6 | Hobart Australia | |
| Day 7 | At sea | |
| Day 8 | At sea | |
| Day 9 | Dunedin NZ | |
| Day 10 | Christchurch (Akaroa) NZ | |
| Day 11 | Wellington NZ | |
| Day 12 | Napier NZ | |
| Day 13 | Tauranga NZ | |
| Day 14 | Auckland NZ | |
| Day 15 | DISEMBARK Auckland NZ | |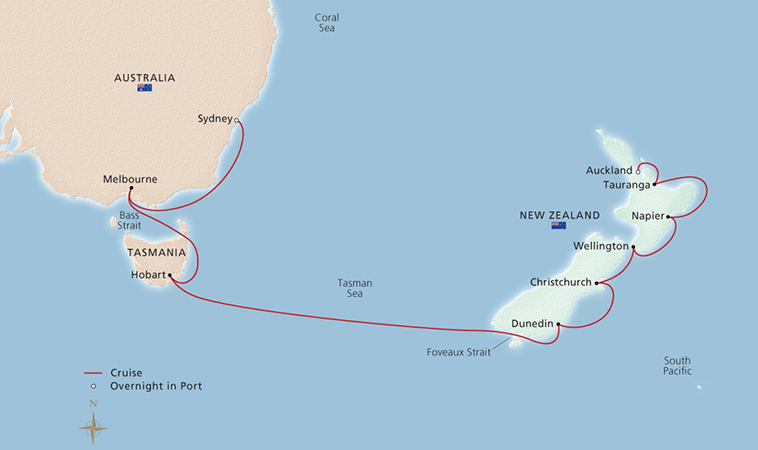 DISCLAIMER
This information has been compiled from various sources. Whilst every effort has been made to provide accurate information, the cruise lines can and do change their itineraries. Cruise Ship Speakers cannot be held liable for any inaccuracies that these programs may contain. Please refer to the up-to-date information provided by the cruise lines themselves. Please notify the Web Administrator if there are any inaccuracies.
Available Candidates
Click on the photo or name for full profile details.
The following people have indicated their availability for this cruise or sectors of this cruise.
The list is in ORDER by General Discipline (ie. Art Instructors, Bridge Directors, Craft Instructors, Destination Lecturers, Enrichment Speakers, etc).
Please contact the candidates directly if you would like to engage any of them. There are NO fees to do this.
Alternatively, we can arrange the bookings on your behalf. Please advise us of your choice(s) for this cruise.
Jeremy Huw Williams
Opera & Classical Music
Opera Singer, PhD, DMus



Coming from:
Radyr, Caerdydd UK

The Welsh baritone Jeremy Huw Williams studied at St John's College, Cambridge, at the National Opera Studio, and with April Cantelo. He made his debut with Welsh National Opera as Guglielmo and has since appeared in sixty operatic roles. He has given performances at major venues in North and South America, Australia, Hong Kong, and most European countries. He is also an experienced choir trainer and vocal tutor at several universities and conservatoires worldwide.
Claudia Puma
Arts and Crafts Tutor




Coming from:
Hamburg, Michigan USA

Claudia Puma's life pursuit has been in the arts and crafts field, her love of color and design took many forms over the past 40 years. For over 38 years she participated in some of the best art fairs in Michigan, Ohio, Indiana, and Illinois. She won awards for her designs in Quilting and in jewelry design, Creative Designs was a very appropriate name for her business. Claudia began teaching on cruise ships in 1986 and has taught on Costa, Celebrity, Cunard, and Carnival, and has traveled extensively in the Mediterranean, Central American, Caribbean, and USA. Traveling the world is a passion for Claudia, teaching classes on cruise brings her two passions together.
Evelyn Evans
Colonial History of the Far East and Australasia




Coming from:
Evercreech, Somerset UK

Although Evelyn was born in Shanghai, she was brought up in Hong Kong and educated in Ireland. The daughter of "Old-China Hands", she was Chinese bi-lingual from the cradle and this was to open doors throughout her professional life which was based in South East Asia. Despite reading History at Trinity College Dublin, Evelyn went on to train as an Advertising Copywriter and later Creative Director with Ogilvy & Mather. She presents an extensive series of talks on Far East history and culture and Australia.
Karen Bohringer
The Internet and the World Wide Web




Coming from:
Surfers Paradise, Queensland Australia

Gaining her IT qualifications from Harvard University and The American Institute of Computer Programming and with a career spanning over 30 years, Karen has spoken for and consulted for several Fortune 500 companies as well as Australian legal bodies including the Supreme Court, the Premier's Department and the Department of Public Prosecutions. Having lectured on many Information Technology topics including a fascinating, in-depth series of Extraordinary Lives from the I.T. world, Karen brings to each of her presentations a skilful, polished and entertaining vibe along with attention grabbing, professional PowerPoint slideshows.
| | | |
| --- | --- | --- |
| | | Emma has a passion for marine wildlife, especially cetaceans (whales, dolphins & porpoises) and seabirds. From 2006 to 2010, she worked as a wildlife officer and wildlife guide for MARINElife on the P&O ferry Pride of Bilbao as well as leading specific wildlife watching cruises. Currently she works as an island ranger on the Orkney islands. Her speciality is marine mammals and sea birds, but also talks about other marine wildlife as well as terrestrial wildlife. Emma is a very experienced and enthusiastic speaker with a wide range of subjects related to marine wildlife and the natural world and loves being able to share the experience of seeing whales & dolphins in the wild with passengers. |
Geoff Peters
Maritime Explorers and Adventurers




Coming from:
Sunshine Coast, Queensland Australia

Edu-tainment is the best way to describe Geoff's speaking style, providing educational, entertaining and authoritative presentations whilst also injecting humour and personal experiences documenting his time at sea. Recently retired, Geoff and his wife Leanne have purchased a boat in the UK, cruised across the English Channel and now spend much of each year cruising the rivers, canals, and coastlines of Europe, creating their own adventures.
Margaret Smith
Coaching Self Development
Inspiring and Influencing You



Coming from:
Redridge, Queensland Australia

Margaret is an Intuitive, Inspiring tell it like it is International Speaker travelling the world speaking to groups of people wanting change in their lives. They seek guidance from Margaret as they know that she has achieved her true purpose in life and now wishes that for all mankind. Her true gift is her pragmatic approach to life that stirs people to get up and start taking action moving them towards their own purpose.
Sue Stockdale
Explorer & Adventurer
MBA Entrepreneurship, MSc Quality Management



Coming from:
Swindon, Wiltshire UK

Sue Stockdale is a polar explorer and adventurer; author, and inspirational speaker who has undertaken more challenges to date than many people do in a lifetime. In 1996 she became the first British woman to ski to the Magnetic North Pole, and has also participated in expeditions to Chile, Antarctica, Geographical North Pole and Greenland. In her richly inspirational presentations she combines her personal expertise as a polar explorer with her profound business knowledge, including areas like Change Management, Leadership, Motivation, Risk Management and Managing Diversity.
Harry M Strong
Ocean science & Meteorology
BS, MS, MPA, PSIA



Coming from:
Oak Hill, Fairfax USA

Harry M Strong worked for a nonprofit corporation for 38 years, spending the last 15 years supporting the National Oceanic and Atmospheric Administration (NOAA) in Washington, D.C., addressing a broad range of environmental issues. He is the President of HMS Consulting, LLC, has been a special interest speaker and visiting scientist on numerous cruise ships, speaking on "Our One Ocean". This series of talks is crafted to entertain, inform and educate the ship's guests on various ocean topics, emphasizing that our "global society" has but "One Ocean" and we all share in its fruits, its opportunities, its problems, its heritage and its potential.
Dr Karen Woodman
Destination History & Culture




Coming from:
Brisbane, Queensland Australia

Dr Karen Woodman is a retired university professor, who is an entertaining cruise enrichment speaker on topics such as history, education, street art, culture, dance, language, and food as they relate to cruise destinations. Karen is also an avid social dancer who enjoys sharing her love of dance, the benefits of social dance, and the mind-body connection. She has traveled extensively, including North and South America, the South Pacific, Australia and New Zealand, the Caribbean, Cuba, Europe, Scandinavia, and South-East Asia.
Alan Wright
Astronomy & Physical Sciences
BSc, PhD, FASA



Coming from:
Wynyard, Tasmania Australia

Alan Wright has been a professional research astronomer for over 50 years, much of that time as the Chief Astronomer & Head of Operations at the world-famous Parkes Observatory in Australia, known to many as "The Dish". He is a multiple graduate of London University and has worked in Canada, the USA and several European countries, as well as in Australia. Recently retired, he retains his passion for astronomy and takes a very active interest in all modern astronomical discoveries. He is also a dynamic and popular speaker who specialises in making "tricky" scientific subjects understandable to everybody.