Enrichment Requirement

Cruise Itinerary
CRUISE ITINERARY - OR190705 Alaska & the Inside Passage
Embarkation:
Vancouver Canada
Date: Friday, July 5, 2019
Disembarkation:
Seward (Anchorage), Alaska USA
Date: Monday, July 15, 2019
No of Nights:
10
Only Speakers focusing on History or the Arts who can relate their talks to the itinerary and ports of call should register their interest.
Please submit your proposed lecture topics for consideration.
| | | |
| --- | --- | --- |
| Day 1 | EMBARK Vancouver Canada | |
| Day 2 | Cruising the Inside Passage | |
| Day 3 | Ketchikan, Alaska USA | |
| Day 4 | Sitka, Alaska USA | |
| Day 5 | Juneau, Alaska USA | |
| Day 6 | Skagway, Alaska USA | |
| Day 7 | Icy Strait Point, Alaska USA | |
| Day 8 | Cruise Hubbard Glacier USA | |
| Day 9 | Valdez, Alaska USA | |
| Day 10 | Seward (Anchorage), Alaska USA | |
| Day 11 | DISEMBARK Seward (Anchorage), Alaska USA | |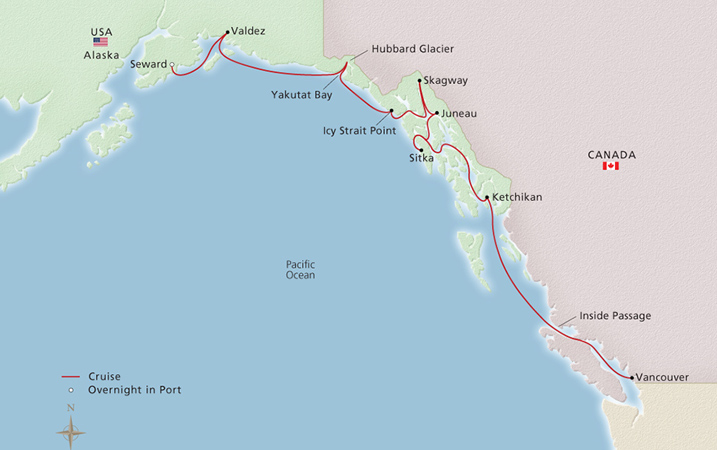 DISCLAIMER
This information has been compiled from various sources. Whilst every effort has been made to provide accurate information, the cruise lines can and do change their itineraries. Cruise Ship Speakers cannot be held liable for any inaccuracies that these programs may contain. Please refer to the up-to-date information provided by the cruise lines themselves. Please notify the Web Administrator if there are any inaccuracies.
Available Candidates
Click on the photo or name for full profile details.
The following people have indicated their availability for this cruise or sectors of this cruise.
The list is in ORDER by General Discipline (ie. Art Instructors, Bridge Directors, Craft Instructors, Destination Lecturers, Enrichment Speakers, etc).
Please contact the candidates directly if you would like to engage any of them. There are NO fees to do this.
Alternatively, we can arrange the bookings on your behalf. Please advise us of your choice(s) for this cruise.
Dr Michael Chriss
Astronomy, History of Science & Astronomy




Coming from:
Tucson, Arizona USA

Michael Chriss has spent a lifetime in teaching and popularizing science through public lectures and planetarium programs. He was Professor of Astronomy and Humanities at the College of San Mateo, and its Planetarium Director. He received his degrees in astronomy at the University of Arizona with further studies in History of Art and Science at Berkeley, Stanford, and Oxford University. Since 1985, when Halley's Comet appeared in the skies, he has lectured aboard cruise ships on astronomy and other topics. He currently is Associate Lecturer in Astronomy at the University of Arizona.University of Arizona.
Professor Ed Lynch
International Relations & Foreign Policy




Coming from:
Roanoke, Virginia USA

Dr. Ed Lynch is Chair of Political Science at Hollins University in Roanoke, Virginia. He is a recognized expert on foreign affairs, international relations and diplomacy, especially that of the Mediterranean world. He has sailed with several cruise lines as an expert speaker, traveling to South America, the Caribbean, Australia, Europe, Southeast Asia, India and the Middle East. Ed is a frequent commentator on political affairs for television, radio and newspapers. His travel adventures include visiting 20 countries in one year, experiencing a minor earthquake in Guatemala, and nearly getting killed in Ecuador, protecting a fellow traveller.
Kathy Slamp
Enrichment Speaker - Destinations
Alaska & Mediterranean Specialist



Coming from:
Vancouver, WA USA

Kathy Slamp's childhood was spent in Alaska. She is an experienced public speaker who has literally spoken around the world. Through her early Alaska experiences, Kathy has become a well-loved and frequently requested Alaska cruise ship naturalist and lecturer. She has presented on at least 150 different Alaska cruises! Her down-to-earth sincerity and sense of humor endear her to audiences wherever she goes. People relate to her quickly and easily. Kathy has also traveled extensively throughout the Mediterranean Region and into the Black Sea.
Dr James Teslow
Space Science, Astronomy & Engineering
PhD Rockets, Star-gazing



Coming from:
Camano Island, Washington USA

Dr. James Teslow is an educator who also practiced aerospace engineering for 30 years. He obtained his undergraduate degree at the University of Washington, and two Masters degrees and a PhD at the University of Colorado. His engineering positions included work in the areas of liquid and solid rocket propulsion system analysis and design, launch support, new technology research, and business development. James has taught several classroom and online courses in educational technology, research methods, and instructional development as an adjunct professor.
John Thomas
Motion Pictures and Television
Producer/Director/Professor; Feature Films, Documentaries, Celebs



Coming from:
Houston, Texas USA

John has worked 45 years in Hollywood, including the production of nearly 40 documentaries, commercials and 7 feature films as producer/director/writer and editor. He has worked at the major Hollywood studios, and directed many well-known stars. As a stand up comedian, John peppers his movie presentations with his trademark, easy-going and unassuming observational humor. Unlike other speakers who just talk about movies, John is an actual movie maker who can authoritatively answer audience questions, and provide honest answers along with real world illustrations and examples.
Dr. Lori Verderame
Art & Antiques Appraiser, TV Personality
World Historian & Viking Resident Historian



Coming from:
Trumbauersville, Pennsylvania USA

A lively, educated, and entertaining speaker, Dr. Lori Verderame is an award winning TV personality, world history and art/architectural history expert, and highly sought-after keynote speaker on land and at sea. A Connecticut native and longtime resident of Bucks County, Pennsylvania, Dr. Lori earned her Ph.D. in World Art and Architectural History from Pennsylvania State University, PA where she also served on the university's faculty. She is an author of many books, syndicated columnist, and travel blogger. Dr. Lori provides insider tips about world travel, fine art and antiques history, and must-see landmarks the world over on her social media channels and YouTube channel.