Enrichment Requirement

Cruise Itinerary
CRUISE ITINERARY - SA361 Saga's Secret Cruise
Embarkation:
Southampton UK
Date: Tuesday, November 27, 2018
Disembarkation:
Southampton UK
Date: Wednesday, December 19, 2018
No of Nights:
21
Speakers and Instructors who are available for this cruise should register their interest. No specific topics indicated.
| | | |
| --- | --- | --- |
| Day 1 | EMBARK Southampton UK | |
| Day 2 | to Day 21 MYSTERY PORTS | |
| Day 22 | DISEMBARK Southampton UK | |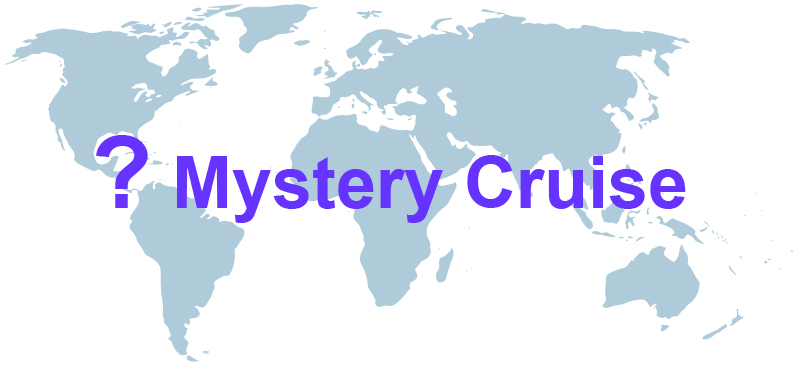 DISCLAIMER
This information has been compiled from various sources. Whilst every effort has been made to provide accurate information, the cruise lines can and do change their itineraries. Cruise Ship Speakers cannot be held liable for any inaccuracies that these programs may contain. Please refer to the up-to-date information provided by the cruise lines themselves. Please notify the Web Administrator if there are any inaccuracies.
Available Candidates
Click on the photo or name for full profile details.
The following people have indicated their availability for this cruise or sectors of this cruise.
The list is in ORDER by General Discipline (ie. Art Instructors, Bridge Directors, Craft Instructors, Destination Lecturers, Enrichment Speakers, etc).
Please contact the candidates directly if you would like to engage any of them. There are NO fees to do this.
Alternatively, we can arrange the bookings on your behalf. Please advise us of your choice(s) for this cruise.
Helen Halliday
Art Instructor
Paintings, Prints & Ceramics - BA Fine Art



Coming from:
Rickmansworth, Hertfordshire UK

Helen is a practising professional artist creating and exhibiting paintings, prints and ceramics. She originally studied Music at Durham University and the Vienna Academy, worked for the BBC and Swiss Radio as a Studio Manager and sound engineer, then went on to gain a degree in Fine Art. Since then she has taught painting for local authorities and on painting holidays in the UK and abroad. Her enthusiasm for her subject, wide-ranging knowledge and ability to encourage and support each individual has ensured that her painting courses are popular and enjoyable.
Irene Burns
Craft Instructor & Bridge Director




Coming from:
Spennymoor, County Durham UK

Irene joined the police and served eighteen years in the force, rising to the rank of Inspector, before starting a craft retail business. Having come from a 'sewing' family, Irene was enthusiastic about handicrafts. She attended courses to teach the subject and started sewing classes locally which continued for fifteen years. Irene now has several years experience as a craft tutor, both locally and on cruise ships. Irene is also a qualified Bridge Director and teaches Bridge.
| | | |
| --- | --- | --- |
| | | Kathy gained a Doctorate in Agricultural History & Ecological Management, from Imperial College London, in 2004. She has many year's experience both as a civil servant and in private consultancy, organising lectures, activity workshops and study trips in England. Kathy is a member of the Speakers Club of Great Britain and is also an experienced destination lecturer. She has a passion for travel, meeting new people and seeing new places. Kathy has a range of Presentations on; Destinations, British traditions, and the countryside, which can be tailored to destinations or seasons as required. |
Colin Johnson
Forensic Pyschology, Criminology & Law Enforcement




Coming from:
Mattingley, Hampshire UK

Colin is an internationally accredited and operational Geographic Profiler and was the first ever Fellow of his discipline across Europe. He holds a master's degree in psychology. A police officer for 30 years, principally as a detective, he specialised in investigating major crime, including murder, stranger rape and abduction. He became one of the first officers selected to the National Crime Faculty. Colin has worked operationally and lectured across several continents, including in Australia, Dubai, France and the U.S.
Andrew Lambert
Military & Aviation Historian
Air Commodore, MPhil



Coming from:
Lapford, Devon UK

Air Commodore Andrew Lambert flew Phantoms and went on to run the RAF's "Top Gun"¯ school. A planner for the 1991 Gulf War, he then commanded a Tornado fighter squadron on operations over Bosnia. As an Air Commodore he commanded in the Falklands and the Iraqi Northern No Fly Zone. A Military Historian, he has also published a number of papers on the Psychological Impact of Air Power and Coercion and British Defence Policy.
Frances McNaughton
Sugar-Craft Artist & Tutor, Celebrity & Author




Coming from:
Bexhill on sea, East Sussex UK

Frances's sugarcraft books have become international bestsellers. She has been a tutor and demonstrator since 1987, teaching all aspects of cake decorating and sugarcraft to students from beginner to advanced level. She travels all over Europe providing demonstrations and workshops for exhibitions, shops, groups and clubs. On cruises her demonstrations and mini workshops include modelling with sugar paste and chocolate to create sugar flowers and models, and she talks about her film and advert involvement.
Robert Milne
Forensic Science & Celebrated Historical Cases
Former Scotland Yard Forensics Expert



Coming from:
Rayleigh, Essex UK

Robert Milne is a Forensic Expert with over 40 years' experience at Scotland Yard in the roles of Fingerprint Expert, Crime Scene Examiner (CSI), Crime Scene Coordinator (serious crime), Forensic Intelligence Manager (Head of Forensic Intelligence MIB). Currently he lectures on forensic science and works in Fire Investigation, dealing with Crown Court case reviews, cold case reviews, insurance casework and litigation casework. Since 2012, he has been an enrichment lecturer, presenting on the topics of forensic science and historical celebrated cases. He has a friendly style as a presenter and likes to build a rapport with audiences.
Cally Oldershaw
Earth Science & Gemmology
BSc (Hons), FGA, DGA, FGS, CGeol, CSci, EurGeol



Coming from:
Truro, Cornwall UK

Until recently, Cally was the Curator of Gemstones for the Natural History Museum, London. She is a Director of the Gemmological Association of Great Britain. An accomplished and experienced speaker with an international reputation, she has delivered presentations to audiences that have ranged from the general public to academics and politicians. She is the author of 15 books on Gemstone and geology, as well as an acknowledged expert on glaciers, volcanoes, forests and mountains, minerals and crystals.
James Teslow
Space Science, Astronomy & Engineering
PhD Rockets, Star-gazing



Coming from:
Camano Island, Washington USA

Dr. James Teslow is an educator who also practiced aerospace engineering for 30 years. He obtained his undergraduate degree at the University of Washington, and two Masters Degrees at the University of Colorado. His engineering positions included work in the areas of liquid and solid rocket propulsion system analysis and design, launch support, new technology research, and business development. James has taught several classroom and online courses in educational technology, research methods, and instructional development as an adjunct professor.
Malcolm Welshman
Veterinarian, Writer, Broadcaster & Lecturer




Coming from:
Near Crewkerne, Somerset UK

Malcolm is a retired vet, freelance journalist and author. He has written three pet novels, the ebook version of the first reaching number two on Kindle's bestseller list. He has contributed many animal-orientated features for national magazines and is a feature writer for the Daily Mail. He currently partakes in a weekly talk show for a local radio station and is a regular panellist on Radio Somerset. He is in demand for his witty take on life as a vet and as an onboard raconteur has completed 36 cruise speaking engagements.