Enrichment Requirement

Cruise Itinerary
CRUISE ITINERARY - P2202 Islands of Bothnia
Embarkation:
Dover UK
Date: Tuesday, June 5, 2018
Disembarkation:
Dover UK
Date: Tuesday, June 19, 2018
No of Nights:
14
Speakers and Instructors who are available for this cruise should register their interest. No specific topics indicated.
| | | |
| --- | --- | --- |
| Day 1 | EMBARK Dover UK | |
| Day 2 | At sea | |
| Day 3 | Arendal Norway | |
| Day 4 | At sea | |
| Day 5 | Sassnitz, Rügen Island Germany | |
| Day 6 | At sea | |
| Day 7 | Örnsköldsvik Sweden | |
| Day 8 | Umea Sweden | |
| Day 9 | Lulea Sweden | |
| Day 10 | At sea | |
| Day 11 | Mariehamn Finland | |
| Day 12 | At sea | |
| Day 13 | Cruising the Kiel Canal | |
| Day 14 | At sea | |
| Day 15 | DISEMBARK Dover UK | |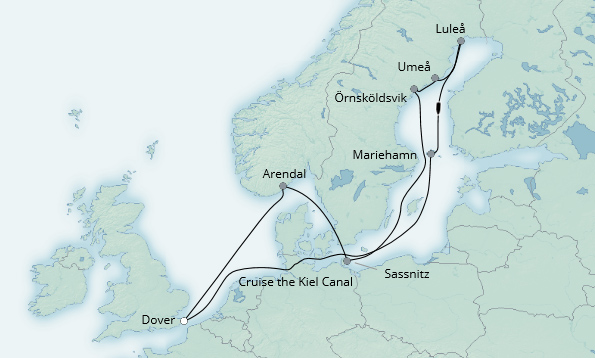 DISCLAIMER
This information has been compiled from various sources. Whilst every effort has been made to provide accurate information, the cruise lines can and do change their itineraries. Cruise Ship Speakers cannot be held liable for any inaccuracies that these programs may contain. Please refer to the up-to-date information provided by the cruise lines themselves. Please notify the Web Administrator if there are any inaccuracies.
Available Candidates
Click on the photo or name for full profile details.
The following people have indicated their availability for this cruise or sectors of this cruise.
The list is in ORDER by General Discipline (ie. Art Instructors, Bridge Directors, Craft Instructors, Destination Lecturers, Enrichment Speakers, etc).
Please contact the candidates directly if you would like to engage any of them. There are NO fees to do this.
Alternatively, we can arrange the bookings on your behalf. Please advise us of your choice(s) for this cruise.
Helen Halliday
Art Instructor
Paintings, Prints & Ceramics - BA Fine Art



Coming from:
Rickmansworth, Hertfordshire UK

Helen is a practising professional artist creating and exhibiting paintings, prints and ceramics. She originally studied Music at Durham University and the Vienna Academy, worked for the BBC and Swiss Radio as a Studio Manager and sound engineer, then went on to gain a degree in Fine Art. Since then she has taught painting for local authorities and on painting holidays in the UK and abroad. Her enthusiasm for her subject, wide-ranging knowledge and ability to encourage and support each individual has ensured that her painting courses are popular and enjoyable.
June Keir
Craft Instructor
Dip COT (Diploma of the College of Occupational Therapists)



Coming from:
Scaldwell, Northamptonshire UK

June has spent most of her working life as an Occupational Therapist, working in mental health settings, where craft work has paid an important part in helping people regain their health and well-being. She has belonged to various craft groups, mainly patchwork, where she has run workshops demonstrating and teaching various techniques. She is however interested many crafts. Now retired she runs craft workshops at local fairs as well as on cruise ships.
Shawn Mills
Jewellery Making (chain mail)
Member of the goldsmiths guild and the Guild of Jewellery Designers



Coming from:
Attleborough, Norfolk UK

Shawn is a family man and lives in Attleborough, Norfolk with his partner Elizabeth. He was introduced to making glass beaded jewellery whilst on his first cruise many years ago. Although Shawn is a silversmith with his own hallmark which is registered with The Company of Goldsmiths in London, his main passion is chain maille. He will introduce crafters to the basic skills of making chain maille by helping them to make some small items starting with aluminium links, and then moving onto other metals.
| | | |
| --- | --- | --- |
| | | Following early retirement from teaching in 1994 and retirement from legal work with the Citizens Advice Bureau, more recently, Trish has been able to concentrate full time on her first love, crafting, and she produces a variety of crafts which are sold both locally and nationally at craft fairs. Trish has travelled widely and has been a regular cruise ship craft instructor for the last 20 years. Thus she is very cognisant with the way if life on board a cruise ship. She appreciates that amongst cruisers there is a mixture of experienced crafters and newbies. Therefore she offers new skills which will be of interest to the experienced crafter and projects which will appeal to newbies. |
Graham Anthony
Maritime History




Coming from:
Cambridge, Cambridgeshire UK

Graham is a maritime historian with a fascination for how individual events fit into the great continuum of history. A regular contributor to maritime journals, he lectures to universities, yacht clubs, and cruise audiences and each year undertakes a sponsored lecture tour of the United States for the English Speaking Union. A graduate engineer, Graham served with the Royal Engineers in Berlin, where he developed his skills as a competitive helmsman which has led him sailing on many seas.
Peter Lavington
Meteorology & Weather Forecasting




Coming from:
Highbridge, Somerset UK

Peter started work at the UK Met Office in 1971 at their London Weather Centre and was promoted to a forecaster in 1975. Thereafter he worked at many locations within UK and abroad. Most of his work was with the Forces - mainly RAF but also at a couple of Army helecopter bases. Meteorology can be a complicated and difficult subject to put across to people but it is his intention to keep things simple and entertaining. Since he retired in 2010, he gives lectures about the weather which he hopes will enable the audience to feel that they know a little more about how the weather works.
Frances McNaughton
Sugar-Craft Artist & Tutor, Celebrity & Author




Coming from:
Bexhill on sea, East Sussex UK

Frances's sugarcraft books have become international bestsellers. She has been a tutor and demonstrator since 1987, teaching all aspects of cake decorating and sugarcraft to students from beginner to advanced level. She travels all over Europe providing demonstrations and workshops for exhibitions, shops, groups and clubs. On cruises her demonstrations and mini workshops include modelling with sugar paste and chocolate to create sugar flowers and models, and she talks about her film and advert involvement.
Bernie Raffe
Photography
Associate level with the MPA and SWPP



Coming from:
Leighton Buzzard, Bedfordshire UK

Bernie is an award winning portrait and (ex) wedding photographer, his entertaining and informative talks show guests how they can take more creative and dramatic photos, even with their smartphones. Photography is an art, and Bernie's talent lies in being able to educate and inspire without overloading the audience with too much technical jargon. He has a wonderful knack for explaining the subject in an entertaining and understandable way. Bernie has in excess of 30,000 (paid!) subscribers to his photography courses, and was voted by students as a top 10 instructor in 2014.