Enrichment Requirement

Cruise Itinerary
CRUISE ITINERARY - SU181218 Mid Atlantic Crossing
Embarkation:
Lisbon Portugal
Date: Tuesday, December 18, 2018
Disembarkation:
Miami, Florida USA
Date: Saturday, December 29, 2018
No of Nights:
11
Only Speakers focusing on History, the Arts, Science, World Affairs or Extraordinary Lives who can relate them to the itinerary and ports of call should register their interest.

| | | |
| --- | --- | --- |
| Day 1 | EMBARK Lisbon Portugal | |
| Day 2 | At sea | |
| Day 3 | At sea | |
| Day 4 | Ponta Delgada Azores | |
| Day 5 | At sea | |
| Day 6 | At sea | |
| Day 7 | At sea | |
| Day 8 | CHRISTMAS DAY At sea | |
| Day 9 | Hamilton Bermuda | |
| Day 10 | At sea | |
| Day 11 | At sea | |
| Day 12 | DISEMBARK Miami, Florida USA | |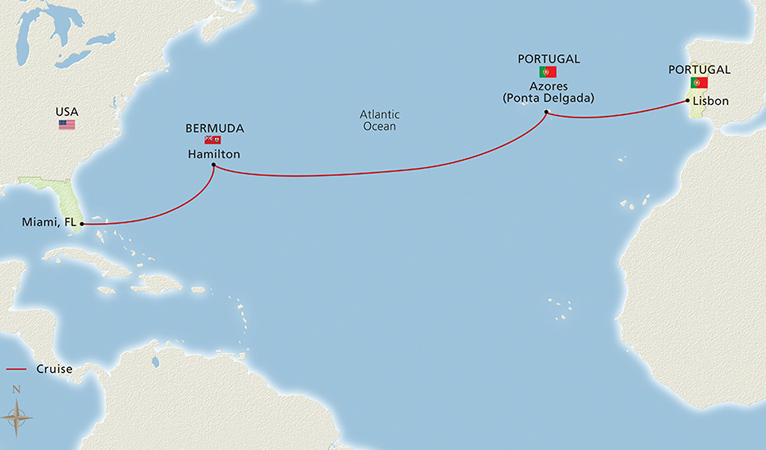 DISCLAIMER
This information has been compiled from various sources. Whilst every effort has been made to provide accurate information, the cruise lines can and do change their itineraries. Cruise Ship Speakers cannot be held liable for any inaccuracies that these programs may contain. Please refer to the up-to-date information provided by the cruise lines themselves. Please notify the Web Administrator if there are any inaccuracies.
Available Candidates
Click on the photo or name for full profile details.
The following people have indicated their availability for this cruise or sectors of this cruise.
The list is in ORDER by General Discipline (ie. Art Instructors, Bridge Directors, Craft Instructors, Destination Lecturers, Enrichment Speakers, etc).
Please contact the candidates directly if you would like to engage any of them. There are NO fees to do this.
Alternatively, we can arrange the bookings on your behalf. Please advise us of your choice(s) for this cruise.
Jeremy Huw Williams
Opera & Classical Music
Opera Singer, PhD, DMus



Coming from:
Radyr, Caerdydd UK

The Welsh baritone Jeremy Huw Williams studied at St John's College, Cambridge, at the National Opera Studio, and with April Cantelo. He made his debut with Welsh National Opera as Guglielmo and has since appeared in sixty operatic roles. He has given performances at major venues in North and South America, Australia, Hong Kong, and most European countries. He is also an experienced choir trainer and vocal tutor at several universities and conservatoires worldwide.
Jim Clement
Destination Lecturer & Maritime Historian
Baltic, Mediterranean. Asia, Caribbean,Latin America, Panama, Norway,



Coming from:
Largo, Florida USA

Jim is a retired USA Diplomat who lived in 13 countries and has given Destination/Maritime History Lectures on more than 100 cruises in Europe, Asia, S. America. He graduated from the U.S. Naval Academy (BSc) and University of Chicago (MBA). He was a US Navy Submarine Officer, VP International for Fortune 500 companies. He was a University Professor for History, Geography, Logistics, and International Marketing. Having lived and worked in Panama and transited the Panama Canal 24 times and Suez Canal 4 times, Jim can give the ship's bridge commentary about the history of the Canals. He speaks Spanish.
Mike Curtis
Maritime, Naval & World History
Life in a Submarine



Coming from:
Havant, Hampshire UK

Mike is an ex Royal Navy Officer who served for 22 years in both the surface and sub-surface Fleet. Mike joined from school as an Electrical Engineer Artificer Apprentice eventually specialising in Sonar and Gunnery systems. Following the Navy, Mike carried on his career in the Commercial World of manufacturing and Defence Research. He provides Guest Speaker services to the cruise industry and other interested shore based groups talking about all aspects of;submarines, maritime history, and geographical history of the planets oceans and surrounding countries.
| | | |
| --- | --- | --- |
| | | Dr. Lawrence Fairman was born and bred in the far north of England. After retiring from a long period as a University lecturer he returned to industry where he gave talks and organized training courses in many countries around the world. This provided him the opportunity to travel widely and develop an interest in the art and culture of many cities popular on the cruise circuit. He has a portfolio of enrichment talks that cover most of the European cruise destinations all of which fully illustrate the history and artistic heritage of the areas visited. |
| | | |
| --- | --- | --- |
| | | After many years of enjoying and learning about wine, Douglas's wine career began in 1977 when he opened and operated three Wine Bars in the City of London and one in Leicester. And so began his long and successful career in wine wholesaling and shipping. In recent years Douglas has hosted a great variety of wine events ranging from formal dinners to tastings for local wine societies. He has also been the guest wine speaker on ocean cruises and river cruises. His talks are factual, informative, delivered with a touch of humour, and are always well received by wine imbibers at all levels. |
| | | |
| --- | --- | --- |
| | | Terry was born in 1945 and joined No 424 (Southampton) Squadron of the Air Training Corps in 1959. The following year, he joined the RAF as a Halton apprentice and continued his gliding with the Windrushers Gliding Club at RAF Bicester, which subsequently became the RAF Gliding & Soaring Association Centre. He has flown over 3,000 hours in gliders. As an aviation expert and historian, Terry regularly lectures and talks on a wide range of aviation linked topics ranging from gliding to space travel. |
John Hutchinson
Aviation History
Former Concorde Pilot



Coming from:
Royston, Hertfordshire UK

John joined the RAF in 1955 and spent eight years in the service, flying the Avro Shackleton in Singapore and then as a Flying Instructor and Examiner on the Jet Provost. This was followed by three years in corporate aviation flying a variety of light single and twin engine aircraft. He joined BA in 1966, flew Boeing 707's and Boeing 747's before joining the Concorde fleet in 1977 where he spent the next 15 years until retirement. John presents a series of talks on his Concorde experiences.
Glenn Patrick
Physics, Cosmology & Earth Sciences
BSc, PhD, CPhys, FInstP, FRAS



Coming from:
Wantage, Oxfordshire UK

Glenn is a particle physicist who has spent most of his career working on large international experiments using accelerators at the CERN Laboratory in Geneva. Glenn is based at the Rutherford Appleton Laboratory where he is now an Honorary Scientist and is also a Visiting Professor at the University of Portsmouth, where he teaches. Glenn regularly gives public talks to a wide variety of audiences and specialises in explaining the concepts of physics, cosmology and astronomy in everyday language.
Geoffrey Roberts
Soviet & Military Historian
PhD, MIlitary/Russian/Soviet/International History



Coming from:
Kilbrittain, Cork Ireland

Professor Geoffrey Roberts is the award-winning author of Stalin's General: The Life of Georgy Zhukov (2012) - winner of the Society for Military History Distinguished Book Award for Biography. An expert on Soviet and Military History, Geoffrey is Head of the School of History at University College Cork, Ireland. He has extensive experience as a public lecturer, media commentator and contributor to popular history magazines. He has many radio and TV appearances to his credit.
In his spare time Geoffrey plays and teaches Bridge.
Sandie Sowler
Ecology & Conservation
Naturalist



Coming from:
Cirencester, Gloucestershire UK

Sandie trained as a zoologist with a specialist interest in bat biology. Sandie obtained her first degree in Zoology and later took her doctorate after undertaking seven years research in fruit bat ecology and physiology in South Africa. She has ten years' experience as a secondary school teacher and has almost 30 years' experience as an ecology consultant. Sandie currently works as a trainer of ecological consultants. She enjoys delivering natural history themed cruise lectures.
Roy Taylor
Military Historian & Police Expert




Coming from:
Middleton, UK

Roy is a former Royal Air Force Officer who, in a twelve year career, became a specialist signals intelligence wireless operator. His highly skilled and fascinating work took him to several UK bases including Bletchley Park. Following marriage Roy decided to leave the service and he became a police officer quickly moving from foot patrol duties to the hectic world of Task Force policing. Roy has become highly popular as a guest speaker and talks on topics drawn from his RAF and Police careers and from his lifetimes interest and study of military history and famous leaders.
Lou Thieblemont
Aviation
Former Airline Pilot, Astronomical Society of Harrisburg, PA



Coming from:
Camp Hill, PA USA

Lou Thieblemont has always been fascinated by the sky. Even before graduating from New York Institute of Technology, he was working for Air France Flight Dispatch at JFK airport making computerized flight plans. After graduation, he worked for 37 years as a commercial airline pilot, first for TWA and then for American Airlines when the two carriers merged. Since his retirement Lou has been an active volunteer for a number of organisations and offers a series of talks on topics as diverse as astronomy, aviation, Antarctic exploration, optical illusions, and computer graphics.