Enrichment Requirement

Cruise Itinerary
CRUISE ITINERARY - SK180915 Majestic Fjords & Vibrant Cities
Embarkation:
Bergen Norway
Date: Saturday, September 15, 2018
Disembarkation:
Copenhagen Denmark
Date: Wednesday, September 26, 2018
No of Nights:
11
Only Speakers focusing on History, the Arts, Science, World Affairs or Extraordinary Lives who can relate them to the itinerary and ports of call should register their interest.

| | | |
| --- | --- | --- |
| Day 1 | EMBARK Bergen Norway | |
| Day 2 | Bergen Norway | |
| Day 3 | Eidfjord Norway | |
| Day 4 | Stavanger Norway | |
| Day 5 | Kristiansand Norway | |
| Day 6 | Oslo Norway | |
| Day 7 | Oslo Norway | |
| Day 8 | Gothenburg Sweden | |
| Day 9 | Ålborg Denmark | |
| Day 10 | Warnemünde (for Berlin) Germany | |
| Day 11 | Copenhagen Denmark | |
| Day 12 | DISEMBARK Copenhagen Denmark | |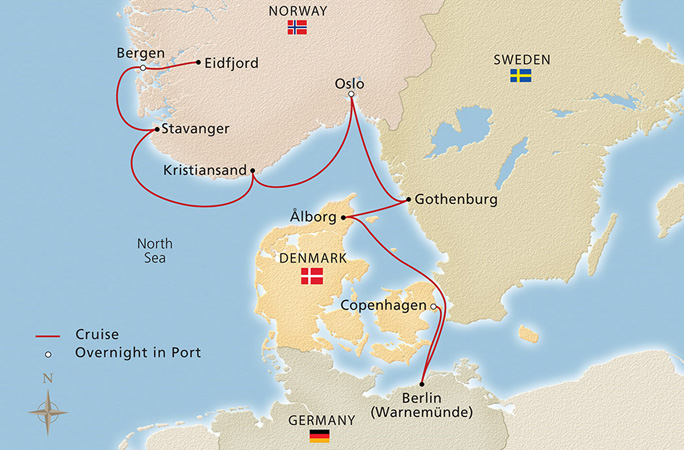 DISCLAIMER
This information has been compiled from various sources. Whilst every effort has been made to provide accurate information, the cruise lines can and do change their itineraries. Cruise Ship Speakers cannot be held liable for any inaccuracies that these programs may contain. Please refer to the up-to-date information provided by the cruise lines themselves. Please notify the Web Administrator if there are any inaccuracies.
Available Candidates
Click on the photo or name for full profile details.
The following people have indicated their availability for this cruise or sectors of this cruise.
The list is in ORDER by General Discipline (ie. Art Instructors, Bridge Directors, Craft Instructors, Destination Lecturers, Enrichment Speakers, etc).
Please contact the candidates directly if you would like to engage any of them. There are NO fees to do this.
Alternatively, we can arrange the bookings on your behalf. Please advise us of your choice(s) for this cruise.
Jeremy Huw Williams
Opera & Classical Music
Opera Singer, PhD, DMus



Coming from:
Radyr, Caerdydd UK

The Welsh baritone Jeremy Huw Williams studied at St John's College, Cambridge, at the National Opera Studio, and with April Cantelo. He made his debut with Welsh National Opera as Guglielmo and has since appeared in sixty operatic roles. He has given performances at major venues in North and South America, Australia, Hong Kong, and most European countries. He is also an experienced choir trainer and vocal tutor at several universities and conservatoires worldwide.
Jim Clement
Destination Lecturer & Maritime Historian
Baltic, Mediterranean. Asia, Caribbean,Latin America, Panama, Norway,



Coming from:
Largo, Florida USA

Jim is a retired USA Diplomat who lived in 13 countries and has given Destination/Maritime History Lectures on more than 100 cruises in Europe, Asia, S. America. He graduated from the U.S. Naval Academy (BSc) and University of Chicago (MBA). He was a US Navy Submarine Officer, VP International for Fortune 500 companies. He was a University Professor for History, Geography, Logistics, and International Marketing. Having lived and worked in Panama and transited the Panama Canal 24 times and Suez Canal 4 times, Jim can give the ship's bridge commentary about the history of the Canals. He speaks Spanish.
Allan Thomas
Oceanographer & Destination Lecturer
BSc, NMSM, RAF(Rtd)



Coming from:
St. Columb Major, Cornwall UK

Allan joined the Royal Air Force in 1960 eventually becoming an Air Electronics Officer and aircraft captain serving on Maritime Patrol aircraft keeping an eye on the Soviet Navy, especially its submarine force. In 1993 Allan was seconded to the United States Navy where he qualified as a military oceanographer prior to taking command of operations at a joint US-UK Undersea Surveillance Facility. In his talks he describes undersea geology, historical oceanographic events, and marine animals: focussing on the waters that each cruise passes though accompanied by some amusing anecdotes from his Service days. He is also a qualified and accomplished Destination Presenter.
Michael Bowman
Geology, World Energy & Geopolitics
Professor of Petroleum Geology, University of Manchester



Coming from:
Holmfirth, West Yorkshire UK

Mike retired from BP in March 2011 and has since take up a part-time Chair in Development & Production Geology at the University of Manchester. Mike is a geologist by training having completed a PhD at the University of Sheffield. During his 30 years with BP he was involved in a wide range of roles and jobs from specialist geologist to senior manager with postings around the world. Mike presents a series of illustrated talks covering the principles of Geology and how it impacts the world today.
Patsy Erskine-Hill
Art History, Destinations & Social History
NADFAS Speaker; Prof of Italian literature; Masters Imperial Russia



Coming from:
Charing, Kent UK

As a child Patsy lived in Spain, France and Italy, and holds degrees in French and Italian from Trinity College, Dublin, and a Masters in Economic and Social History from the University of Edinburgh, specialising in Imperial Russia. She has worked as a court interpreter and translator, taught Italian Renaissance and medieval literature and speaks fluent Italian, French and rusty Spanish and Russian. Her informative talks cover history of Russia, Italy and England.
| | | |
| --- | --- | --- |
| | | Dr. Lawrence Fairman was born and bred in the far north of England. After retiring from a long period as a University lecturer he returned to industry where he gave talks and organized training courses in many countries around the world. This provided him the opportunity to travel widely and develop an interest in the art and culture of many cities popular on the cruise circuit. He has a portfolio of enrichment talks that cover most of the European cruise destinations all of which fully illustrate the history and artistic heritage of the areas visited. |
David Fitzpatrick
World Affairs, Journalism & Television News




Coming from:
Fairfield County, Connecticut USA

A three-time Emmy Award winner, David Fitzpatrick spent more than 40 years as a producer & manager at the highest levels of network television news. He had a 25 year career at CBS News where he served as both a producer & manager, including a 3 year run as one of Morley Safer's producers at "60 Minutes." He joined CNN in September 2001, days after the attacks on Sept. 11. He became the principal producer for CNN Anchor Aaron Brown and again began to travel the world for CNN. David is new to cruise ship speaking and is keen to share his experiences as a TV producer both behind the scenes and covering world events.
John Nixon
Scandinavian & Baltic Countries
B.Sc (Econ), M.Sc, MBA



Coming from:
Pershore, Worcestershire UK

John Nixon holds degrees in economics and business planning. As a result of his extensive range of work in the Far East and Scandinavia especially in China, he was recently presented with the highly prestigious Dunhuang Award. He offers talks on current developments in Norway and neighbouring countries set against the background of their recent history, social structures and economies. His presentations are superbly illuminated and compliment all voyages in the northern hemisphere. These talks go together with port talks very well indeed.
Harry M Strong
Ocean science & Meteorology
BS, MS, MPA, PSIA



Coming from:
Oak Hill, Fairfax USA

Harry M Strong worked for a nonprofit corporation for 38 years, spending the last 15 years supporting the National Oceanic and Atmospheric Administration (NOAA) in Washington, D.C., addressing a broad range of environmental issues. He is the President of HMS Consulting, LLC, has been a special interest speaker and visiting scientist on numerous cruise ships, speaking on "Our One Ocean". This series of talks is crafted to entertain, inform and educate the ship's guests on various ocean topics, emphasizing that our "global society" has but "One Ocean" and we all share in its fruits, its opportunities, its problems, its heritage and its potential.
Michael Tribe
Science & Sports History
BSc., PhD, PGCE, C.Biol. FRSB



Coming from:
Eastbourne, East Sussex UK

Mike Tribe attended both Durham & Cambridge universities as a student, followed by 3 years as Head of Biology at a London school, before taking up a Lectureship at Sussex University. Mike has always enjoyed the challenges of teaching, especially communicating difficult scientific ideas in ways understandable to non-scientists. He was elected a Fellow of the Royal Society of Biology in 1978 and given an award for Excellence in Teaching by Sussex Alumni Society in 1999. He loves talking about most sports and was a County athlete and Cambridge Blue in his youth.
Marilyn Varcoe
Psychologist, Health & Wellness and Life Coach
PHD



Coming from:
Naples, Florida USA

Dr. Marilyn Varcoe is a licensed cognitive behavioral psychologist and life coach providing psychological care to a broad spectrum of clients. She obtained her Ph.D. in Psychology from Pennsylvania State University, her M.S. from Southern Illinois University, and her B.A. from the College of New Jersey. Dr. Varcoe has extensive years of experience in counseling, therapy and coaching. She is a frequent presenter of seminars and lectures on toxic stress and personal development. Marilyn is also the founder of Golf Smart, Inc., a program that teaches mental skills to golfers.