Enrichment Requirement

Cruise Itinerary
CRUISE ITINERARY - OR190113 Australia & New Zealand
Embarkation:
Sydney Australia
Date: Sunday, January 13, 2019
Disembarkation:
Auckland NZ
Date: Sunday, January 27, 2019
No of Nights:
14
Only Australian based Speakers focusing on Australian Wildlife should register their interest.
If you are shortlisted please be prepared to submit your proposed talks if requested.
| | | |
| --- | --- | --- |
| Day 1 | EMBARK Sydney Australia | |
| Day 2 | Sydney Australia | |
| Day 3 | At sea | |
| Day 4 | Melbourne Australia | |
| Day 5 | At sea | |
| Day 6 | Hobart Australia | |
| Day 7 | At sea | |
| Day 8 | At sea | |
| Day 9 | Dunedin NZ | |
| Day 10 | Christchurch (Akaroa) NZ | |
| Day 11 | Wellington NZ | |
| Day 12 | Napier NZ | |
| Day 13 | Tauranga NZ | |
| Day 14 | Auckland NZ | |
| Day 15 | DISEMBARK Auckland NZ | |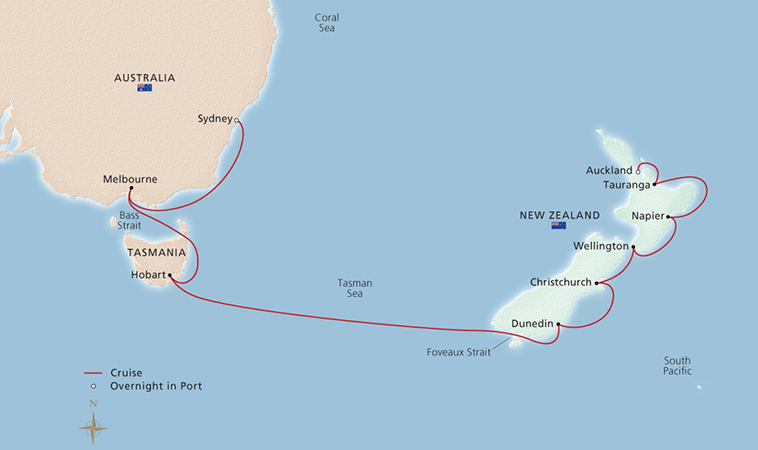 DISCLAIMER
This information has been compiled from various sources. Whilst every effort has been made to provide accurate information, the cruise lines can and do change their itineraries. Cruise Ship Speakers cannot be held liable for any inaccuracies that these programs may contain. Please refer to the up-to-date information provided by the cruise lines themselves. Please notify the Web Administrator if there are any inaccuracies.
Available Candidates
Click on the photo or name for full profile details.
The following people have indicated their availability for this cruise or sectors of this cruise.
The list is in ORDER by General Discipline (ie. Art Instructors, Bridge Directors, Craft Instructors, Destination Lecturers, Enrichment Speakers, etc).
Please contact the candidates directly if you would like to engage any of them. There are NO fees to do this.
Alternatively, we can arrange the bookings on your behalf. Please advise us of your choice(s) for this cruise.
Claudia Puma
Arts and Crafts Tutor




Coming from:
Hamburg, Michigan USA

Claudia Puma's life pursuit has been in the arts and crafts field, her love of color and design took many forms over the past 40 years. For over 38 years she participated in some of the best art fairs in Michigan, Ohio, Indiana, and Illinois. She won awards for her designs in Quilting and in jewelry design, Creative Designs was a very appropriate name for her business. Claudia began teaching on cruise ships in 1986 and has taught on Costa, Celebrity, Cunard, and Carnival, and has traveled extensively in the Mediterranean, Central American, Caribbean, and USA. Traveling the world is a passion for Claudia, teaching classes on cruise brings her two passions together.
| | | |
| --- | --- | --- |
| | | Emma has a passion for marine wildlife, especially cetaceans (whales, dolphins & porpoises) and seabirds. From 2006 to 2010, she worked as a wildlife officer and wildlife guide for MARINElife on the P&O ferry Pride of Bilbao as well as leading specific wildlife watching cruises. Currently she works as an island ranger on the Orkney islands. Her speciality is marine mammals and sea birds, but also talks about other marine wildlife as well as terrestrial wildlife. Emma is a very experienced and enthusiastic speaker with a wide range of subjects related to marine wildlife and the natural world and loves being able to share the experience of seeing whales & dolphins in the wild with passengers. |
Ashok Sajjanhar
International Relations, World Affairs, History, Culture
Former Ambassador of India



Coming from:
Noida, Uttar Pradesh India

Ambassador Ashok Sajjanhar has worked in the Indian Diplomatic service for 34 years. He was Ambassador of India to Kazakhstan, Sweden and Latvia and has worked in senior diplomatic positions in Indian Embassies/Missions in Washington DC, Brussels, Moscow, Geneva, Tehran, Dhaka and Bangkok. He contributed significantly to strengthening ties and promoting political, strategic, economic and cultural cooperation between India and USA, EU, Russia and other countries. He writes, travels and speaks extensively on issues relating to international relations, foreign policy and themes of contemporary relevance and significance.
Margaret Smith
Coaching Self Development
Inspiring and Influencing You



Coming from:
Redridge, Queensland Australia

Margaret is an Intuitive, Inspiring tell it like it is International Speaker travelling the world speaking to groups of people wanting change in their lives. They seek guidance from Margaret as they know that she has achieved her true purpose in life and now wishes that for all mankind. Her true gift is her pragmatic approach to life that stirs people to get up and start taking action moving them towards their own purpose.
Dr Karen Woodman
Destination History & Culture




Coming from:
Brisbane, Queensland Australia

Dr Karen Woodman is a retired university professor, who is an entertaining cruise enrichment speaker on topics such as history, education, street art, culture, dance, language, and food as they relate to cruise destinations. Karen is also an avid social dancer who enjoys sharing her love of dance, the benefits of social dance, and the mind-body connection. She has traveled extensively, including North and South America, the South Pacific, Australia and New Zealand, the Caribbean, Cuba, Europe, Scandinavia, and South-East Asia.