Enrichment Requirement

Cruise Itinerary
CRUISE ITINERARY - P2194 Northern Lights
Embarkation:
Portsmouth UK
Date: Thursday, March 1, 2018
Disembarkation:
Portsmouth UK
Date: Saturday, March 17, 2018
No of Nights:
16
Speaker required to talk on Northern Lights, Astronomy topics. 6 powerpoint presentations required.
Bridge Instructor required to provide classes/workshops on sea days.
You receive:
1. Twin Share Passenger Cabin. Bring a guest.
2. Full passenger status for speaker and guest.
3. Complimentary WiFi, wine, beer and soft drinks served at lunch and dinner.
4. Possibility of complimentary tour escort opportunities.
5. Complimentary car parking at the port of embarkation.
TRAVEL to the port of embarkation/disembarkation for you and your guest is at your expense.
| | | |
| --- | --- | --- |
| Day 1 | EMBARK Portsmouth UK | |
| Day 2 | At sea | |
| Day 3 | At sea | |
| Day 4 | Bergen Norway | |
| Day 5 | Molde Norway | |
| Day 6 | Cross the Arctic Circle | |
| Day 7 | Tromsø Norway | |
| Day 8 | Tromsø Norway | |
| Day 9 | Alta Norway | |
| Day 10 | Alta Norway | |
| Day 11 | Harstad Norway | |
| Day 12 | Cross the Arctic Circle | |
| Day 13 | Ålesund Norway | |
| Day 14 | Flåm Norway | |
| Day 15 | At sea | |
| Day 16 | At sea | |
| Day 17 | DISEMBARK Portsmouth UK | |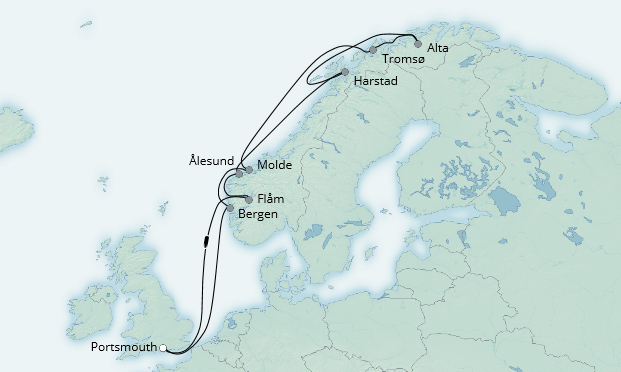 DISCLAIMER
This information has been compiled from various sources. Whilst every effort has been made to provide accurate information, the cruise lines can and do change their itineraries. Cruise Ship Speakers cannot be held liable for any inaccuracies that these programs may contain. Please refer to the up-to-date information provided by the cruise lines themselves. Please notify the Web Administrator if there are any inaccuracies.
Available Candidates
Click on the photo or name for full profile details.
The following people have indicated their availability for this cruise or sectors of this cruise.
The list is in ORDER by General Discipline (ie. Art Instructors, Bridge Directors, Craft Instructors, Destination Lecturers, Enrichment Speakers, etc).
Please contact the candidates directly if you would like to engage any of them. There are NO fees to do this.
Alternatively, we can arrange the bookings on your behalf. Please advise us of your choice(s) for this cruise.
David Charlton
Historian & Bridge Instructor
EBUTA Member/Speciality - The Knights of St. John



Coming from:
Huddersfield, West Yorkshire UK

David joined the St. John Ambulance Brigade in 1973 and attended many events as a first-aider. He and his wife Margaret became First-Aid trainers and were Superintendents of the two Cadet Divisions in Huddersfield, until they retired at the end of 1995. David is now able to combine his two hobbies, the Knights of St. John and Travel, with his experience of lecturing, to give a rounded view of the events in the Middle East, from the eleventh Century onwards. David is also a qualified Bridge Instructor.
Peter Lavington
Meteorology & Weather Forecasting




Coming from:
Highbridge, Somerset UK

Peter started work at the UK Met Office in 1971 at their London Weather Centre and was promoted to a forecaster in 1975. Thereafter he worked at many locations within UK and abroad. Most of his work was with the Forces - mainly RAF but also at a couple of Army helecopter bases. Meteorology can be a complicated and difficult subject to put across to people but it is his intention to keep things simple and entertaining. Since he retired in 2010, he gives lectures about the weather which he hopes will enable the audience to feel that they know a little more about how the weather works.
John Maclean
Astronomy & Astrophysics
FRAS (Fellow of the Royal Astronomical Society)



Coming from:
Exeter, Devon UK

John is an experienced Science Communicator in the fields of Astronomy and Astrophysics and is an award winning Astro Photographer. He has a special interest in Cometary science and is a member of the UK Meteor Monitoring Network as well as participating as a communicator for NASA and ESA space missions. John is an experienced presenter with an engaging and humorous style accompanied with extremely professional graphic and audio presentations. John has the ability to communicate scientific concepts in a way that the audience both enjoys and understands. He is also able to provide "Stargazing" nights on board and can lead Aurora expeditions.
Sandra Millikin
Architectural & Art History
BA (Hons), Mphil (Art History)



Coming from:
Uffington, Oxon UK

Sandra Millikin is an American who has lived in England for over 40 years. She was educated at Smith College, Northampton, Massachusetts, USA and at the Courtauld Institute in London where she studied under the famous English architectural historian Sir John Summerson. She was assistant Curator at the Royal Institute of British Architects Drawings collection, where she contributed to the catalogue of the collection which is now housed in the Victoria and Albert Museum in London. Sandra has given talks on architectural history world wide on cruise ships and particularly enjoys days at sea as she is also a keen bridge player. She has also acted as Bridge Director on cruises.
Dr James Teslow
Space Science, Astronomy & Engineering
PhD Rockets, Star-gazing



Coming from:
Camano Island, Washington USA

Dr. James Teslow is an educator who also practiced aerospace engineering for 30 years. He obtained his undergraduate degree at the University of Washington, and two Masters degrees and a PhD at the University of Colorado. His engineering positions included work in the areas of liquid and solid rocket propulsion system analysis and design, launch support, new technology research, and business development. James has taught several classroom and online courses in educational technology, research methods, and instructional development as an adjunct professor.